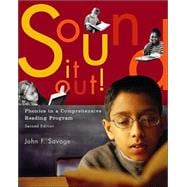 Sound It Out! Phonics in a Comprehensive Reading Program with Phonics Tutorial CD-ROM
by
Savage, John F.
McGraw-Hill Humanities/Social Sciences/Languages
List Price: $46.90

More New and Used
from Private Sellers
Related Products
Summary
Are you interested in a phonics program that is part of a comprehensive reading program? Rather than treating it as an end in itself, Sound It Out! shows how phonics fits into the overall process of a child's learning to read. It helps readers understand how phonics can be integrated successfully into an effective classroom reading program. While it includes a wealth of suggestions for practical classroom applications, the book has a solid research knowledge base so that students will understand what they are doing and why they are doing it in the classroom. The text includes information about all types of phonics programs and many different approaches to teaching phonics for reading and spelling.
Table of Contents
Preface
xiii
Pretest of Phonics Knowledge
1
(2)

| | |
| --- | --- |
| | The Place of Phonics in Learning to Read and Write |

3
(22)
3
(6)
9
(1)

| | |
| --- | --- |
| | The Controversy about Phonics |

10
(8)
11
(3)
14
(4)

| | |
| --- | --- |
| | Phonics: A Dispassionate View |

18
(3)
19
(1)
20
(1)
21
(1)
22
(3)

| | |
| --- | --- |
| | Getting Started: Phonemic Awareness and Alphabet Knowledge |

25
(34)
25
(23)

| | |
| --- | --- |
| | The Importance of Phonemic Awareness |

27
(1)

| | |
| --- | --- |
| | Developing Components of Phonemic Awareness |

28
(17)

| | |
| --- | --- |
| | Assessing Phonemic Awareness |

45
(3)
48
(7)
55
(1)
56
(1)

| | |
| --- | --- |
| | Children's Trade Books Cited in This Chapter |

57

| | |
| --- | --- |
| | Recognizing Rhyming Words |

30
(2)

| | |
| --- | --- |
| | Production of Rhyming Words |

32
(2)

| | |
| --- | --- |
| | Segmenting of Compound Words |

34
(1)
35
(2)
37
(1)

| | |
| --- | --- |
| | Identifying Beginning Sounds |

38
(1)

| | |
| --- | --- |
| | Identifying Ending Sounds |

38
(2)
40
(1)
41
(1)
42
(5)

| | |
| --- | --- |
| | Assessing Phonemic Awareness |

47
(2)
49
(3)
52
(1)
52
(1)

| | |
| --- | --- |
| | Review and Reinforcement Activities |

53
(6)

| | |
| --- | --- |
| | Teaching and Learning Discrete Phonics Elements |

59
(46)
59
(3)

| | |
| --- | --- |
| | Teaching Discrete Phonics Elements |

62
(3)
65
(12)
71
(1)
72
(3)
75
(2)
77
(12)
78
(3)
81
(2)
83
(6)
89
(2)
91
(3)

| | |
| --- | --- |
| | Working with Children Who May Have Trouble Learning Phonics |

94
(4)

| | |
| --- | --- |
| | Children Who Have Trouble Learning Phonics in a Conventional Way |

94
(2)

| | |
| --- | --- |
| | Children Whose First Language Is Not English (ELL) |

96
(2)

| | |
| --- | --- |
| | Fluency and the Suprasegmental Phoneme System |

98
(4)
102
(1)
103
(1)

| | |
| --- | --- |
| | Children's Trade Books Cited in This Chapter |

104

| | |
| --- | --- |
| | Working with Beginning Consonants |

67
(2)

| | |
| --- | --- |
| | Working with the Two Sounds of C and G |

69
(1)

| | |
| --- | --- |
| | Working with Final Consonants |

70
(1)
71
(2)
73
(2)

| | |
| --- | --- |
| | Working with Blends and Digraphs Together |

75
(1)
76
(2)
78
(3)
81
(3)
84
(2)
86
(1)
87
(3)
90
(11)
101
(4)

| | |
| --- | --- |
| | Approaches to Teaching Phonics: Embedded and Direct Instruction |

105
(32)
106
(8)
106
(3)
109
(2)

| | |
| --- | --- |
| | Authentic Reading Experiences |

111
(1)

| | |
| --- | --- |
| | Integrating Phonics and Encounters with Literature |

111
(3)

| | |
| --- | --- |
| | Direct, Systematic Phonics/Language Instruction |

114
(9)
116
(2)

| | |
| --- | --- |
| | Structured Language Programs |

118
(5)

| | |
| --- | --- |
| | Other Programs That Include Phonics |

123
(8)
123
(1)
124
(4)

| | |
| --- | --- |
| | Computer-Based Phonics Programs |

128
(3)

| | |
| --- | --- |
| | Phonics Materials for Home Use |

131
(2)
133
(1)
134
(2)

| | |
| --- | --- |
| | Children's Trade Books Cited in This Chapter |

136

| | |
| --- | --- |
| | Phonics in a Shared Reading Lesson: Rosie's Walk |

107
(2)

| | |
| --- | --- |
| | Phonics in a Shared Reading Lesson: ``Moveable Word Wall'' |

109
(1)

| | |
| --- | --- |
| | Phonics in a Guided Reading Lesson: Buzzz Said the Bee |

110
(2)

| | |
| --- | --- |
| | Phonics in a Literature-Based Lesson: Amos and Boris |

112
(1)

| | |
| --- | --- |
| | Phonics in a Literature-Based Lesson: Sheep on a Ship |

113
(2)

| | |
| --- | --- |
| | Direct, Systematic Phonics Instruction |

115
(22)

| | |
| --- | --- |
| | Phonics and Learning to Spell |

137
(26)

| | |
| --- | --- |
| | Spelling as Part of Writing |

138
(2)
140
(7)
142
(1)
143
(1)
143
(1)
144
(1)
145
(1)

| | |
| --- | --- |
| | Learning to Speak: Learning to Spell |

146
(1)

| | |
| --- | --- |
| | Spelling: How to Teach It |

147
(12)
148
(3)
151
(1)
152
(6)
158
(1)
158
(1)

| | |
| --- | --- |
| | Assessing Children's Spelling Ability |

159
(1)
160
(1)
160
(2)

| | |
| --- | --- |
| | Children's Trade Books Cited in This Chapter |

162
149
(2)
151
(3)
154
(1)
155
(2)
157
(6)

| | |
| --- | --- |
| | Phonics in a Comprehensive Reading Program |

163
(7)

| | |
| --- | --- |
| | Phonics and Other Reading Components |

163
(3)
164
(1)
164
(1)
164
(1)
165
(1)

| | |
| --- | --- |
| | Comprehensive Literacy Instruction |

166
(3)
169
(1)

| | |
| --- | --- |
| | Children's Trade Book Cited in This Chapter |

169
(1)
Posttest of Phonics Knowledge
170
(3)
Appendix A
173
(7)
Appendix B
180
(4)
A Mini-Glossary of Phonics Terms
184
(3)
Answers to Pretest and Posttest of Phonics Knowledge
187
(2)
Index
189