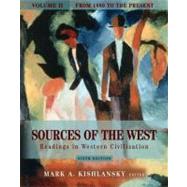 Sources of the West: Readings in Western Civilization, Volume II (From 1600 to the Present)
by
Kishlansky, Mark
List Price: $60.67
Usually Ships in 2-3 Business Days
Questions About This Book?
What version or edition is this?
This is the 6th edition with a publication date of 1/1/2006.
What is included with this book?
The Used copy of this book is not guaranteed to inclue any supplemental materials. Typically, only the book itself is included.
Summary
Sources of the Westpresents a well-balanced selection of readings that integrate coverage of social, economic, religious, and cultural history within a traditional, political framework.The text includes constitutional documents, political theory, philosophy, imaginative literature, and social description that raise significant issues for classroom discussions or lectures. By reading the voices of the past, students can connect them to the present; learn to understand and respect other cultures; and think critically about history.
Table of Contents
Preface
ix
How to Read a Document
xiii

| | |
| --- | --- |
| | PART IV THE ANCIEN REGIME |

1
(118)
3
(10)

| | |
| --- | --- |
| | Henry IV, The Edict of Nantes (1598) |

3
(2)

| | |
| --- | --- |
| | Cardinal Richelieu, The Political Testament (1638) |

5
(3)

| | |
| --- | --- |
| | Hans von Grimmelshausen, Simplicissimus (1669) |

8
(5)
13
(34)

| | |
| --- | --- |
| | James I, True Law of a Free Monarchy (1598) |

13
(5)

| | |
| --- | --- |
| | Philippe Duplessis-Mornay, A Defense of Liberty Against Tyrants (1579) |

18
(5)

| | |
| --- | --- |
| | Sir William Clarke, The Putney Debates (1647) |

23
(6)

| | |
| --- | --- |
| | Thomas Hobbes, Leviathan (1651) |

29
(4)

| | |
| --- | --- |
| | John Locke, Second Treatise of Government (1689) |

33
(4)

| | |
| --- | --- |
| | Moliere, The Would-Be Gentleman (1670) |

37
(6)

| | |
| --- | --- |
| | Duc de Saint-Simon, Memoirs (1694--1723) |

43
(4)
47
(17)

| | |
| --- | --- |
| | Galileo Galilei, Letter to the Grand Duchess Christina (1615) |

47
(4)

| | |
| --- | --- |
| | Rene Descartes, Discourse on Method (1637) |

51
(4)

| | |
| --- | --- |
| | Thomas Mun, England's Treasure by Foreign Trade (1664) |

55
(5)

| | |
| --- | --- |
| | Adam Smith, The Wealth of Nations (1776) |

60
(4)
64
(10)

| | |
| --- | --- |
| | Catherine the Great, Memoirs (ca. 1755) |

64
(3)

| | |
| --- | --- |
| | Maria Theresa, Testament (1749--1750) |

67
(4)

| | |
| --- | --- |
| | Viscount Bolingbroke, The Idea of a Patriot King (1749) |

71
(3)
74
(30)
74
(4)

| | |
| --- | --- |
| | Jean-Jacques Rousseau, The Social Contract (1762) |

78
(4)

| | |
| --- | --- |
| | Montesquieu, Spirit of the Laws (1748) |

82
(4)

| | |
| --- | --- |
| | Captain James Cook, Journals (1769) |

86
(4)

| | |
| --- | --- |
| | Joseph Crassons de Medeuil, Notes on the French Slave Trade (1784--1785) |

90
(5)

| | |
| --- | --- |
| | Thomas Jefferson, The Declaration of Independence (1776) |

95
(3)

| | |
| --- | --- |
| | Cesare Beccaria, On Crimes and Punishments (1764) |

98
(3)

| | |
| --- | --- |
| | Marquis de Condorcet, The Progress of the Human Mind (1793) |

101
(3)
104
(15)

| | |
| --- | --- |
| | Abbe de Sieyes, What Is the Third Estate? (1789) |

104
(5)

| | |
| --- | --- |
| | The Declaration of the Rights of Man (1789); Olympe de Gouges, The Declaration of the Rights of Woman (1791) |

109
(5)

| | |
| --- | --- |
| | Edmund Burke, Reflections on the Revolution in France (1790) |

114
(5)
119
(120)

| | |
| --- | --- |
| | Industrialization in Britain |

121
(18)

| | |
| --- | --- |
| | Arthur Young, Political Arthmetic (1774) |

121
(4)

| | |
| --- | --- |
| | Samuel Smiles, Self-Help (1859) |

125
(4)

| | |
| --- | --- |
| | Sir Edwin Chadwick, Inquiry into the Condition of the Poor (1842) |

129
(5)

| | |
| --- | --- |
| | Friedrich Engels, The Condition of the Working Class in England (1845) |

134
(5)

| | |
| --- | --- |
| | Nineteenth-Century Society and Culture |

139
(20)

| | |
| --- | --- |
| | Jane Austen, Pride and Prejudice (1813) |

139
(4)

| | |
| --- | --- |
| | Henrietta-Lucy, Madame de la Tour du Pin, Memoirs (1820--1843) |

143
(4)

| | |
| --- | --- |
| | Alexis Soyer, Modern Housewife (1850); Isabella Beeton, Mrs. Beeton's Book of Household Management (1861) |

147
(5)

| | |
| --- | --- |
| | Documents of the Irish Potato Famine (1845--1849) |

152
(7)
159
(37)

| | |
| --- | --- |
| | J. S. Mill, On Liberty (1859) |

159
(4)

| | |
| --- | --- |
| | Pierre Proudhon, What Is Property? (1840) |

163
(4)
167
(4)

| | |
| --- | --- |
| | William II, Letter to the Shogun (1844); Bakufu Reply to the Government of Holland (1845) |

171
(4)

| | |
| --- | --- |
| | Karl Marx and Friedrich Engels, The Communist Manifesto (1848) |

175
(4)

| | |
| --- | --- |
| | Alexander II and Prince Kropotkin, The Emancipation of the Serfs (1861) |

179
(3)

| | |
| --- | --- |
| | Otto von Bismarck, Reflections and Reminiscences (1898) and Speech to the Reichstag (1879) |

182
(6)

| | |
| --- | --- |
| | Pope Leo XIII, Rerum Novarum (The Condition of Labor) (1891) |

188
(8)

| | |
| --- | --- |
| | Emancipating the Mind and the Body |

196
(23)

| | |
| --- | --- |
| | Charles Darwin, The Descent of Man (1871) |

196
(3)

| | |
| --- | --- |
| | Friedrich Nietzsche, Beyond Good and Evil (1886) |

199
(5)

| | |
| --- | --- |
| | Sigmund Freud, The Interpretation of Dreams (1899) |

204
(4)

| | |
| --- | --- |
| | E. Sylvia Pankhurst, History of the Suffrage Movement (1912) |

208
(5)

| | |
| --- | --- |
| | Beatrice Webb, Women and the Factory Acts (1896) |

213
(6)
219
(20)

| | |
| --- | --- |
| | J. A. Hobson, Imperialism (1902) |

219
(3)

| | |
| --- | --- |
| | Cecil Rhodes, Confession of Faith (1877) |

222
(3)

| | |
| --- | --- |
| | Carl Veltin, Social Life of the Swahilis (late 19th century) |

225
(6)

| | |
| --- | --- |
| | Rudyard Kipling, ``The White Man's Burden'' (1899) |

231
(1)

| | |
| --- | --- |
| | George Orwell, ``Shooting an Elephant'' (1936) |

232
(7)

| | |
| --- | --- |
| | PART VI TWENTIETH-CENTURY EUROPE |

239
(110)
241
(16)

| | |
| --- | --- |
| | Voices from the Battle of the Somme (1916) |

241
(6)

| | |
| --- | --- |
| | Ernst Junger, Storm of Steel (1920) |

247
(3)

| | |
| --- | --- |
| | Woodrow Wilson, The Fourteen Points (1918) |

250
(3)

| | |
| --- | --- |
| | V. I. Lenin, What Is to Be Done? (1902) |

253
(4)
257
(28)

| | |
| --- | --- |
| | J. M. Keynes, The Economic Consequences of the Peace (1919) |

257
(3)

| | |
| --- | --- |
| | Winifred Holtby, Women and a Changing Civilization (1934) |

260
(4)

| | |
| --- | --- |
| | Benito Mussolini, Fascist Doctrine (1932) |

264
(4)

| | |
| --- | --- |
| | Adolf Hitler, Mein Kampf (1923) |

268
(4)

| | |
| --- | --- |
| | Memories of the Holocaust (1938--1945) |

272
(6)

| | |
| --- | --- |
| | Winston Churchill, Speeches (1940) |

278
(3)

| | |
| --- | --- |
| | Adolf Eichmann, Testimony (1961) |

281
(4)

| | |
| --- | --- |
| | The Twentieth-Century Imagination |

285
(18)

| | |
| --- | --- |
| | Virginia Woolf, A Room of One's Own (1929) |

285
(5)

| | |
| --- | --- |
| | Alexander Solzhenitsyn, One Day in the Life of Ivan Denisovich (1962) |

290
(5)

| | |
| --- | --- |
| | Jean-Paul Sartre, Existentialism (1946) |

295
(3)

| | |
| --- | --- |
| | Simone de Beauvoir, The Second Sex (1949) |

298
(5)

| | |
| --- | --- |
| | The Transformation of Eastern Europe |

303
(21)

| | |
| --- | --- |
| | Winston Churchill, ``The Iron Curtain'' (1946) |

303
(4)

| | |
| --- | --- |
| | Nikita Khrushchev, Report to the Communist Party Congress (1961) |

307
(4)

| | |
| --- | --- |
| | Mikhail Gorbachev, Perestroika (1987) |

311
(6)

| | |
| --- | --- |
| | Francis Fukuyama, The End of History? (1989) |

317
(7)
324
(25)

| | |
| --- | --- |
| | Charter of the United Nations (1946) |

324
(4)

| | |
| --- | --- |
| | The Charter of Economic Rights and Duties of States (1974) |

328
(6)

| | |
| --- | --- |
| | Kofi Annan, Report on the Fall of Srebrenica (1999) |

334
(9)

| | |
| --- | --- |
| | Report of the 9/11 Commission (2004) |

343
(6)
Acknowledgments
349
(4)
Photo Credits
353