Note: Supplemental materials are not guaranteed with Rental or Used book purchases.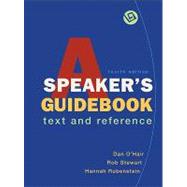 Questions About This Book?
What version or edition is this?
This is the 4th edition with a publication date of 11/13/2008.
What is included with this book?
The Used copy of this book is not guaranteed to include any supplemental materials. Typically, only the book itself is included.
Summary
Now also available with additional coverage of rhetorical theory!A Speaker's Guidebookis the most successful public speaking book in over a decade and the best resource for students both in and outside the classroom. Praised for connecting with students and addressing their most pressing needs, it is the easiest-to-use public speaking text available and the text that studentskeep. This tabbed, comb-bound text covers all topics taught in the introduction to public speaking course. In addition,A Speaker's Guidebookoffers coverage that's useful for a lifetime of public speaking with unparalleled treatment of speaking in other courses and on the job. Now for instructors who teach with a focus on rhetoric and persuasion, we are proud to offer an additional version of the text.A Speaker's Guidebook with The Essential Guide to Rhetoricincludes a full tabbed section that provides brief yet comprehensive coverage of rhetorical theory from the classical to the contemporary and its practical applications.
Author Biography
DAN O'HAIR is president of the National Communication Association and professor and chair of the department of communication at the University of Oklahoma. He is coauthor of six communication texts including A Speaker's Guidebook, (2007), Public Speaking: Challenges and Choices (1999) and Competent Communication (1997). He is also the author of more than 40 research articles and book chapters. ROB STEWART is an associate dean of arts and sciences and professor of communication studies at Texas Tech University. He is coauthor of A Speaker's Guidebook (2007), Public Speaking: Challenges and Choices (1999) and has also published over 30 articles and book chapters. HANNAH RUBENSTEIN is a writer and editor who has used her academic training in communication (M.A., Fairfield University) to guide her collaborations on A Speaker's Guidebook (2007), Public Speaking: Challenges and Choices (1999) and other successful college texts. She heads her own communication firm, Hedgehog Productions.
Table of Contents
CHAPTER 1 - Becoming a Public Speaker
Why Study Public Speaking?
Advance Your Professional Goals
Accomplish Personal Goals
Enhance Your Career As A Student
Explore And Share Values
Hone Critical Thinking And Listening Skills
Become An Engaged Citizen
The Classical Roots of Public Speaking
Classicial Terms and the Canons of Rhetoric
A Rich and Relevant Heritage
Public Speaking as a Form of Communication
Similarities Between Public Speaking And Other Forms Of Communication
Differences Between Public Speaking And Other Forms Of Communication
Public Speaking and the Communication Process
Elements Of Communication
Learning to Speak in Public
Draw On Familiar Skills
Conversation and Public Speaking
Recognize Public Speaking's Unique Requirements
CHAPTER 2 - Giving it a Try: Preparing Your First Speech
A Brief Overview of the Speechmaking Process
Select a Topic
Analyze the Audience
Determine the Speech Purpose
Compose a Thesis Statement
Develop the Main Points
Gather Supporting Materials
Separate the Speech into Its Major Parts
Outline the Speech
Consider Presentation Aids
Practice Delivering the Speech
Take the Plunge
Sample Visually Annotated Introductory Speech
Ashley White, "The Dance of Life"
Sample Annotated Speech
Lisa Tran, "Past, Present, and Future"
CHAPTER 3 – Managing Speech Anxiety
What Makes Speakers Anxious?
Lack of Positive Experience
Feeling Different
Being the Center of Attention
Pinpointing the Onset of Public Speaking Anxiety
Pre-preparation Anxiety
Preparation Anxiety
Pre-performance Anxiety
Performance Anxiety
Strategies for Getting Started with Confidence
Prepare and Practice
Modify Thoughts and Attitudes
Visualize Success
Use Relaxation Techniques
Learn from the Speech Evaluation
Enjoy the Occasion
CHAPTER 4 – Listeners and Speakers
The Selective Nature of Listening
Listening and Speaking as Dialogic Communication
Barriers to Active Listening
Listening Distractions
Scriptwriting and Defensive Listening
Laziness and Overconfidence
Cultural Barriers
Becoming a More Active Listener
Set Listening Goals
Listen for Main Ideas
Watch for Nonverbal Clue
Active Listening and Critical Thinking
Guidelines for Evaluating Speeches and Presentations
Be Honest and Fair in Your Evaluation
Adjust to the Speaker's Style
Be Compassionate in Your Criticism
CHAPTER 5 - Ethical Public Speaking
Take Responsibility For Your Words
Earn Your Listeners' Trust
Respect Your Listeners' Values
Bring Your Own Values into Focus
Use Your Rights of Free Speech Responsibly
Contribute to Positive Public Discourse
Observe the Ground Rules for Ethical Speaking
Be Trustworthy
Demonstrate Respect
Make Responsible Choices
Demonstrate Fairness
Avoid Plagiarism
Rules for Avoiding Plagiarism
Avoid Plagiarism on the Intenert
Respect the Laws of Copyright and Fair Use
CHAPTER 6 – Analyzing the Audience
Adapt to Audience Psychology
Identify Audience Members' Attitudes, Beliefs, And Values
Identify Listeners' Disposition To The Topic, Speaker, And Occasion
Adapt to Audience Demographics
Age
Socioeconomic Status
Religion
Political Affiliation
Gender
Disability
Ethnic or Cultural Background
Adapt to Cultural Differences
Hofstede's Value-Dimensions Model
Lewis' Cultural Types Model
Consult Cross-Cultural Polls
Focus on Shared Values
Techniques for Learning about Your Audience
Interviews
Surveys
Published Sources
Analyze the Speech Setting
Size Of Audience And Physical Setting
Time And Length Of Speech
The Speech Context (Rhetorical Situation)
CHAPTER 7 – Selecting a Topic and Purpose
Assigned versus Self-Selected Topics
Identifying the General Speech Purpose
When the General Speech Purpose Is to Inform
When the General Speech Purpose Is to Persuade
When the General Speech Purpose Is to Mark a Special Occasion
Choosing a Topic for the Classroom Speech
Personal Interests: Looking Within
Current Events and Controversial Issues
Grassroots Issues — Opportunities for Civic Engagement
Avoid Topics That Are Overdone: You Be the Expert
Using Brainstorming to Generate Ideas
Word Association
Topic Mapping
From Source to Speech: Brainstorming on the Web
Refining the Topic and Purpose
Narrowing the Topic
Forming a Specific Speech Purpose
From Topic and Purpose to Thesis Statement
Use the Thesis Statement to Convey the Central Idea
Use the Thesis Statement to Guide your Speech Preparation
From Source to Speech: Narrowing Your Topic Using a Library Portal
Making the Thesis Statement Relevant and Motivating
CHAPTER 8 – Developing Supporting Material
Use a Variety of Supporting Materials
Refer Orally to Your Sources
Offer Examples
Brief Examples
Extended Examples
Hypothetical Examples
Share Stories
Draw on Testimony
Provide Facts and Statistics
Use Statistics Accurately
Present Your Statistics Ethically
Use Visual Aids Whenever Possible
Win Acceptance of Your Supporting Materials
From Source to Speech: Demonstrating Your Sources' Reliability and Credibility
CHAPTER 9 – Locating Supporting Material
Before You Begin: Plan a Research Strategy
Secondary Resources: Print and Electronically Stored Sources
Library Resources to Facilitate Your Search
Books
Newspapers and Periodicals
Government Publications
Reference Works
Primary Resources: Interviews and Surveys
Interviews
Surveys
Documenting Your Resources
Record References as You Go
Choose Helpful Tools
Identify Quoted, Paraphrased, an Summarized Material
Critically Evaluate Your Sources
From Source to Speech: Recording and Citing Books
From Source to Speech: Recording and Citing Articles and Periodicals
CHAPTER 10 – Using the Internet to Support Your Speech
Begin Your Search at a Library Portal
Virtual Libraries
Be a Critical Consumer of Information
Be Alert To Commercial Factors Affecting Search Results
Make the Most of Internet Search Tools
Distinguish Among Types of Search Engines
Individual versus Meta-Search Engines
Specialized Search Engines
Understand How Subject (Web) Directories Work
Know When to Use Search Engines and Subject Directories
Conduct Smart Searches
Use Basic Search Commands
Use Field Searching To Further Narrow Results
Record and Cite Internet Sources
Organizing and Outlining
CHAPTER 11 – Organizing the Speech
Beyond the Speech: Organization as a Life Skill
Main Points, Supporting Points, and Transitions
Main Points: Making the Claim
Using the Purpose and Thesis Statements as Guides
• CHECKLIST: Do the Speech Points Illustrate or Prove the Thesis?
Number of Main Points
Strategies for Limiting Main Points
Form of Main Points
Supporting Points: Substantiating the Claim
Position of Supporting Points
Principles of Organizing Main and Supporting Points
Unity
Coherence
Balance
• CHECKLIST: Do the Speech Points Reflect Unity, Coherence, and Balance?
Transitions: Giving Direction to the Speech
Transitions among Main Points
Transitions among Supporting Points
Sample Techniques for Posing Transitions
Using Internal Previews and Summaries as Transitions
• CHECKLIST: Using Transitions
From Point to Point: Using Transitions to Guide Your Listeners
CHAPTER 12 – Types of Organizational Arrangements
Arranging Speech Points Topically
Arranging Speech Points Chronologically
Arranging Speech Points Using a Spatial Pattern
Arranging Speech Points Using a Causal (Cause-Effect) Pattern
Arranging Speech Points Using a Problem-Solution Pattern
Arranging Speech Points Using a Narrative Pattern
Arranging Speech Points Using a Circle Pattern
• CHECKLIST: Matching the Organizational Pattern to the Audience
• PUBLIC SPEAKING IN CULTURAL PERSPECTIVE: Arrangement Formats and Audience Diversity
CHAPTER 13 – Outlining the Speech
Plan on Creating Two Outlines
Types of Outline Formats
Effects of Outline Format on Speech Delivery
Begin with a Working Outline
Separate Introduction and Conclusion from the Body
List Your Sources
Create a Title
• CHECKLIST: Steps in Creating a Working Outline
Sample Working Outline
Preparing the Speaking Outline
Clearly Indicate Delivery Cues
• CHECKLIST: Tips on Using Notecards or Sheets of Paper
Practice the Speech
• CHECKLIST: Steps in Creating a Speaking Outline
Sample Speaking Outline
Full-Text Speech: Staying Ahead of Spyware
Introductions, Conclusions, and Language
CHAPTER 14 – Developing the Introduction
Functions of the Introduction
Gain Attention: The First Step
• SELF-ASSESSMENT CHECKLIST: Using Humor Appropriately
Introduce the Purpose and Topic
• PUBLIC SPEAKING IN CULTURAL PERSPECTIVE: Humor and Culture: When the Jokes Fall Flat
Preview the Main Points
Motivate the Audience to Accept Your Goals
•SELF-ASSESSMENT CHECKLIST: How Effective Is Your Introduction?
Make the Topic Relevant
Establish Credibility As a Speaker
Guidelines for Preparing the Introduction
• CHECKLIST: Guidelines for Preparing the Introduction
CHAPTER 15 – Developing the Conclusion
Functions of Conclusions
Signal the Close of a Speech and Provide Closure
Summarize the Main Points and Goals
Reiterate the Topic and Speech Purpose
Challenge the Audience to Respond
Make the Conclusion Memorable
• CHECKLIST: Making the Conclusion Memorable 225
Use Quotations
• CHECKLIST: How Effective Is Your Conclusion?
Tell a Story
Pose a Rhetorical Question
Guidelines for Preparing the Conclusion
• CHECKLIST: Guidelines for Preparing the Conclusion
CHAPTER 16 – Using Language to Style the Speech
Prepare Your Speeches for the Ear
Strive for Simplicity
Aim for Conciseness
• ESL SPEAKER'S NOTES: Using Contractions
Consider Phrases and Sentence Fragments
Use Repetition and Transitions
• SELF-ASSESSMENT CHECKLIST: Does Your Speech Incorporate Effective Oral Style?
Use Personal Pronouns
• CHECKLIST: Personalizing Your Speech with Personal Pronouns
Choose Language That Encourages Shared Meaning
Use Culturally Sensitive and Unbiased Language
• PUBLIC SPEAKING IN CULTURAL PERSPECTIVE: Adapting your Language to Diverse Audiences
Choose Concrete Words
• CHECKLIST: Considering Your Cultural Intelligence Quotient
• SELF-ASSESSMENT CHECKLIST: Is Your Speech Language Concrete?
Offer Vivid Imagery
Choose Language That Builds Credibility
Use Appropriate Language
Use Language Accurately
Choose Words That Convey Confidence and Conviction
• CHECKLIST: Does Your Language Build Trust and Credibility?
Choose Language That Creates a Lasting Impression
Use Repetition for Rhythm and Reinforcement
Use Alliteration for a Poetic Quality
Use Parallelism to Drive Your Points Home
Vocal and Nonverbal Delivery
CHAPTER 17 – Methods of Delivery
Qualities of Effective Delivery
Strive for Naturalness
Show Enthusiasm
Project a Sense of Confidence
Be Direct
Select a Method of Delivery
Speaking from Manuscript
• ESL SPEAKER'S NOTES: Avoiding the Pitfalls of Manuscript Delivery
Speaking from Memory
Speaking Impromptu
• CHECKLIST: Speaking Off-the-Cuff: Preparing for the Impromptu Speech 256
Speaking Extemporaneously
• ETHICALLY SPEAKING: A Tool for Good and Evil
• CHECKLIST: Ready for the Call: Preparing for the Extemporaneous Speech
CHAPTER 18 – The Voice in Delivery
Volume
• CHECKLIST: Tips on Using a Microphone
Pitch
Rate
Pauses
Vocal Variety
• SELF-ASSESSMENT CHECKLIST: Practice Check for Vocal Effectiveness
• ESL SPEAKER'S NOTES: Vocal Variety and the Non-Native Speaker
Pronunciation and Articulation
• PUBLIC SPEAKING IN CULTURAL PERSPECTIVE: Vocal Delivery and Culture
• CHECKLIST: Overcoming Articulation Problems
CHAPTER 19 – The Body in Delivery
Functions of Nonverbal Communication in Delivery
Clarify Verbal Messages
Facilitate Feedback
Establish Relationships Between Speaker and Audience
Establish Speaker Credibility 268
Pay Attention to Body Movement
Animate Your Facial
• SELF-ASSESSMENT CHECKLIST: Tips for Using Effective Facial Expressions
Maintain Eye Contact
Use Gestures That Feel
• CHECKLIST: Tips for Effective Gesturing
Be Aware of General Body Movement
Dress Appropriately
• CHECKLIST: Broad Dress Code Guidelines
• PUBLIC SPEAKING IN CULTURAL PERSPECTIVE: Nonverbal Communication Patterns in Different Cultures
Practice the Delivery
Focus on the Message
Record the Speech
Be Prepared to Revise Your Speaking Notes
Practice Under Realistic Conditions
Time Your Speech
Plan Ahead and Practice Often
• CHECKLIST: Practicing Your Speech
Presentation Aids
CHAPTER 20 – Using Presentation Aids in the Speech
Functions of Presentation Aids
Help Listeners Process and Retain Information
Promote Interest and Motivation
Convey Information Concisely
Lend a Professional Image
Types of Presentation Aids
Props and Models
• CHECKLIST: Tips for Using Props Effectively
Pictures (Photographs, Drawings, Diagrams, Maps, and Posters)
Graphs and Charts
• CHECKLIST: Tips for Creating Effective Pictograms
• CHECKLIST: Tips for Creating Effective Line, Bar, and Pie Graphs
Audio and Video
• CHECKLIST: Tips on Incorporating Audio and Video Into Your Presentation
Multimedia
Options for Displaying the Presentation Aid
Overhead Transparencies
• CHECKLIST: Tips for Successfully Incorporating Presentation Aids into Your Speech
Computer-Generated Graphics and Display
• CHECKLIST: Tips on Using Overhead Transparencies 293
Flip Charts
Chalkboards
Handouts
From Idea to Image: Creating Visual Aids
CHAPTER 21 – Designing Presentation Aids
Simplicity
Continuity
• CHECKLIST: Applying the Principles of Simplicity and Continuity
Typeface Style and Font Size
• CHECKLIST: Tips for Using Typefaces, Fonts, and Sizes Effectively
Color
• CHECKLIST: Optimizing Your Use of Color
CHAPTER 22 – Using Presentation Software
It's a Speech, Not a Slide Show
• CHECKLIST: Preventive Maintenance: Avoiding PowerPoint Technical Glitches
A Brief Guide to Using PowerPoint
Become Familiar with the Presentation Options
• CHECKLIST: Using PowerPoint's AutoContent Wizard or Slide Layouts
Editing Text
Using Slide Inserts
• CHECKLIST: Inserting Tables and Worksheets into PowerPoint
Using Transitions and Animation Effects
Developing PowerPoint Slides for a Speech
• CHECKLIST: Tips for Successfully Using PowerPoint Presentations in Your Speech
From PowerPoint to Presentation: Developing Effective Slides
FORMS OF SPEECHES
CHAPTER 23 – The Informative Speech
Goals and Strategies of Informative Speaking
Look for Ways to Increase Understanding
• CHECKLIST: Help Listeners Process and Retain Information
Differentiate Between Informing and Persuading
Gauge the Audience's Informational Needs
Demonstrate the Topic's Relevance Early On
Preview Main Points
Present New and Interesting Information
Types of Informative Speeches
Speeches about Objects or Phenomena
Speeches about People
Speeches about Events
Speeches about Processes
Speeches about Issues
Speeches about Concepts
Approaches to Conveying Information
Definition
• CHECKLIST: Define Your Terms 332
Description
Demonstration
Explanation
• CHECKLIST: Using the Power of Language to Connect with the Audience
Strategies for Reducing Confusion
Use Analogies to Build on Prior Knowledge
Demonstrate Underlying Causes
• CHECKLIST: Strategies for Explaining Complex Information
Check for Understanding
Appeal to Different Learning Styles
Organizing the Informative Speech
• CHECKLIST: Guidelines for Clearly Communicating Your Informative Message
SAMPLE SPEECH OF DEMONSTRATION: An Ounce of Prevention Keeps the Germs Away, Christie Collins
SAMPLE VISUALLY ANNOTATED INFORMATIVE SPEECH: Necessity and the Father of Invention: John Kanzius and the Quest to Cure Cancer, David Kruckenberg
CHAPTER 24 – The Persuasive Speech
What Is a Persuasive Speech?
Persuasive Speeches Attempt to Influence Audience Choices
• CHECKLIST: Conditions for Choosing a Persuasive Purpose
Persuasive Speeches Limit Alternatives
Persuasive Speeches Seek a Response
• ETHICALLY SPEAKING: Persuasive Speeches Respect Audience Choices
The Process of Persuasion
• CHECKLIST: Increasing the Odds of Achieving Your Persuasive Speech Goals
Classical Persuasive Appeals: Using Proofs
Logos: Proof by Reason
Pathos: Proof by Emotion
• ETHICALLY SPEAKING: Using Emotions Ethically
Ethos: Proof through Speaker Character
• CHECKLIST: Displaying Ethos in the Persuasive Speech
Contemporary Persuasive Appeals
Persuading Listeners by Appealing to Their Needs
Persuading Listeners by Appealing to the Reasons for Their Behavior
Persuading Listeners by Focusing on What's Most Relevant to Them
Persuading Listeners through Speaker Credibility
• CHECKLIST: Tips for Increasing Speaker Credibility
CHAPTER 25 – Developing Arguments for the Persuasive Speech
What Is an Argument?
• ETHICALLY SPEAKING: Engaging in Arguments in the Public Arena
Stating a Claim
Providing Evidence
Warrants: Justifying the Link Between the Claim and Evidence
Types of Claims, Evidence, and Warrants
Claims Used in Persuasive Speeches: Fact, Value, and Policy
Using Evidence to Support Your Claims
• PUBLIC SPEAKING IN CULTURAL PERSPECTIVE: Addressing Culture in the Persuasive Speech
• CHECKLIST: Testing the Strength of Your Evidence
Types of Warrants Used to Link Claims with Evidence
• CHECKLIST: Making Effective Use of Reasoning by Cause
Addressing the Other Side of the Argument
• CHECKLIST: Techniques for Addressing Competing Arguments
Fallacies in Reasoning
Begging the Questions
Bandwagoning
Either-Or Fallacy
Ad Hominem Argument
Red Herring
Hasty Generalization
Non Sequitur
Slippery Slope
Appeal to Tradition
CHAPTER 26 – Organizing the Persuasive Speech
Factors to Consider When Choosing an Organizational Pattern
Arguments and Evidence
Target Audience
Specific Speech Purpose
Problem-Solution Pattern of Arrangement
• CHECKLIST: Organizing a Claim of Policy
Monroe's Motivated Sequence
Step 1: Attention
Step 2: Need
Step 3: Satisfaction
Step 4: Visualization
• CHECKLIST: Steps in the Motivated Sequence
Step 5: Action
Comparative Advantage Pattern of Arrangement
Refutation Pattern of Arrangement
SAMPLE PERSUASIVE SPEECH: The Need for Disability Awareness, Amy Taber
SAMPLE VISUALLY ANNOTATED PERSUASIVE SPEECH: Emergency in the Emergency Room, Lisa Roth
SAMPLE VISUALLY ANNOTATED PERSUASIVE SPEECH: Choosing the Right Path, Elipidio Villarreal
CHAPTER 27 – Special Occasion Speeches
Functions of Special Occasion Speeches
Entertainment
Celebration
Commemoration
Inspiration
Social Agenda-Setting
Types of Special Occasion Speeches
Speeches of Introduction
Speeches of Acceptance
• CHECKLIST: Guidelines for Introducing Other Speakers
• CHECKLIST: Guidelines for Delivering Speeches of Acceptance
Speeches of Presentation
Roasts and Toasts
Eulogies and Other Tributes
• CHECKLIST: Tips for Delivering Effective Eulogies
After-Dinner Speeches
Speeches of Inspiration
• CHECKLIST: Delivering a Successful Speech of Inspiration
• ETHICALLY SPEAKING: Beware of Violating Audience Expectations
SAMPLE VISUALLY ANNOTATED SPECIAL OCCASION SPEECH:
Remarks at the Virginia Tech Convocation, Governor Tim Kaine
Speaking Beyond the Speech Classroom
CHAPTER 28 – Communicating in Groups
Becoming an Effective Group Participant
Assuming Roles within the Group
Using Productive Conflict to Focus on the Issues
Pursuing a Collective Mind While Avoiding Groupthink
Leading a Group
Setting Goals
• CHECKLIST: Guidelines for Setting Group Goals
Encouraging Active Participation
• CHECKLIST: Techniques to Encourage Group Participation
Making Decisions in Groups
Making Presentations in Groups
CHAPTER 29 – Business and Professional Presentations
Public Versus Presentational Speaking
Topic Selection
Audience Composition
Audience Participation
Speaker Expertise
Common Types of Business and Professional Presentations
Sales Presentations
• CHECKLIST: Using Monroe's Motivated Sequence to Organize a Sales Presentation
Proposals
• CHECKLIST: Preparing a Proposal
Staff Reports
• CHECKLIST: Preparing a Staff Report
Progress Reports
• CHECKLIST: Preparing a Progress Report
Crisis-Response Presentations
• ESL SPEAKER'S NOTES: Steps to Counteract Problems in Being Understood
• ETHICALLY SPEAKING: Code of Ethics for Professional Communicators
CHAPTER 30 – Speaking in Other College Courses
Review of an Academic Article
Team Presentations
Designate a Team Leader
Assign Roles and Tasks
Establish a Consistent Format
Rehearse the Presentation
• CHECKLIST: Assigning Roles for the Group Presentation
• CHECKLIST: Team Presentation Tips
Debates
Take a Side
Advance Strong Arguments
"Flow" the Debate
• CHECKLIST: Tips for Winning a Debate
Poster Sessions
Addressing Typical Audiences
Speaking in Science and Mathematics Courses
• CHECKLIST: Tips on Presenting to a Mixed Audience
The Research (Oral Scientific) Presentation
• CHECKLIST: Evaluating Your Original Research Presentation
The Methods/Procedure Presentation
The Research Overview
Field Study Presentation
• CHECKLIST: Tips for Producing Effective Poster Sessions
Preparing Effective Presentations in Science and Mathematics
• CHECKLIST: Tips for Preparing Successful Scientific Presentations
Speaking in Technical Courses
The Design Review
The Request for Funding
Preparing Effective Technical Presentations
The Architecture Design Review
Speaking in Social Science Courses
Debate Controversial Topics
Provide a Review of the Literature
Explain Social Phenomena
Evaluate Policies and Programs
Recommend Policies
Preparing Effective Presentations in the Social Sciences
Speaking in Arts and Humanities Courses
Informative Speeches of Description and Analysis
Presentations That Compare and Contrast
Debates
Classroom Discussions
Preparing Effective Presentations in the Arts and Humanities
Speaking in Education Courses
Delivering a Lecture
Facilitating a Group Activity
Facilitating a Classroom Discussion
Preparing Effective Presentations in Education
Speaking in Nursing and Allied Health Courses
Community Service Learning Project
Treatment Plan Reports (Case Conferences/Shift Reports)
Policy Recommendation Report
Preparing Effective Presentations in Nursing and Allied Health Courses
SAMPLE SPEECHES
Sample Informative Speech
Nonmonetary Uses of Gold, Christa Kim
Sample Persuasive Speech
Tales of Our Grandmothers, Anita Taylor
Sample Special Occasion Speech
2004 University of Pennsylvania Commencement Address, Bono
REFERENCE AND RESEARCH APPENDICES
A – Handling Question-and-Answer Sessions
B – Preparing for Mediated Communication
C – Public Discussions: Panels, Symposiums, and Forums
D – Mispronounced Words
E – Chicago Documentation
F – APA Documentation
G – MLA Documentation
H – CBE/CSE Documentation
I – IEEE Documentation
J – Glossary