Note: Supplemental materials are not guaranteed with Rental or Used book purchases.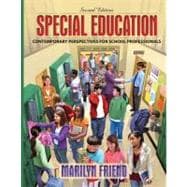 Special Education : Contemporary Perspectives for School Professionals
by
Friend, Marilyn
Questions About This Book?
What version or edition is this?
This is the 2nd edition with a publication date of 1/1/2008.
What is included with this book?
The Used copy of this book is not guaranteed to include any supplemental materials. Typically, only the book itself is included.
Summary
Real People, Real Classrooms, Real Research. In the second edition of Marilyn Friendrs"s introductory special education text, emphasis is on contemporary concepts and evidence-based practices that prepare teachers for their evolving role in the education and well-being of students with disabilities and other special needs. Informed by her years of experience working with students with disabilities and their teachers, this trusted author combines research-informed concepts and skills with practical information for educators working in this challenging age of high standards and accountability, curriculum access, inclusive practices, professional collaboration, student diversity, and legislative change. The second edition fully reflects NCLB and IDEA 2004 legislation and regulations so that readers understand the most recent expectations for professional educators and their students. Throughout the book, the author grounds the discussion in the realities of todayrs"s classrooms in a way that is concrete and compelling to future teachers. The text strikes a careful balance between the immediate concerns of novice educators with the broader human needs and experiences of students with exceptionalities and their families. Real People, Real Classrooms: Chapter Opening Vignettesdescribe the experiences of three different students of varying ages as they relate to the topics discussed in each chapter and are referenced at key points in the chapter. Firsthand Accountlets your students directly from teachers, students, parents, and school professionals as they share their own experiences and perspectives relating to life and learning with special needs. Back to the Casesfeatures at the ends of every chapter revisit the students introduced in the chapter opening vignettes in light of the information presented in the chapter material. Questions are presented for analysis and discussion. Real Research: Validated Teaching Practices. Consistent with todayrs"s standards of practices in the field of special education, this text is filled with contemporary information, teaching approaches, strategies, and tips that are always based on research findings. Evidence-based practice features include: Specialized Instructionhighlights teaching applications for intensive instruction delivered by special education teachers in various educational settings. Inclusion Matterspresents teaching applications, service delivery options, and considerations for students with various needs in general education settings. Positive Behavioral Supportsillustrates the many positive, proactive ways to address student behavior/social issues as part of overall classroom teaching and learning. Cutting Edge Information about Trends and Issues: Technology Notesshowcase fascinating new technology applications for teaching students with exceptional needs in special or general educational settings. Professional Edgedescribes conceptual material and cutting edge information that connect theory to practice. A unique chapter,Creating Partnerships through C
Author Biography
Marilyn Friend is a professor of special education in the Department of Specialized Education Services at the University of North Carolina at Greensboro.
Table of Contents
Preface
Special Features
Key Concepts for Understanding Special Education
Learning Objectives
What Is Special Education?
What Are the Laws for Students with Disabilities?
Who Receives Special Education?
What Are the Recommended Practices That Characterize Today's Special Education?
What Are the Perspectives of Parents and Families on Special Education?
What Trends and Issues Currently Influence Special Education?
Summary
Key Terms and Concepts
Back to the Cases
Review, Discuss, Apply
The Personnel and Procedures of Special Education
Learning Objectives
Who Are the Professionals Who Work in Special Education?
How Do Students Become Eligible to Receive Special Education Services?
What Is an Individualized Education Program?
What Are the Services Students with Disabilities Receive?
What Are the Options for Resolving Disagreements Regarding Special Education?
What Are the Issues Related to Special Professionals and Procedures?
Summary
Key Terms and Concepts
Back to the Cases
Review, Discuss, Apply
Multicultural Perspectives
Learning Objectives
What Is Culture?
How Does Culture Affect the Learning Process?
How Are Culturally Diverse Groups Represented in Special and Gifted Education?
What Are Best Educational Practices for Diverse Learners with Exceptionalites?
What Are the Perspectives of Parents of Diverse Exceptional Learners?
What Are the Trends and Issues Affecting the Education of Diverse Exceptional Learners?
Summary
Key Terms and Concepts
Back to the Cases
Review, Discuss, Apply
Creating Partnerships through Collaboration
Learning Objectives
What Is Collaboration?
What Elements Are Necessary for Collaboration?
How Is Collaboration Implemented in Schools?
How Does Collaboration Involve Parents and Families?
What Are Issues Related to Collaboration?
Summary
Key Terms and Concepts
Back to the Cases
Review, Discuss, Apply
Students with Learning Disabilities
Learning Objectives
What Are Learning Disabilities?
What Are the Characteristics of Individuals with Learning Disabilities?
How Are Learning Disabilities Identified?
How Do Learners with Learning Disabilities Receive Their Education?
What Are Best Educational Practices for Students with Learning Disabilities?
What Are the Perspectives of Parents and Families?
What Trends and Issues Are Affecting the Field of Learning Disabilities?
Summary