Note: Supplemental materials are not guaranteed with Rental or Used book purchases.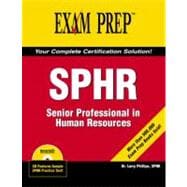 SPHR Exam Prep: Senior Professional in Human Resources
ISBN13:
9780789734976
by
Phillips, Larry
Related Products
Summary
Score higher on your SPHR exam with the most comprehensive book on the market. The SPHR Exam Prep is the most comprehensive SPHR book on the market. Written by Larry Phillips, a leading expert on the SPHR exam, each exam objective is thoroughly detailed, providing you with the exact information you need to know to score higher on your exam. The SPHR Exam Prep also features the Exam Prep Proven Method of Study, which includes Exam Alerts, tips, notes, sidebars, hundreds of SPHR practice questions, relevant exercises, review breaks, a glossary, objective reference sheet, a practice exam CD, and a full practice exam in the book. The book provides succinct information regarding the various sub-disciplines of the body of knowledge of Human Resource Management and emphasized those areas that are covered on the SPHR examination. The SPHR Exam Prep will help you assess your exam readiness with practice exam questions along with helping you develop effective study habits tailored for SPHR exam preparation. As an HR professor, the author has unique and time-tested methods that will help you make effective use of your time and preferred learning styles. This book will serve as the perfect complement to the larger and very deep SPHR training courses that exist today. The SPHR Exam Prep book will cut to the chase and tell you what you need to know in order to pass the exam and what content to focus on should you attend larger training courses.
Table of Contents
Introduction
1
(1)
2
(11)
2
(1)
2
(1)

| | |
| --- | --- |
| | Extensive Practice Test Options |

3
(1)
3
(10)
13
(650)
13
(2)
15
(3)
15
(2)

| | |
| --- | --- |
| | Design Your Own Personal Study Plan |

17
(1)
17
(1)
18
(1)

| | |
| --- | --- |
| | SPHR-Specific Information, Study, and Test-Taking Tips |

18
(9)

| | |
| --- | --- |
| | How Is the SPHR Exam Administered? |

18
(1)

| | |
| --- | --- |
| | How Is the SPHR Exam Put Together? |

19
(1)
19
(1)
20
(2)

| | |
| --- | --- |
| | SPHR-Specific Test Preparation Tips |

22
(1)

| | |
| --- | --- |
| | Strategies and Tips for SPHR Exam Day |

22
(5)

| | |
| --- | --- |
| | The SPHR Certification Process |

27
(10)

| | |
| --- | --- |
| | Is This the Correct Certification for Me? |

30
(1)
30
(1)

| | |
| --- | --- |
| | What Is the Application Process? |

31
(1)

| | |
| --- | --- |
| | How Do I Schedule the Examination? |

32
(1)

| | |
| --- | --- |
| | What Is the Examination Like? |

32
(1)
33
(3)

| | |
| --- | --- |
| | What Should I Do on Examination Day and During the Exam? |

34
(1)

| | |
| --- | --- |
| | How Is Passing Determined? |

35
(1)

| | |
| --- | --- |
| | What About Recertification? |

36
(1)
36
(1)
36
(1)
37
(98)
43
(1)

| | |
| --- | --- |
| | The Role of HR in Organizations |

43
(22)
44
(1)
44
(3)

| | |
| --- | --- |
| | HR Professional Associations |

47
(1)
48
(1)

| | |
| --- | --- |
| | Integrating HR Roles and HR Management Functions |

49
(1)

| | |
| --- | --- |
| | Evolving Issues in HR Management |

50
(3)
53
(4)
57
(2)

| | |
| --- | --- |
| | Managing Organizational Change |

59
(1)

| | |
| --- | --- |
| | Managing Outsourcing Vendors |

59
(3)
62
(3)

| | |
| --- | --- |
| | The Strategic Planning Process |

65
(5)
65
(1)

| | |
| --- | --- |
| | Development of Strategic Objectives |

66
(3)

| | |
| --- | --- |
| | Advantages and Disadvantages of Strategic Planning |

69
(1)
69
(1)
70
(5)

| | |
| --- | --- |
| | Components of the Environment |

71
(2)

| | |
| --- | --- |
| | Environmental Scanning Process |

73
(1)

| | |
| --- | --- |
| | Environmental Scanning Outcomes |

74
(1)

| | |
| --- | --- |
| | Understanding the Organization |

75
(23)

| | |
| --- | --- |
| | Functions of an Organization |

75
(10)
85
(1)
86
(1)
87
(2)
89
(3)
92
(1)
93
(2)

| | |
| --- | --- |
| | Boundaryless Organizations |

95
(1)

| | |
| --- | --- |
| | Mechanistic Organizations |

96
(1)
96
(1)
97
(1)
97
(1)

| | |
| --- | --- |
| | Measuring HR Effectiveness |

98
(15)
98
(2)

| | |
| --- | --- |
| | Balanced Scorecard and HR Scorecard |

100
(1)
101
(3)
104
(4)
108
(1)
108
(1)
109
(4)

| | |
| --- | --- |
| | The Role of HR in Organizational Ethics |

113
(7)
114
(1)

| | |
| --- | --- |
| | Ethical Issues in the Workplace |

115
(2)
117
(1)

| | |
| --- | --- |
| | Releasing Employee Personnel Information |

117
(1)
117
(1)

| | |
| --- | --- |
| | Credit and Background Checks |

118
(1)
118
(1)
118
(1)

| | |
| --- | --- |
| | Impact of the Organization's Culture on Ethics |

119
(1)

| | |
| --- | --- |
| | Organizational Social Responsibility |

119
(1)

| | |
| --- | --- |
| | The Legislative Environment |

120
(2)
120
(1)

| | |
| --- | --- |
| | Communicating with Legislators |

121
(1)

| | |
| --- | --- |
| | Monitoring the Legislative Environment |

121
(1)

| | |
| --- | --- |
| | Strategic Considerations for the SPHR |

122
(1)
123
(2)
123
(2)
125
(2)
125
(1)
126
(1)
127
(8)
129
(1)

| | |
| --- | --- |
| | Answers to Review Questions |

130
(2)

| | |
| --- | --- |
| | Answers to Exam Questions |

132
(1)

| | |
| --- | --- |
| | Suggested Readings and Resources |

133
(2)

| | |
| --- | --- |
| | Workforce Planning and Employment |

135
(116)
141
(1)

| | |
| --- | --- |
| | Workforce Planning and Employment Law |

142
(27)
143
(1)

| | |
| --- | --- |
| | United States Constitution |

143
(1)
143
(1)
144
(2)

| | |
| --- | --- |
| | Executive Orders 11246 (1965), 11375 (1967), and 11478 (1969) |

146
(1)

| | |
| --- | --- |
| | Age Discrimination in Employment Act of 1967 |

147
(1)

| | |
| --- | --- |
| | Consumer Credit Protection Act (1968) |

148
(1)

| | |
| --- | --- |
| | Fair Credit Reporting Act (1970) |

148
(1)

| | |
| --- | --- |
| | Rehabilitation Act of 1973 |

149
(1)

| | |
| --- | --- |
| | Vietnam Era Veterans' Readjustment Assistance Act (1974) |

150
(1)
150
(1)

| | |
| --- | --- |
| | Pregnancy Discrimination Act (1978) |

151
(1)

| | |
| --- | --- |
| | Uniform Guidelines on Employee Selection Procedures (1978) |

151
(4)

| | |
| --- | --- |
| | Immigration Reform and Control Act (1986) |

155
(1)

| | |
| --- | --- |
| | Worker Adjustment and Retraining Notification Act (1988) |

156
(1)

| | |
| --- | --- |
| | Employee Polygraph Protection Act (1988) |

157
(1)

| | |
| --- | --- |
| | Americans with Disabilities Act (1990) |

158
(5)
163
(1)

| | |
| --- | --- |
| | Uniformed Services Employment and Reemployment Act (1994) |

164
(1)

| | |
| --- | --- |
| | Congressional Accountability Act (1995) |

164
(1)

| | |
| --- | --- |
| | Fair and Accurate Credit Transactions Act (2003) |

165
(1)
165
(4)

| | |
| --- | --- |
| | Affirmative Action and Equal Employment Opportunity |

169
(7)
169
(4)
173
(3)
176
(4)
176
(2)

| | |
| --- | --- |
| | The Broad Scope of Hostile Environment |

178
(1)

| | |
| --- | --- |
| | Harassment Prevention Programs and Affirmative Defense |

179
(1)

| | |
| --- | --- |
| | Sexual Orientation Issues |

180
(1)
180
(7)

| | |
| --- | --- |
| | Forecasting Workforce Needs |

181
(2)

| | |
| --- | --- |
| | Determining Internal and External Supply of Employees |

183
(2)

| | |
| --- | --- |
| | Determination of Strategies |

185
(2)
187
(11)
188
(1)

| | |
| --- | --- |
| | Job Analysis Information Requirements |

189
(1)
190
(3)

| | |
| --- | --- |
| | Writing Job Descriptions and Job Specifications |

193
(3)

| | |
| --- | --- |
| | Competencies and the Future of Job Analysis |

196
(2)
198
(12)
200
(2)
202
(5)

| | |
| --- | --- |
| | Evaluating Recruitment Effectiveness |

207
(3)
210
(3)
213
(12)

| | |
| --- | --- |
| | Development of Selection Criteria |

214
(1)
215
(9)

| | |
| --- | --- |
| | Evaluation of the Selection Process |

224
(1)

| | |
| --- | --- |
| | Post-Offer Employment Practices |

225
(2)
225
(1)
226
(1)
226
(1)
227
(1)
227
(5)
228
(3)
231
(1)
231
(1)

| | |
| --- | --- |
| | Management of Employment Records |

232
(3)

| | |
| --- | --- |
| | Strategic Considerations for the SPHR |

235
(1)
236
(4)
236
(4)
240
(2)
240
(1)
241
(1)
242
(9)
244
(1)

| | |
| --- | --- |
| | Answers to Review Questions |

245
(3)

| | |
| --- | --- |
| | Answers to Exam Questions |

248
(1)

| | |
| --- | --- |
| | Suggested Readings and Resources |

249
(2)

| | |
| --- | --- |
| | Human Resource Development |

251
(96)
256
(1)

| | |
| --- | --- |
| | Human Resource Development Law |

257
(4)
257
(1)
257
(1)
257
(1)
257
(1)

| | |
| --- | --- |
| | Age Discrimination in Employment Act (1976) |

258
(1)
258
(3)

| | |
| --- | --- |
| | Americans with Disabilities Act (1990) |

261
(1)
261
(14)
261
(2)
263
(1)
263
(1)
264
(1)
265
(1)
266
(9)
275
(21)
277
(4)
281
(2)
283
(3)

| | |
| --- | --- |
| | Implementation of Programs |

286
(4)
290
(6)
296
(8)
298
(1)

| | |
| --- | --- |
| | Career Development Programs |

299
(3)

| | |
| --- | --- |
| | Special Issues in Career Development |

302
(2)
304
(8)

| | |
| --- | --- |
| | Leadership Versus Management |

304
(1)
304
(2)
306
(6)

| | |
| --- | --- |
| | Organizational Development |

312
(9)
312
(1)
313
(1)
314
(3)
317
(1)
318
(3)
321
(13)

| | |
| --- | --- |
| | Setting Performance Standards |

321
(1)
322
(12)

| | |
| --- | --- |
| | Strategic Considerations for the SPHR |

334
(1)
335
(1)
335
(1)
336
(2)
336
(1)
337
(1)
338
(9)
340
(1)

| | |
| --- | --- |
| | Answers to Review Questions |

341
(2)

| | |
| --- | --- |
| | Answers to Exam Questions |

343
(2)

| | |
| --- | --- |
| | Suggested Readings and Resources |

345
(2)

| | |
| --- | --- |
| | Compensation and Benefits |

347
(90)
351
(1)

| | |
| --- | --- |
| | Definition of Compensation and Benefits |

351
(3)

| | |
| --- | --- |
| | Goals and Purposes of Compensation |

352
(2)

| | |
| --- | --- |
| | Compensation and Benefits Law |

354
(16)

| | |
| --- | --- |
| | Workers' Compensation (1911+) |

354
(1)
355
(1)
355
(1)

| | |
| --- | --- |
| | Social Security Act (1935) |

355
(1)

| | |
| --- | --- |
| | Walsh-Healy Public Contacts Act (1936) |

356
(1)

| | |
| --- | --- |
| | Fair Labor Standards Act (1938) |

356
(4)

| | |
| --- | --- |
| | Portal-to-Portal Act (1947) |

360
(1)
361
(1)
362
(1)

| | |
| --- | --- |
| | McNamara-O'Hara Service Contract Act (1965) |

362
(1)

| | |
| --- | --- |
| | Age Discrimination in Employment Act (1967) |

362
(1)

| | |
| --- | --- |
| | Employee Retirement Income Security Act (1974) |

362
(1)
363
(1)

| | |
| --- | --- |
| | Consolidated Omnibus Budget Reconciliation Act (1985) |

364
(1)
365
(1)

| | |
| --- | --- |
| | Family and Medical Leave Act (1993) |

365
(2)

| | |
| --- | --- |
| | Uniformed Services Employment and Reemployment Rights Act (1994) |

367
(1)

| | |
| --- | --- |
| | Health Insurance Portability and Accountability Act (1996) |

368
(1)

| | |
| --- | --- |
| | Miscellaneous Laws and Regulations Affecting Compensation |

368
(2)

| | |
| --- | --- |
| | Basic Strategic and Compensation Philosophy Considerations |

370
(5)

| | |
| --- | --- |
| | Employee Versus Independent Contractor |

370
(2)

| | |
| --- | --- |
| | Lead or Lag the External Labor Market |

372
(1)

| | |
| --- | --- |
| | Entitlement-Based or Performance-Based Philosophy |

373
(1)

| | |
| --- | --- |
| | Alignment with the Business Strategy |

374
(1)

| | |
| --- | --- |
| | Alignment with the Organizational or Product Life Cycle |

375
(1)

| | |
| --- | --- |
| | Design and Development of the Compensation System |

375
(34)
376
(1)
376
(8)
384
(3)

| | |
| --- | --- |
| | Developing the Pay Structure |

387
(6)
393
(7)

| | |
| --- | --- |
| | Special Types of Compensation |

400
(9)
409
(14)

| | |
| --- | --- |
| | Legislatively Mandated Benefits |

409
(3)
412
(1)
413
(8)

| | |
| --- | --- |
| | Benefit Cost Containment and Flexibility |

421
(2)

| | |
| --- | --- |
| | Strategic Considerations for the SPHR |

423
(4)
427
(1)
427
(1)
428
(3)
428
(2)
430
(1)
431
(6)
433
(1)

| | |
| --- | --- |
| | Answers to Review Questions |

433
(1)

| | |
| --- | --- |
| | Answers to Exam Questions |

434
(1)

| | |
| --- | --- |
| | Suggested Readings and Resources |

435
(2)

| | |
| --- | --- |
| | Employee and Labor Relations |

437
(72)
442
(1)

| | |
| --- | --- |
| | A Brief History of Employee and Labor Relations |

442
(5)

| | |
| --- | --- |
| | Employee and Labor Relations: 1776--1819 |

442
(1)

| | |
| --- | --- |
| | Employee and Labor Relations: 1820--1869 |

443
(1)

| | |
| --- | --- |
| | Employee and Labor Relations: 1870--1934 |

443
(1)

| | |
| --- | --- |
| | Employee and Labor Relations: 1935--Present |

444
(2)

| | |
| --- | --- |
| | Union Organizational Structure |

446
(1)

| | |
| --- | --- |
| | Employee and Labor Relations Law |

447
(5)

| | |
| --- | --- |
| | Sherman Antitrust Act (1890) |

447
(1)
447
(1)

| | |
| --- | --- |
| | Norris-LaGuardia Act (1932) |

448
(1)

| | |
| --- | --- |
| | National Industrial Recovery Act (1933) |

448
(1)
448
(1)
449
(1)

| | |
| --- | --- |
| | Landrum-Griffin Act (1959) |

450
(1)

| | |
| --- | --- |
| | Significant NLRB and Judicial Decisions |

451
(1)

| | |
| --- | --- |
| | The Union Certification Process |

452
(7)

| | |
| --- | --- |
| | Initial Contact and Interest Building |

453
(2)
455
(3)
458
(1)
458
(1)

| | |
| --- | --- |
| | The Collective Bargaining Process |

459
(12)
459
(1)
460
(11)
471
(13)
472
(1)
473
(2)

| | |
| --- | --- |
| | Appeal and Impact of Unionism |

475
(3)

| | |
| --- | --- |
| | The NLRB ULP Complaint Process |

478
(2)

| | |
| --- | --- |
| | Public Sector Employee and Labor Relations |

480
(1)

| | |
| --- | --- |
| | International Employee and Labor Relations |

481
(3)

| | |
| --- | --- |
| | Unionism in the Twenty-First Century |

484
(1)

| | |
| --- | --- |
| | Employee and Labor Relations in a Nonunion Environment |

484
(13)

| | |
| --- | --- |
| | Employee Rights and Obligations in a Nonunion Setting |

485
(3)
488
(4)
492
(1)

| | |
| --- | --- |
| | Employee Involvement Programs |

493
(4)

| | |
| --- | --- |
| | Strategic Considerations for the SPHR |

497
(2)
499
(1)
499
(1)
500
(2)
500
(1)
501
(1)
502
(7)
504
(1)

| | |
| --- | --- |
| | Answers to Review Questions |

505
(2)

| | |
| --- | --- |
| | Answers to Exam Questions |

507
(1)

| | |
| --- | --- |
| | Suggested Readings and Resources |

508
(1)

| | |
| --- | --- |
| | Occupational Health, Safety, and Security |

509
(154)
512
(6)

| | |
| --- | --- |
| | A Brief History of Health, Safety, and Security |

513
(1)

| | |
| --- | --- |
| | Health, Safety, and Security Law |

514
(4)
518
(6)
518
(2)
520
(1)
520
(1)
521
(3)

| | |
| --- | --- |
| | OSHA Record Keeping Requirements |

524
(1)
524
(3)
524
(1)

| | |
| --- | --- |
| | Components of the Program |

525
(1)

| | |
| --- | --- |
| | Accident Investigation Procedures |

526
(1)

| | |
| --- | --- |
| | Occupational Health Programs |

527
(3)

| | |
| --- | --- |
| | Employee Assistance Programs |

527
(1)
527
(1)

| | |
| --- | --- |
| | Stress Reduction Programs |

528
(1)

| | |
| --- | --- |
| | Smoking Cessation Programs |

528
(1)
529
(1)
529
(1)

| | |
| --- | --- |
| | Obesity Prevention and Control |

529
(1)
530
(1)
530
(3)
530
(1)
531
(1)
531
(1)
532
(1)
533
(1)

| | |
| --- | --- |
| | Strategic Considerations for the SPHR |

533
(2)
535
(1)
535
(1)
536
(1)
536
(1)
537
(1)
537
(10)
539
(1)

| | |
| --- | --- |
| | Answers to Review Questions |

540
(2)

| | |
| --- | --- |
| | Answers to Exam Prep Questions |

542
(1)

| | |
| --- | --- |
| | Suggested Readings and Resources |

543
(4)
547
(54)
547
(54)
601
(30)

| | |
| --- | --- |
| | Appendix A: CD Contents and Installation Instructions |

631
(6)
631
(1)
631
(1)
631
(1)
631
(1)
631
(1)
632
(1)
632
(1)
632
(1)

| | |
| --- | --- |
| | Random Questions and Order of Answers |

632
(1)

| | |
| --- | --- |
| | Detailed Explanations of Correct and Incorrect Answers |

633
(1)

| | |
| --- | --- |
| | Attention to Exam Objectives |

633
(1)
633
(1)

| | |
| --- | --- |
| | Creating a Shortcut to the MeasureUp Practice Tests |

634
(1)
635
(2)
637
(26)
Index
663
Excerpts
= 0) {slash = '\\';} else {slash = '/';}openLoc = figLoc.substring(0, figLoc.lastIndexOf(slash) + 1);while (pPage.substring(0,3) == '../') {openLoc = openLoc.substring(0, openLoc.lastIndexOf(slash, openLoc.length - 2)+ 1);pPage = pPage.substring(3, pPage.length + 1);}popUpWin =window.open('','popWin','resizable=1,scrollbars=1,location=0,toolbar=0,width=525,height=394');figDoc = popUpWin.document;zhtm= ' ' + pPage + ' ';zhtm += ' ';zhtm += ' ';zhtm += ' ';zhtm += '' + pPage.substring(pPage.lastIndexOf('/') + 1, pPage.length) + '';zhtm += ' ';figDoc.write(zhtm);figDoc.close();}// modified 3.1.99 RWE v4.1 --> Introduction Introduction The purpose of this book is to assist you in preparing to take and pass the Senior Professional in Human Resources (SPHR) examination. The SPHR is generally recognized as the highest level of certification available to the HR professional and is a symbol and credential indicating mastery of the domestic body of knowledge of the profession. The Society for Human Resource Management (SHRM), through its affiliate the Human Resource Certification Institute (HRCI), has determined that the HR body of knowledge consists of six functional areas: Strategic Management Workforce Planning and Employment Human Resource Development Compensation and Benefits Employee and Labor Relations Occupational Health, Safety, and Security This book has been created around those six functional areas with a major chapter devoted to each area. The material has been presented in the same relative proportions as represented by the number of test questions on the examination. In other words, there is much more material on Strategic Management and Employee and Labor Relations, which compose about 50% of the test questions, as opposed to Occupational Health, Safety, and Security, which represents only about 5% of the examination test items. The SPHR candidate should not only understand the technical information and HR practices associated with each area but also be able to integrate that knowledge and practice from multiple areas into viable HR strategy. An understanding of the interdependence of the various functional areas is required. Although the book contains a huge amount of material, some of the technical minutia has been left out. The SPHR is not a day-to-day tactical operative, but understands and is responsible for strategic programmatic planning and direction. To that end, interspersed throughout the text are discussions of the potential strategic implications of decisions and activities in the functional areas. The HR professional lives in a dynamic world of change. Certification is only the beginning. New challenges