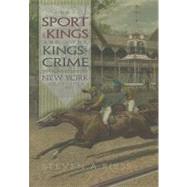 The Sport of Kings and the Kings of Crime: Horse Racing, Politics, and Organized Crime in New York, 1865-1913
by
Riess, Steven A.
Table of Contents
List of Illustrations and Tables
p. ix
Preface
p. xi
Acknowledgments
p. xxiii
The Rise of Horse Racing in America
p. 1
The American Jockey Club and the Rebirth of the New York Turf
p. 16
The Emergence of the Brooklyn Racetracks, 1879-86
p. 46
The Ives Pool Law of 1887
p. 79
Politics and the Turf in New Jersey, 1870-94
p. 101
From the Board of Control to The Jockey Club, 1891-94
p. 137
The Poolroom Business in Metropolitan New York, 1863-98
p. 175
New York Racing under Attack, 1894-96
p. 214
A Glorious Decade of Racing: The New York Turf, 1897-1907
p. 235
The Gambling Trust and the Poolrooms, 1899-1913
p. 264
The Demise and Resurrection of Racing in New York, 1907-13
p. 302
Conclusion: Racing, Machine Politics, and Organized Crime
p. 349
Abbreviations
p. 359
Notes
p. 361
Bibliography
p. 413
Index
p. 431
Table of Contents provided by Ingram. All Rights Reserved.