Note: Supplemental materials are not guaranteed with Rental or Used book purchases.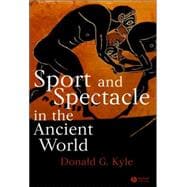 Sport And Spectacle in the Ancient World
ISBN13:
9780631229711
by
Kyle, Donald G.
Summary
This work by a well-published scholar and award-winning teacher provides an introduction to the history of sport and spectacle in the ancient world from the Ancient Near East through Greek and Hellenistic times and into the Roman Empire. The book introduces readers to ancient sport history as a growing and exciting field in which scholarly advances and controversies abound. Drawing on archaeological and art historical evidence and on approaches from anthropology and social history, the author goes beyond the traditional focus on the Greek Olympics and the Roman Colosseum to examine the origins, nature and meaning of sport, the sporting activities and spectacles of earlier Mediterranean peoples, local sport and unusual contests, and much more.
Author Biography
Donald G. Kyle is Professor and Chair of History at the University of Texas at Arlington. An award-winning teacher, he has been honoured by the University as a Distinguished Teaching Fellow. He has published Athletics in Ancient Athens (Revised Edition, 1993) and Spectacles of Death in Ancient Rome (1998) and co-edited Essays on Sport History and Sport Mythology (1990). He has appeared in History Channel shows on gladiators (1996) and crime in Rome (2005) and PBS and History Channel shows on the Ancient Olympics (2004).
Table of Contents
Preface and Acknowledgments
ix
Abbreviations
xii
List of Figures
xiv
List of Maps
xvi
List of Tables
xvii
Introduction: Ancient Sport History
1
(197)
5
(4)

| | |
| --- | --- |
| | Word Games: Conceptualizing Sport and Spectacle |

9
(2)

| | |
| --- | --- |
| | Challenges: Evidence, Chronology, and Modernism |

11
(6)

| | |
| --- | --- |
| | Sports and Spectacles as Cultural Performances |

17
(1)

| | |
| --- | --- |
| | Greece and Rome: Positive and Negative Classicism |

18
(2)

| | |
| --- | --- |
| | Sports as Spectacle, Spectacles as Sport |

20
(3)

| | |
| --- | --- |
| | 1 Origins and Essences: Early Sport and Spectacle |

23
(15)

| | |
| --- | --- |
| | Mesopotamian Combat Sports and Running |

26
(2)

| | |
| --- | --- |
| | Egypt: From Hunting to Sporting Pharaohs |

28
(6)

| | |
| --- | --- |
| | Royal Hunts as a Near Eastern Tradition |

34
(2)

| | |
| --- | --- |
| | States and Sports, Empires and Spectacles |

36
(2)

| | |
| --- | --- |
| | 2 Late Bronze Age Minoans, Hittites, and Mycenaeans |

38
(16)

| | |
| --- | --- |
| | Minoan Performances: Rites, Contests or Spectacles? |

39
(6)
45
(3)
48
(3)

| | |
| --- | --- |
| | A Sporting Mediterranean World |

51
(3)

| | |
| --- | --- |
| | 3 Sport in Homer: Contests, Prizes, and Honor |

54
(18)

| | |
| --- | --- |
| | Funeral Games for Patroklos: Prizes and Reconciliation |

57
(8)

| | |
| --- | --- |
| | The Odyssey: Sport and Returning Home |

65
(5)
70
(2)

| | |
| --- | --- |
| | 4 Archaic Greece: Athletics in an Age of Change |

72
(22)

| | |
| --- | --- |
| | Factors in the Growth of Athletics |

76
(9)

| | |
| --- | --- |
| | Nudity, Democracy, and Eros |

85
(5)

| | |
| --- | --- |
| | Funeral Games and City-State Prizes |

90
(2)

| | |
| --- | --- |
| | The Coming of Age of Greek Sport |

92
(2)

| | |
| --- | --- |
| | 5 In Search of the Ancient Olympics |

94
(16)

| | |
| --- | --- |
| | The Olympics of Illusion and Allusion |

95
(4)

| | |
| --- | --- |
| | Modern Myths and Invented Traditions |

99
(2)

| | |
| --- | --- |
| | The Quagmire of Olympic Origins: Explanations and Excavations |

101
(9)

| | |
| --- | --- |
| | 6 Ancient Olympia and its Games |

110
(26)

| | |
| --- | --- |
| | The Physical Context: Sanctuary and Facilities |

111
(3)

| | |
| --- | --- |
| | The Olympic Festival: Operation and Administration |

114
(5)
119
(8)

| | |
| --- | --- |
| | Olympia and Spectacle: Politics, Problems, and Performances |

127
(9)

| | |
| --- | --- |
| | 7 Panhellenic Sacred Crown Games |

136
(14)
137
(3)
140
(3)
143
(5)

| | |
| --- | --- |
| | Panhellenic Variations and More |

148
(2)

| | |
| --- | --- |
| | 8 Athens: City of Contests and Prizes |

150
(30)

| | |
| --- | --- |
| | The Panathenaic Games: Sacred and Civic Athletics |

152
(14)
166
(2)
168
(2)

| | |
| --- | --- |
| | Politics, Patronage, and Sport |

170
(4)

| | |
| --- | --- |
| | Athenian Athletes and Athletes at Athens |

174
(2)

| | |
| --- | --- |
| | Critics and Popular Attitudes |

176
(4)

| | |
| --- | --- |
| | 9 Spartan Sport and Physical Education |

180
(18)

| | |
| --- | --- |
| | Physical Education: Building the Body Politic |

181
(4)
185
(3)

| | |
| --- | --- |
| | Kyniska and Spartan Chariot Racing at Olympia |

188
(8)
196
(2)
10 Greek Athletes: Myths, Motives, and Mobility
198
(19)

| | |
| --- | --- |
| | Athletic Stars and Stories |

199
(4)

| | |
| --- | --- |
| | Pindar on Victory and Glory |

203
(2)

| | |
| --- | --- |
| | Athletes and Social History |

205
(6)

| | |
| --- | --- |
| | Democratization and Athletics |

211
(6)
11 Females and Greek Athletics
217
(12)

| | |
| --- | --- |
| | Girls' Races and the Heraia |

218
(3)

| | |
| --- | --- |
| | Women at the Male Olympics? |

221
(4)

| | |
| --- | --- |
| | Virgin Olympic Spectators? |

225
(4)
12 Macedon and Hellenistic Sport and Spectacle
229
(22)

| | |
| --- | --- |
| | Philip II: Proclaiming Greekness through Games |

232
(3)

| | |
| --- | --- |
| | Alexander the Great: Becoming Near Eastern through Spectacles |

235
(7)

| | |
| --- | --- |
| | Hellenistic Sport and Spectacle |

242
(7)
249
(2)
13 The Roman Republic: Festivals, Celebrations, and Games
251
(28)

| | |
| --- | --- |
| | Etruscan Sport and Spectacle: Greek Gifts and Roman Roots? |

253
(4)

| | |
| --- | --- |
| | Roman Festivals and Entertainments |

257
(1)
258
(1)

| | |
| --- | --- |
| | Triumphs: Spectacles of Military Victory |

259
(5)

| | |
| --- | --- |
| | Hunts and Beasts: Conquests and Games |

264
(5)

| | |
| --- | --- |
| | Gladiators: Roman Rites and Combats |

269
(5)
274
(2)

| | |
| --- | --- |
| | Roman-Hellenistic Spectacular Discourse |

276
(3)
14 Late Republic and Augustus: Spectacles, Popular Politics, and Empire
279
(21)

| | |
| --- | --- |
| | The Meaning of Gladiatorial Combat: Infamy and Virtue |

280
(5)

| | |
| --- | --- |
| | Sulla, Pompey, and Caesar: Magnificence and Munificence |

285
(4)

| | |
| --- | --- |
| | Augustus: Unification and Imperial Rule through Shows |

289
(11)
15 Spectacle, Sport, and the Roman Empire
300
(40)

| | |
| --- | --- |
| | Emperors, Spectacles, and Scandals |

303
(1)

| | |
| --- | --- |
| | Days at the Track: Chariot Racing |

304
(6)
310
(2)

| | |
| --- | --- |
| | Gladiators, Arenas, and Empire |

312
(11)

| | |
| --- | --- |
| | Beast Hunts: Nature and Empire |

323
(4)

| | |
| --- | --- |
| | Spectacular Executions: Beasts, Criminals, and Social Order |

327
(2)

| | |
| --- | --- |
| | Greek Games in the Roman Empire |

329
(9)

| | |
| --- | --- |
| | Assimilation and Accommodation |

338
(2)
Conclusion: Ancient Sport and Spectacle
340
(7)
Notes
347
(30)
Select Bibliography
377
(12)
Index
389