Note: Supplemental materials are not guaranteed with Rental or Used book purchases.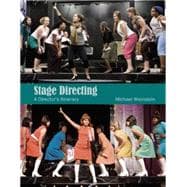 Stage Directing A Director's Itinerary
by
Wainstein, Michael
Focus Publishing/R. Pullins Co.
Summary
With Stage Directing: A Director's Itinerary, the student of theatrical directing now has a step-by-step guide to directing a production, from choosing a play to opening night. Unlike other directing textbooks, this practical guidebook provides instruction on how to organize the work of the director through the practical challenges of the directorial process (e.g., organizing a budget spreadsheet, writing casting notices, setting up an audition space, etc.). In Stage Directing, the process of directing a production takes the form of twenty-one chapters, which contain helpful examples and tried-and-true exercises, as well as information on how to organize the director's documents into a director's production notebook.
Author Biography
Michael Wainstein is the Chair of the Department of Performing Arts at Savannah College of Art and Design. He has directed almost two hundred productions at theatres in the United States and Europe. Wainstein was the Artistic Director of companies such as the Firehouse Center for the Arts, The Naples Dinner Theatre, The Lincoln Playhouse, and others. He has worked at The Buxton Festival, The Academy Theatre, The Blowing Rock Playhouse, Seattle Repertory Theatre, Chicago Opera Theatre, Cincinnati Opera, and The Chautauqua Conservatory Theatre.
Table of Contents
Acknowledgments and Photo Credits Preface PART I: First Things First Chapter 1: A brief history of directing Chapter 2: Choosing a play and securing a performance license Chapter 3: Budgeting Chapter 4: Reading the play Chapter 5: Interpreting the Script Chapter 6: Research Chapter 7: Concept PART II: Written word to three-dimensional world Chapter 8: The Visual Collaboration Chapter 9: Casting PART III: Rehearsals Chapter 10: Preparing for Rehearsals Chapter 11: The First Rehearsal and Table Work Chapter 12: Staging Rehearsals Chapter 13: Blocking in different stage configurations PART IV: Rehearsing a Musical Chapter 14: Initial Rehearsals of a Musical Chapter 15: Staging Musical Scenes PART V: Rehearsals Continue Chapter 16: Listen to your Inner Voice and Directing the Moments Chapter 17: Working with actors Chapter 18: Solving Problems Chapter 19: Stumble-throughs, Work-throughs, and Run-throughs Chapter 20: Technical Rehearsals and Adding Elements PART VI: Opening the Show Chapter 21: Final Dress to Opening Night Appendix 1: Genre and Playing Style Appendix 2: Script Analysis Case Study—The Glass Menagerie by Tennessee Williams Appendix 3: Sample Rehearsal Schedules Appendix 4: Master Schedule of Production Deadlines Appendix 5: Contracts Glossary
Excerpts
In this book, I have endeavored to create a step-by-step guide for the student director. There are already many books that offer an experienced director's point of view on the art of dramatic interpretation or the craft of working with actors. Although these perspectives can be valuable, they are secondary. For what use is a groundbreaking dramatic interpretation if a faulty rehearsal schedule, poor casting notice, or mismanaged budget sinks the production before the curtains ever even open?

Everything a director needs to know about successfully navigating these practical concerns is provided in this book. Because of the great responsibility that comes with being a director—from upholding the playwright's work, to ensuring the actors deliver convincing performances, to satisfying an audience and guaranteeing a profitable production—being detailed and organized are essential. For this reason, keeping a director's production notebook is important for the student director. It allows the director to organize his or her notes, budgets, analysis, research, schedules, designs, cast information, blocking, etc. in one, easy-to-reference place.