Note: Supplemental materials are not guaranteed with Rental or Used book purchases.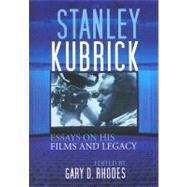 Stanley Kubrick : Essays on His Films and Legacy
ISBN13:
9780786432974
by
Rhodes, Gary D.
Summary
Seventeen essays examine the career and films of director Stanley Kubrick from a variety of perspectives. Part I focuses on his early career, including his first newsreels, his photography for Look magazine, and his earliest films (Fear and Desire, Killer's Kiss). Part II examines his major or most popular films (Paths of Glory, The Shining, 2001: A Space Odyssey). Part III provides a thorough case study of Eyes Wide Shut, with four very different essays focusing on the film's use of sound, its representation of gender, its carnivalesque qualities, and its phenomenological nature. Finally, Part IV discusses Kubrick's ongoing legacy and his impact on contemporary filmmakers.
Table of Contents
Introduction
p. 1
Early Works
Stanley Kubrick and Look Magazine
p. 7
Kubrick's Early Non-Fiction Work
p. 22
The Art of War (Films): Fear and Desire and Paths of Glory
p. 29
The Dream Landscape of Killer's Kiss
p. 39
One Watches Cells: Kubrick's Films Noirs in Context
p. 47
Part I Notes
p. 65
Major Works
Patterns of Space, Sound, and Movement in Paths of Glory
p. 71
Spartacus: The Spectre of Politics and the Politics of Spectacle
p. 82
Believing Is Seeing: Surveillance and 2001: A Space Odyssey
p. 94
Value, Violence, and Music Recognized: A Clockwork Orange as Musicology
p. 105
The Sadness of the Gaze: Barry Lyndon
p. 123
Reconsidering Fidelity and Considering Genre in (and with) The Shining
p. 136
Part II Notes
p. 149
Eyes Wide Shut (1999): A Case Study
The Mask that Conceals Nothing: Marital Fidelity and the Lo-Fi Soundscape in Eyes Wide Shut
p. 157
Eyes Wide Shut: Kubrick and the Representation of Gender
p. 170
Carnivalesque and Grotesque Bodies in Eyes Wide Shut
p. 182
The Phenomenological Quest of Stanley Kubrick: Eyes Wide Shut
p. 196
Part III Notes
p. 206
Kubrick's Legacy
Mechanical Humanity, or How I Learned to Stop Worrying and Love the Android: The Posthuman Subject in 2001: A Space Odyssey and Artificial Intelligence: A.I.
p. 211
Whose Stanley Kubrick? The Myth, Legacy, and Ownership of the Kubrick Image
p. 232
Part IV Notes
p. 245
About the Contributors
p. 249
Index
p. 253
Table of Contents provided by Ingram. All Rights Reserved.