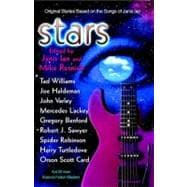 Summary
Thirty original stories-each inspired by a Janis Ian song-from some of the biggest names in science fiction and fantasy, including: Tad Williams, Harry Turtledove, Orson Scott Card, Joe Haldeman, John Varley, Mercedes Lackey, Judith Tarr, Janis Ian, and others.
Table of Contents
Introduction
p. 1
Come Dance with me
p. 9
The Scent of Trumpets, the Voices of Smoke
p. 28
Finding my Shadow
p. 48
Ride me Like a Wave
p. 66
In Fading Suns and Dying Moons
p. 72
On the Other Side
p. 93
Nightmare Mountain
p. 109
On the Edge
p. 146
Two Faces of Love
p. 165
Immortality
p. 189
Hunger
p. 199
Society's Stepchild
p. 219
Murdering Stravinsky or Two Sit-Downs in Paris
p. 247
Society's Goy
p. 257
Second Person Unmasked
p. 268
Play Like a Girl
p. 279
All in a Blaze
p. 292
Cartoons
p. 302
Old Photographs
p. 305
Ej-Es
p. 319
You Don't Know my Heart
p. 342
Riding Janis
p. 363
East of the Sun, West of Acousticville
p. 377
Hopper Painting
p. 403
An Indeterminate State
p. 423
This House
p. 437
Calling your Name
p. 455
Shadow in the City
p. 471
Joe Steele
p. 489
Inventing Lovers on the Phone
p. 505
Table of Contents provided by Ingram. All Rights Reserved.