Note: Supplemental materials are not guaranteed with Rental or Used book purchases.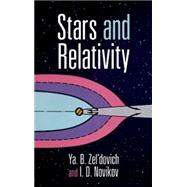 Questions About This Book?
What version or edition is this?
This is the Revised edition with a publication date of 7/19/2011.
What is included with this book?
The New copy of this book will include any supplemental materials advertised. Please check the title of the book to determine if it should include any CDs, lab manuals, study guides, etc.
Summary
Volume 1 ofRelativistic Astrophysicsby famed Russian scientists explores general relativity, properties of matter under astrophysical conditions, stars and stellar systems. Presentation remarkable for deep physical insights and clarity of expression. Invaluable resource for physicists, astronomers, graduate students. 72 figures. 21 tables. 1971 edition.
Table of Contents
Editors' Foreword
xi
Preface to the English Edition
xiii
Preface to the First Russian Edition
xv
I. THE THEORY OF GRAVITATION

| | |
| --- | --- |
| | Einstein's Gravitational Equations |

3
(61)

| | |
| --- | --- |
| | The Equality of Inertial and Gravitational Mass |

3
(3)

| | |
| --- | --- |
| | The Fundamental Concept of the General Theory of Relativity |

6
(3)

| | |
| --- | --- |
| | Properties of Noninertial Systems |

9
(3)

| | |
| --- | --- |
| | The Measurement of Spacetime Intervals |

12
(4)

| | |
| --- | --- |
| | Some Formulae for Curvilinear Coordinates |

16
(3)

| | |
| --- | --- |
| | Dynamic and Kinematic Quantities |

19
(3)
22
(2)

| | |
| --- | --- |
| | The Einstein Field Equations and the Equations of Motion |

24
(4)

| | |
| --- | --- |
| | The Cosmological Constant |

28
(5)

| | |
| --- | --- |
| | Newton's Law and Weak Gravitational Fields |

33
(4)

| | |
| --- | --- |
| | The Analogue of the Zeeman Effect in the Gravitational Field of a Rotating Body |

37
(1)
38
(7)

| | |
| --- | --- |
| | Gravitational Radiation from Binary Stars |

45
(6)

| | |
| --- | --- |
| | Gravitational Radiation Damping |

51
(8)

| | |
| --- | --- |
| | The Detection of Gravitational Waves |

59
(5)
62
(2)

| | |
| --- | --- |
| | Inescapability of the General Theory of Relativity (GTR) and Problems in the Theory of Gravitation |

64
(19)
64
(1)

| | |
| --- | --- |
| | Unified Field Theory, Geometrodynamics, and the Fundamental Mass and Length |

64
(2)

| | |
| --- | --- |
| | A Flat-Space Theory of Gravity |

66
(2)

| | |
| --- | --- |
| | Necessity of the Concept of Spacetime Curvature |

68
(3)

| | |
| --- | --- |
| | On the Possibility of Calculating the Gravitation Constant from Elementary-Particle Theory |

71
(3)
74
(4)
78
(5)
80
(3)

| | |
| --- | --- |
| | The Spherically Symmetric Gravitational Field |

83
(46)
83
(2)

| | |
| --- | --- |
| | The Schwarzschild Gravitational Field |

85
(2)

| | |
| --- | --- |
| | The Gravitational Field inside a Star |

87
(2)

| | |
| --- | --- |
| | The Radial Motion of Light Rays and of Ultrarelativistic Particles |

89
(4)

| | |
| --- | --- |
| | Radial Motion of Nonrelativistic Particles |

93
(3)

| | |
| --- | --- |
| | Potential Curves for Nonradial Motion |

96
(3)
99
(3)

| | |
| --- | --- |
| | The Motion of a Relativistic Particle in a Coulomb Field |

102
(1)

| | |
| --- | --- |
| | Gravitational Capture of a Nonrelativistic Particle |

103
(2)

| | |
| --- | --- |
| | Motion of Ultrarelativistic Particles and of Light Rays |

105
(1)

| | |
| --- | --- |
| | Particle Motion in the Schwarzschild Gravitational Field, including the Effects of Gravitational Radiation |

106
(4)

| | |
| --- | --- |
| | The R- and T-Regions of Schwarzschild Spacetime |

110
(5)

| | |
| --- | --- |
| | Internal Solution for a Nonstatic Sphere |

115
(3)
118
(11)

| | |
| --- | --- |
| | Nonspherical Gravitational Fields |

129
(26)
129
(1)

| | |
| --- | --- |
| | Static Fields with Axial Symmetry |

130
(4)

| | |
| --- | --- |
| | The External Fields of Rotating Bodies |

134
(4)

| | |
| --- | --- |
| | The Schwarzschild Sphere in an External Quadrupole Field |

138
(1)

| | |
| --- | --- |
| | The Gravitational Contraction of a Slowly Rotating Body with Small Deviations from Spherical Symmetry |

139
(5)

| | |
| --- | --- |
| | What Happens to Matter after It Falls through the Event Horizon? |

144
(11)
149
(6)
II. THE EQUATION OF STATE OF MATTER
155
(5)

| | |
| --- | --- |
| | The Concept of Pressure; Different Kinds of Pressure; the Case of Long-Range Interactions |

155
(5)
160
(41)

| | |
| --- | --- |
| | Classification into Domains |

160
(3)
163
(4)

| | |
| --- | --- |
| | Corrections in the Domain of High Pressures |

167
(2)

| | |
| --- | --- |
| | The Domain of Medium Densities, 106 < ρ < 500 g cm-3 |

169
(5)

| | |
| --- | --- |
| | Nuclear Processes and Nuclear Interactions: Their Effect upon the Equation of State |

174
(7)

| | |
| --- | --- |
| | The Properties of a Neutron Gas |

181
(4)

| | |
| --- | --- |
| | Density Greater than Nuclear |

185
(2)

| | |
| --- | --- |
| | An Ideal Neutron Gas at Superhigh Density |

187
(1)

| | |
| --- | --- |
| | Ideal Gas with the Inclusion of Reciprocal Transformations between Particles |

188
(5)

| | |
| --- | --- |
| | Are All ``Elementary'' Particles Really Elementary? |

193
(1)

| | |
| --- | --- |
| | The Electromagnetic Interaction of Particles |

194
(3)

| | |
| --- | --- |
| | A Rigorous Limit upon the Equation of State? |

197
(4)

| | |
| --- | --- |
| | Properties of Matter at High Temperatures |

201
(10)

| | |
| --- | --- |
| | Physical Conditions in Ordinary Stars |

201
(1)
202
(3)

| | |
| --- | --- |
| | Various Types of Equilibrium |

205
(6)

| | |
| --- | --- |
| | Thermodynamic Quantities at High Temperatures |

211
(22)

| | |
| --- | --- |
| | Neutral Gas, Plasma; Ionization Equilibrium |

211
(3)

| | |
| --- | --- |
| | The Thermodynamics of Radiation |

214
(3)
217
(4)

| | |
| --- | --- |
| | The Dissociation of Nuclei |

221
(4)

| | |
| --- | --- |
| | Dense Matter at Low Temperatures |

225
(1)
226
(2)

| | |
| --- | --- |
| | General Thermodynamic Relations for Truly Neutral Matter |

228
(5)
III. RELATIVISTIC STAGES OF EVOLUTION OF COSMIC OBJECTS
233
(6)

| | |
| --- | --- |
| | The Equilibrium and Stability of Stars |

239
(91)

| | |
| --- | --- |
| | The Equilibrium and Stability of a Star as a Whole |

239
(6)

| | |
| --- | --- |
| | General Aspects of the Theory of Stellar Equilibrium |

245
(4)

| | |
| --- | --- |
| | Analytic Theory of Polytropic Gas Spheres |

249
(3)

| | |
| --- | --- |
| | The Adiabatic and Polytropic Indices |

252
(2)

| | |
| --- | --- |
| | The Energy Approach to the Theory of Equilibrium for a Star Consisting of Matter with γ Close to 4/3 |

254
(2)

| | |
| --- | --- |
| | Relativistic Equations of Stellar Equilibrium |

256
(8)

| | |
| --- | --- |
| | Relativistic Equations for Rotating Stars |

264
(7)

| | |
| --- | --- |
| | Theory of Cold White Dwarfs |

271
(8)
279
(7)
286
(2)

| | |
| --- | --- |
| | Stability of Neutron Stars |

288
(3)

| | |
| --- | --- |
| | Configurations with Positive Energy |

291
(4)

| | |
| --- | --- |
| | The Metastability of Every Equilibrium State |

295
(2)

| | |
| --- | --- |
| | Equilibrium of a Supermassive Star |

297
(12)

| | |
| --- | --- |
| | Critical States of Stars with Intermediate Mass |

309
(21)
317
(2)
319
(3)
322
(1)
322
(3)
325
(3)
328
(2)
330
(86)

| | |
| --- | --- |
| | Evolution of a Star up to the Loss of Stability or the White-Dwarf Stage |

330
(8)

| | |
| --- | --- |
| | Instability of Massive Stars with Nuclear Sources of Energy |

338
(2)

| | |
| --- | --- |
| | Stability of Stellar Evolution |

340
(5)
345
(19)

| | |
| --- | --- |
| | The Physics of Neutron Stars |

364
(5)

| | |
| --- | --- |
| | Evolution of a Star with a Mass Greater than the Oppenheimer-Volkoff Limit |

369
(1)
370
(3)

| | |
| --- | --- |
| | Neutrino Emission in the Collapse of a Cool Star |

373
(3)

| | |
| --- | --- |
| | The Evolution of a Supermassive Star: General Remarks |

376
(1)
377
(2)

| | |
| --- | --- |
| | The Evolution of a Supermassive Star without Turbulence or Rotation |

379
(5)

| | |
| --- | --- |
| | Rotation and Mass Shedding: General Relationships |

384
(5)

| | |
| --- | --- |
| | Equilibrium and the Shape of a Rotating Star: The Newtonian Theory |

389
(4)

| | |
| --- | --- |
| | Corrections for GTR in the Theory of a Rotating Star |

393
(5)

| | |
| --- | --- |
| | Approximate Theory of Equilibrium |

398
(2)

| | |
| --- | --- |
| | Rotating Massive Stars and Quasistellar Objects |

400
(3)
403
(2)

| | |
| --- | --- |
| | The Evolution of a Rotating Star: Velocity of Mass Ejection |

405
(11)
410
(6)
416
(16)

| | |
| --- | --- |
| | General Overview and Basic Equations |

416
(5)

| | |
| --- | --- |
| | Solutions for Nonrelativistic Star Clusters |

421
(3)

| | |
| --- | --- |
| | The Stability of Collisionless Solutions |

424
(2)

| | |
| --- | --- |
| | Physical Conditions, Collisions, and Evolution in Star Clusters |

426
(2)

| | |
| --- | --- |
| | Relativistic Star Clusters |

428
(4)

| | |
| --- | --- |
| | Physical Processes in the Vicinities of Relativistic Objects and a Comparison with Observations |

432
(41)

| | |
| --- | --- |
| | Accretion of Gas by Neutron Stars and Collapsed Stars |

432
(1)

| | |
| --- | --- |
| | The Infall of Noninteracting Particles |

433
(2)

| | |
| --- | --- |
| | Four Regimes of Hydrodynamical Flow in the Case of Spherical Symmetry |

435
(3)

| | |
| --- | --- |
| | The Case of Accretion and the Validity of the Hydrodynamical Approximation |

438
(4)

| | |
| --- | --- |
| | The Luminosity due to Symmetric Accretion onto Neutron Stars and White Dwarfs |

442
(2)

| | |
| --- | --- |
| | The Problem of Discovering Collapsed Stars |

444
(2)

| | |
| --- | --- |
| | The Case of Asymmetric Gas Flow |

446
(5)

| | |
| --- | --- |
| | Accretion as a Factor in Stellar Evolution |

451
(1)

| | |
| --- | --- |
| | The Electrostatic Field, Acceleration of Positrons during Accretion, and Gamma-Ray Emission |

451
(1)
452
(5)

| | |
| --- | --- |
| | The Superfluidity and Superconductivity of Highly Compressed Matter, and Their Influence on the Behavior of Neutron Stars |

457
(2)

| | |
| --- | --- |
| | Magnetic and Magneohydrodynamic Phenomena in Collapsing Bodies |

459
(5)

| | |
| --- | --- |
| | The Statistics of Stars at the Endpoint of Stellar Evolution |

464
(9)
473
(12)

| | |
| --- | --- |
| | Observed Properties of Quasistellar Objects |

473
(3)

| | |
| --- | --- |
| | Theories of Quasistellar Objects |

476
(9)
References
485
(26)
Author Index
511
(5)
Subject Index
516