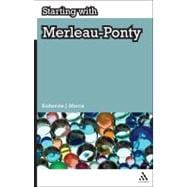 Summary
Merleau-Ponty was one of the most important European philosophers of the 20th century, whose work made enormous contributions to the development of phenomenology and the concept of the lived-body. Clearly and thematically structured, covering all Merleau-Ponty's key works and focussing particularly on the hugely important The Phenomenology of Perception, Starting with Merleau-Ponty leads the reader through a thorough overview of the development of his thought, resulting in a more thorough understanding of the roots of his philosophical concerns. Offering coverage of the full range of Merleau-Ponty's ideas, the book firmly sets his work in the context of the 20th century intellectual landscape and explores his contributions to phenomenology, existentialism, empiricism, objective thought and his vision of human reality. Crucially the book introduces the major thinkers and events that proved influential in the development of Merleau-Ponty's work, including Husserl, Sartre, Heidegger and those philosophers and psychologists whom he labelled 'intellectualists' and 'empiricists'. This is the ideal introduction for anyone coming to the work of this hugely important thinker for the first time.
Author Biography
Katherine J. Morris is Fellow in Philosophy at Mansfield College, University of Oxford, UK. Her previous publications include Sartre (Blackwell, 2007) and, with Gordon Baker, Descartes' Dualism (Routledge, 1996).
Table of Contents
Acknowledgements
p. ix
List of Abbreviations
p. x
Preface
p. xii
Starting with Merleau-Ponty
p. 1
Phenomenology and Existential Philosophy: Husserl and Heidegger
p. 2
Merleau-Ponty's 'Reconciling Project'
p. 9
Merleau-Ponty's Distinctive Contributions: First Glimpses
p. 14
Coda: What Phenomenology is Not
p. 18
∆Intellecutal Prejudices' in Analyses of Perception
p. 21
Gestalt Qualities
p. 22
The Empiricist Picture
p. 27
Intellectualist Variants on the Empiricist Picture
p. 32
'The Phenomenal Field'
p. 38
Coda: Merleau-Ponty and Science
p. 41
The Body
p. 48
'Special Object' vs. Body Schema
p. 51
A Better Account: Cartesian Physiology vs. Embodied Being-in-the-World
p. 56
A Better Vocabulary: 'Motor Intentionality' and the 'Power of Projection'
p. 59
Using the Abnormal I: 'Decoding' vs. 'Physiognomy
p. 63
Using the Abnormal II: Habits, Skills and Bodily Knowledge
p. 65
Coda: Normal and Abnormal
p. 69
The Body and the Perceived World
p. 73
Some Background and the Example of Depth
p. 75
The Constancies: The Example of Colour
p. 83
The Unity of the Senses and Intersensory Unity
p. 87
Orientation
p. 89
Coda: Concrete Essences and the Life-World a Priori
p. 94
Others
p. 99
The Problem of Others
p. 100
Tacit Cogito and 'Second Cogito∆
p. 103
The Interworld
p. 108
Bodily Reciprocity
p. 112
Coda: Gestures and Speech
p. 119
Merleau-Ponty Vivant
p. 124
Illness
p. 126
Women
p. 129
Culture
p. 134
Animals
p. 140
Coda: Intellectual Prejudices
p. 144
Notes
p. 150
Bibliography
p. 175
Index
p. 185
Table of Contents provided by Ingram. All Rights Reserved.