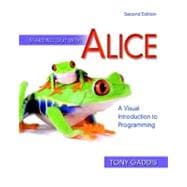 Starting Out with Alice : A Visual Introduction to Programming
by
Gaddis, Tony
List Price: $99.40
Hurry!
Only one copy
in stock at this price.
In Stock Usually Ships in 24 Hours.


More New and Used
from Private Sellers
Questions About This Book?
Why should I rent this book?
Renting is easy, fast, and cheap! Renting from eCampus.com can save you hundreds of dollars compared to the cost of new or used books each semester. At the end of the semester, simply ship the book back to us with a free UPS shipping label! No need to worry about selling it back.
How do rental returns work?
Returning books is as easy as possible. As your rental due date approaches, we will email you several courtesy reminders. When you are ready to return, you can print a free UPS shipping label from our website at any time. Then, just return the book to your UPS driver or any staffed UPS location. You can even use the same box we shipped it in!
What version or edition is this?
This is the 2nd edition with a publication date of 10/22/2010.
What is included with this book?
The Used copy of this book is not guaranteed to inclue any supplemental materials. Typically, only the book itself is included.
The Rental copy of this book is not guaranteed to include any supplemental materials. You may receive a brand new copy, but typically, only the book itself.
Related Products
Summary
Starting Out with Alice: A Visual Introduction to Programmingpresents a fun and motivational way for novice programmers to learn the basic tenets of programming. Using Alice, an innovative and increasingly popular teaching tool, readers from a variety of backgrounds create virtual programming worlds of animations and computer games. Introduction to Alice and Objects; Programming in Alice; Variables, Functions, Math, and Strings; Decision and Repetition Structures; Methods, Functions, and More about Variables; Events; Lists and Arrays; Recursion. For all readers interested in programming using Alice.
Author Biography
Tony Gaddis is the author of numerous textbooks, including Starting Out with C++, Starting Out with Java, Starting Out with Visual Basic.NET, and Starting Out with Visual Basic 6. He is a professor at Haywood Community College.
Table of Contents
Preface xiii
Chapter 1 Introduction to Alice and Objects 1
1.1 What Is a Computer Program? . . . . . . . . . . . . . . . . . . . . . . . . . . . . . . . .1
1.2 Algorithms and Programming Languages . . . . . . . . . . . . . . . . . . . . . . .2
1.3 Learning to Program with Alice . . . . . . . . . . . . . . . . . . . . . . . . . . . . . . .5
TUTORIAL 1-1: Opening and playing an Alice world . . . . . . . . . . . . . . . . . . . . . .6
1.4 Objects . . . . . . . . . . . . . . . . . . . . . . . . . . . . . . . . . . . . . . . . . . . . . . . .13
1.5 Classes and the Alice Galleries . . . . . . . . . . . . . . . . . . . . . . . . . . . . . . .16
TUTORIAL 1-2: Creating a world and adding objects . . . . . . . . . . . . . . . . . . . . .19
1.6 3D Objects and the Camera . . . . . . . . . . . . . . . . . . . . . . . . . . . . . . . . .31
TUTORIAL 1-3: Moving the camera in 3D space . . . . . . . . . . . . . . . . . . . . . . . .34
TUTORIAL 1-4: Manipulating objects in 3D space . . . . . . . . . . . . . . . . . . . . . . .40
TUTORIAL 1-5: Manipulating subpart objects . . . . . . . . . . . . . . . . . . . . . . . . . .43
Review Questions . . . . . . . . . . . . . . . . . . . . . . . . . . . . . . . . . . . . . . . . . . . . .51

Chapter 2 Programming in Alice 57
2.1 Writing Methods . . . . . . . . . . . . . . . . . . . . . . . . . . . . . . . . . . . . . . . . .57
TUTORIAL 2-1: Adding instructions to an Alice world . . . . . . . . . . . . . . . . . . . .62
TUTORIAL 2-2: Exploring additional primitive methods . . . . . . . . . . . . . . . . . .67
2.2 Naming Conventions . . . . . . . . . . . . . . . . . . . . . . . . . . . . . . . . . . . . . .73
2.3 Designing a Program . . . . . . . . . . . . . . . . . . . . . . . . . . . . . . . . . . . . . .77
TUTORIAL 2-3: Using the program design cycle . . . . . . . . . . . . . . . . . . . . . . . . .82
2.4 Comments . . . . . . . . . . . . . . . . . . . . . . . . . . . . . . . . . . . . . . . . . . . . . .88
TUTORIAL 2-4: Inserting comments . . . . . . . . . . . . . . . . . . . . . . . . . . . . . . . . . .89
2.5 Tips for Setting Up an Initial Scene . . . . . . . . . . . . . . . . . . . . . . . . . . . .90
2.6 Executing Instructions Simultaneously . . . . . . . . . . . . . . . . . . . . . . . . .97
TUTORIAL 2-5: Creating simultaneously executed instructions . . . . . . . . . . . . .98
2.7 Exporting Your Code for Printing . . . . . . . . . . . . . . . . . . . . . . . . . . . .104
2.8 Exporting an Alice World to Video . . . . . . . . . . . . . . . . . . . . . . . . . . .105
Review Questions . . . . . . . . . . . . . . . . . . . . . . . . . . . . . . . . . . . . . . . . . . . .106

Chapter 3 Variables, Functions, Math, and Strings 113
3.1 Variables . . . . . . . . . . . . . . . . . . . . . . . . . . . . . . . . . . . . . . . . . . . . . . .113
TUTORIAL 3-1: Creating and using a variable . . . . . . . . . . . . . . . . . . . . . . . . .116
TUTORIAL 3-2: Creating a set instruction for a variable . . . . . . . . . . . . . . . . .118
3.2 Using Functions . . . . . . . . . . . . . . . . . . . . . . . . . . . . . . . . . . . . . . . . .120
TUTORIAL 3-3: Calling an ask user function . . . . . . . . . . . . . . . . . . . . . . . . .122
TUTORIAL 3-4: Using a proximity function . . . . . . . . . . . . . . . . . . . . . . . . . . .127
3.3 Creating Math Expressions . . . . . . . . . . . . . . . . . . . . . . . . . . . . . . . . .130
TUTORIAL 3-5: Using math to avoid collisions . . . . . . . . . . . . . . . . . . . . . . . .132
3.4 Working with Strings and Text . . . . . . . . . . . . . . . . . . . . . . . . . . . . . .138
TUTORIAL 3-6: Converting a Number variable to a string . . . . . . . . . . . . . . . .141
Review Questions . . . . . . . . . . . . . . . . . . . . . . . . . . . . . . . . . . . . . . . . . . . .144

Chapter 4 Decision and Repetition Structures 151
4.1 Boolean Values . . . . . . . . . . . . . . . . . . . . . . . . . . . . . . . . . . . . . . . . . .151
4.2 The If/Else Decision Structure . . . . . . . . . . . . . . . . . . . . . . . . . . . . .153
TUTORIAL 4-1: Creating an If/Else instruction . . . . . . . . . . . . . . . . . . . . . . .156
4.3 Relational Comparisons and Logical Operators . . . . . . . . . . . . . . . . . .163
TUTORIAL 4-2: Using a relational operator . . . . . . . . . . . . . . . . . . . . . . . . . . .165
TUTORIAL 4-3: Testing an object's color property . . . . . . . . . . . . . . . . . . . . . .169
4.4 The Loop Instruction . . . . . . . . . . . . . . . . . . . . . . . . . . . . . . . . . . . . .174
TUTORIAL 4-4: Using the Loop instruction . . . . . . . . . . . . . . . . . . . . . . . . . . .175
4.5 The While Instruction . . . . . . . . . . . . . . . . . . . . . . . . . . . . . . . . . . . .180
TUTORIAL 4-5: Using a While instruction to make an object vanish . . . . . . . .182
TUTORIAL 4-6: Using the While instruction to move an object . . . . . . . . . . . .186
Review Questions . . . . . . . . . . . . . . . . . . . . . . . . . . . . . . . . . . . . . . . . . . . .189

Chapter 5 Methods, Functions, and More about Variables 195
5.1 Writing Custom Class-Level Methods . . . . . . . . . . . . . . . . . . . . . . . . .195
TUTORIAL 5-1: Creating a class-level method . . . . . . . . . . . . . . . . . . . . . . . . .196
5.2 Saving an Object to a New Class . . . . . . . . . . . . . . . . . . . . . . . . . . . .199
TUTORIAL 5-2: Saving an object to a class . . . . . . . . . . . . . . . . . . . . . . . . . . . .200
5.3 Stepwise Refinement . . . . . . . . . . . . . . . . . . . . . . . . . . . . . . . . . . . . .203
TUTORIAL 5-3: Completing the WorkOut world . . . . . . . . . . . . . . . . . . . . . . .207
5.4 Passing Arguments . . . . . . . . . . . . . . . . . . . . . . . . . . . . . . . . . . . . . . .209
TUTORIAL 5-4: Passing arguments to a method . . . . . . . . . . . . . . . . . . . . . . . .211
5.5 Using Class-Level Variables as Properties . . . . . . . . . . . . . . . . . . . . . . .215
TUTORIAL 5-5: Adding a property to an object . . . . . . . . . . . . . . . . . . . . . . . .217
5.6 Writing Class-Level Functions . . . . . . . . . . . . . . . . . . . . . . . . . . . . . . .220
TUTORIAL 5-6: Writing a class-level function . . . . . . . . . . . . . . . . . . . . . . . . .221
5.7 World-Level Methods and Variables . . . . . . . . . . . . . . . . . . . . . . . . . .226
5.8 Using Clipboards . . . . . . . . . . . . . . . . . . . . . . . . . . . . . . . . . . . . . . . .229
5.9 Tips for Visual Effects and Animation . . . . . . . . . . . . . . . . . . . . . . . . .230
Review Questions . . . . . . . . . . . . . . . . . . . . . . . . . . . . . . . . . . . . . . . . . . . .241

Chapter 6 Events 249
6.1 Responding to Events . . . . . . . . . . . . . . . . . . . . . . . . . . . . . . . . . . . . .249
6.2 Handling Key Press and Mouse Events . . . . . . . . . . . . . . . . . . . . . . . .253
TUTORIAL 6-1: Handling key press events . . . . . . . . . . . . . . . . . . . . . . . . . . . .254
TUTORIAL 6-2: Handling the while a key is pressed event . . . . . . . . . . .258
TUTORIAL 6-3: Handling a mouse click event . . . . . . . . . . . . . . . . . . . . . . . . .261
6.3 Using Events in Simulations and Games . . . . . . . . . . . . . . . . . . . . . . .264
6.4 Tips for Games and Simulations . . . . . . . . . . . . . . . . . . . . . . . . . . . . .268
Review Questions . . . . . . . . . . . . . . . . . . . . . . . . . . . . . . . . . . . . . . . . . . . .275

Chapter 7 Lists and Arrays 281
7.1 Lists . . . . . . . . . . . . . . . . . . . . . . . . . . . . . . . . . . . . . . . . . . . . . . . . . .281
TUTORIAL 7-1: Creating a list and using the For all in order and For all together instructions . . . . . . . . . . . . . . . . . . . . . . . . . . . . . .285
TUTORIAL 7-2: More complex list processing . . . . . . . . . . . . . . . . . . . . . . . . .291
TUTORIAL 7-3: Using the Let the mouse move <objects> event . . . . . . . .305
7.2 Arrays . . . . . . . . . . . . . . . . . . . . . . . . . . . . . . . . . . . . . . . . . . . . . . . . .308
TUTORIAL 7-4: Creating an array and a loop that steps through it . . . . . . . . .311
TUTORIAL 7-5: Randomly selecting an array element . . . . . . . . . . . . . . . . . . .317
Review Questions . . . . . . . . . . . . . . . . . . . . . . . . . . . . . . . . . . . . . . . . . . . .319

Chapter 8 Recursion 323
8.1 Introduction to Recursion . . . . . . . . . . . . . . . . . . . . . . . . . . . . . . . . . .323
TUTORIAL 8-1: Creating a recursive method . . . . . . . . . . . . . . . . . . . . . . . . . .327
8.2 Problem Solving with Recursion . . . . . . . . . . . . . . . . . . . . . . . . . . . . .330
TUTORIAL 8-2: Recursive problem solving in animation . . . . . . . . . . . . . . . . .331
TUTORIAL 8-3: Writing a recursive mathematical function . . . . . . . . . . . . . . .336
Review Questions . . . . . . . . . . . . . . . . . . . . . . . . . . . . . . . . . . . . . . . . . . . .338
Appendix A Installing Alice 343
Appendix B Answers to Checkpoints 347
Index 355