Note: Supplemental materials are not guaranteed with Rental or Used book purchases.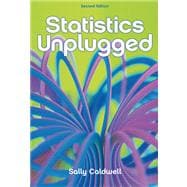 Questions About This Book?
What version or edition is this?
This is the 2nd edition with a publication date of 2/22/2006.
What is included with this book?
The New copy of this book will include any supplemental materials advertised. Please check the title of the book to determine if it should include any CDs, lab manuals, study guides, etc.
Related Products
Summary
It takes a real teacher, such as Sally Caldwell, to write a statistics textbook that students can understand and connect with. STATISTICS UNPLUGGED comes into its second edition with the same goals as in the first edition: to help students overcome their apprehension of statistics. She does this by emphasizing the logic behind statistical analysis, and by focusing on an intuitive understanding of statistics, not just on formulas and equations. Student feedback about the book routinely refers to the student-friendly language that's used in the book and how Caldwell writes in a way that makes the material understandable. In this brief paperback text, Caldwell succinctly alleviates student's fears of formulas, and helps them to understand the relevance of statistics to their lives.
Table of Contents
Introduction: Methods, Material, and Moments to Remember
1
(3)

| | |
| --- | --- |
| | The What and How of Statistics |

4
(14)
4
(3)
7
(2)
9
(3)

| | |
| --- | --- |
| | The Purposes of Statistical Analysis |

12
(3)
12
(1)
13
(2)
15
(1)

| | |
| --- | --- |
| | Some Other Things You Should Know |

15
(1)
16
(1)
16
(2)

| | |
| --- | --- |
| | Describing Data and Distributions |

18
(31)

| | |
| --- | --- |
| | Measures of Central Tendency |

19
(7)
19
(3)
22
(3)
25
(1)

| | |
| --- | --- |
| | Measures of Variability or Dispersion |

26
(18)
27
(1)
27
(3)
30
(2)
32
(3)
35
(6)
41
(3)
44
(1)

| | |
| --- | --- |
| | Some Other Things You Should Know |

45
(1)
46
(1)
46
(3)

| | |
| --- | --- |
| | The Shape of Distributions |

49
(19)
50
(3)

| | |
| --- | --- |
| | Beyond the Basics: Comparisons and Conclusions |

53
(4)
57
(7)
64
(1)

| | |
| --- | --- |
| | Some Other Things You Should Know |

65
(1)
66
(1)
66
(2)
68
(21)
69
(3)

| | |
| --- | --- |
| | Into the Theoretical World |

72
(3)

| | |
| --- | --- |
| | The Table of Areas Under the Normal Curve |

75
(6)
81
(5)
86
(1)

| | |
| --- | --- |
| | Some Other Things You Should Know |

86
(1)
87
(1)
87
(2)

| | |
| --- | --- |
| | Four Fundamental Concepts |

89
(14)

| | |
| --- | --- |
| | Fundamental Concept #1: Random Sampling |

90
(2)

| | |
| --- | --- |
| | Fundamental Concept #2: Sampling Error |

92
(3)

| | |
| --- | --- |
| | Fundamental Concept #3: The Sampling Distribution of Sample Means |

95
(1)

| | |
| --- | --- |
| | Fundamental Concept #4: The Central Limit Theorem |

96
(4)
100
(1)

| | |
| --- | --- |
| | Some Other Things You Should Know |

100
(1)
101
(1)
101
(2)
103
(40)

| | |
| --- | --- |
| | Confidence Interval for the Mean |

104
(1)

| | |
| --- | --- |
| | Confidence Interval for the Mean With σ Known |

105
(13)
105
(2)
107
(1)

| | |
| --- | --- |
| | Z Values and the Width of the Interval |

108
(1)

| | |
| --- | --- |
| | Bringing in the Standard Error of the Mean |

109
(3)

| | |
| --- | --- |
| | The Relevance of the Central Limit Theorem and the Standard Error |

112
(2)

| | |
| --- | --- |
| | Confidence and Interval Width |

114
(3)
117
(1)

| | |
| --- | --- |
| | Confidence Interval for the Mean With σ Unknown |

118
(13)

| | |
| --- | --- |
| | Estimating the Standard Error of the Mean |

118
(3)

| | |
| --- | --- |
| | The Family of t Distributions |

121
(2)

| | |
| --- | --- |
| | The Table for the Family of t Distributions |

123
(4)
127
(2)

| | |
| --- | --- |
| | A Final Comment About the Interpretation of a Confidence Interval for the Mean |

129
(1)

| | |
| --- | --- |
| | A Final Comment About Z Versus t |

130
(1)

| | |
| --- | --- |
| | Confidence Intervals for Proportions |

131
(4)
132
(2)
134
(1)
135
(2)

| | |
| --- | --- |
| | Some Other Things You Should Know |

137
(1)
138
(1)
139
(4)

| | |
| --- | --- |
| | Hypothesis Testing With a Single Sample Mean |

143
(29)
144
(1)

| | |
| --- | --- |
| | A Hypothesis as a Statement of Your Expectations: The Case of the Null Hypothesis |

145
(2)

| | |
| --- | --- |
| | Single Sample Test With σ Known |

147
(16)

| | |
| --- | --- |
| | Refining the Null and Phrasing It the Right Way |

148
(1)
149
(2)
151
(3)

| | |
| --- | --- |
| | Levels of Significance, Critical Values, and the Critical Region |

154
(3)
157
(2)
159
(4)

| | |
| --- | --- |
| | Single Sample Test With σ Unknown |

163
(4)
164
(1)

| | |
| --- | --- |
| | Some Variations on a Theme |

165
(2)
167
(1)

| | |
| --- | --- |
| | Some Other Things You Should Know |

167
(1)
168
(1)
168
(4)

| | |
| --- | --- |
| | Hypothesis Testing With Two Samples (Mean Difference and Difference of Means) |

172
(25)
173
(9)
175
(2)
177
(1)

| | |
| --- | --- |
| | Combining the Logic and the Null |

178
(1)

| | |
| --- | --- |
| | The Estimate of the Standard Error of the Mean Difference |

178
(1)
179
(1)
180
(1)
181
(1)
182
(9)
184
(1)
185
(1)

| | |
| --- | --- |
| | Combining the Logic and the Null |

185
(1)

| | |
| --- | --- |
| | The Estimate of the Standard Error of the Difference of Means |

186
(3)
189
(1)
189
(1)
190
(1)
191
(1)

| | |
| --- | --- |
| | Some Other Things You Should Know |

192
(1)
193
(1)
193
(4)

| | |
| --- | --- |
| | Beyond the Null Hypothesis |

197
(17)

| | |
| --- | --- |
| | Research or Alternative Hypothesis |

198
(2)

| | |
| --- | --- |
| | One-Tailed and Two-Tailed Test Scenarios |

200
(7)

| | |
| --- | --- |
| | Testing a Non-directional Research Hypothesis |

201
(2)

| | |
| --- | --- |
| | Testing a Directional Research Hypothesis |

203
(4)
207
(4)
211
(1)

| | |
| --- | --- |
| | Some Other Things You Should Know |

211
(1)
212
(1)
212
(2)
214
(33)
216
(7)

| | |
| --- | --- |
| | From Curves to Data Distributions |

218
(1)
219
(1)

| | |
| --- | --- |
| | From Different Means to Different Types of Variation |

220
(3)
223
(1)
223
(12)

| | |
| --- | --- |
| | Calculating the Within-Groups Sum of Squares (SSW) |

225
(2)

| | |
| --- | --- |
| | Calculating the Between-Groups Sum of Squares (SSB) |

227
(2)

| | |
| --- | --- |
| | From Sums of Squares to Estimates of Variance |

229
(5)
234
(1)
235
(6)

| | |
| --- | --- |
| | Interpretation of the F Ratio |

235
(2)
237
(4)
241
(1)

| | |
| --- | --- |
| | Some Other Things You Should Know |

242
(1)
243
(1)
243
(4)
247
(19)

| | |
| --- | --- |
| | The Chi-Square Test of Independence |

248
(13)
249
(4)

| | |
| --- | --- |
| | A Focus on the Departure From Chance |

253
(1)
254
(1)
254
(3)
257
(2)
259
(1)

| | |
| --- | --- |
| | Conclusion and Interpretation |

260
(1)
261
(1)

| | |
| --- | --- |
| | Some Other Things You Should Know |

262
(1)
263
(1)
263
(3)

| | |
| --- | --- |
| | Correlation and Regression |

266
(35)
267
(5)

| | |
| --- | --- |
| | Linear Associations: Direction and Strength |

268
(3)

| | |
| --- | --- |
| | Other Types of Association |

271
(1)
272
(13)
273
(2)
275
(1)

| | |
| --- | --- |
| | The Formula for Pearson's r |

276
(3)
279
(2)
281
(2)

| | |
| --- | --- |
| | An Additional Step: Testing the Null |

283
(1)

| | |
| --- | --- |
| | Conclusion and Interpretation |

284
(1)
285
(9)
285
(2)

| | |
| --- | --- |
| | The Logic of Prediction and the Line of Best Fit |

287
(2)
289
(3)

| | |
| --- | --- |
| | The Standard Error of the Estimate |

292
(2)
294
(1)

| | |
| --- | --- |
| | Some Other Things You Should Know |

295
(1)
296
(1)
296
(5)

| | |
| --- | --- |
| | Appendix A Table of Areas Under the Normal Curve (Distribution of Z) |

301
(2)

| | |
| --- | --- |
| | Appendix B Family of t Distributions (Two-Tailed Test) |

303
(1)

| | |
| --- | --- |
| | Appendix C Family of t Distributions (One-Tailed Test) |

304
(1)

| | |
| --- | --- |
| | Appendix D Distribution of F (.05 Level of Significance) |

305
(1)

| | |
| --- | --- |
| | Appendix E Distribution of F (.01 Level of Significance) |

306
(1)

| | |
| --- | --- |
| | Appendix F Distribution of Q (.05 Level of Significance) |

307
(1)

| | |
| --- | --- |
| | Appendix G Distribution of Q (.01 Level of Significance) |

308
(1)

| | |
| --- | --- |
| | Appendix H Critical Values for Chi-Square (Χ2) |

309
(1)

| | |
| --- | --- |
| | Appendix I Critical Values of r (Correlation Coefficient) |

310
(1)

| | |
| --- | --- |
| | Appendix J Data Sets and Computer-Based Data Analysis |

311
(6)

| | |
| --- | --- |
| | It's Usually Starts With Rows and Columns |

311
(4)

| | |
| --- | --- |
| | Good News: Words of Caution: It's Up to You |

315
(2)

| | |
| --- | --- |
| | Appendix K Some of the More Common Formulas Used in the Text |

317
(2)
Answers to Chapter Problems
319
(5)
Glossary
324
(6)
References
330
(1)
Index
331