Note: Supplemental materials are not guaranteed with Rental or Used book purchases.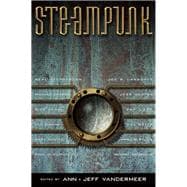 Summary
Replete with whimsical mechanical wonders and charmingly anachronistic settings, this pioneering anthology gathers a brilliant blend of fantastical stories. Steampunk originates in the romantic elegance of the Victorian era and blends in modern scientific advances -- synthesising imaginative technologies such as steam-driven robots, analogue supercomputers, and ultramodern dirigibles. The elegant allure of this popular new genre is represented in this rich collection by distinctively talented authors, including Neal Stephenson, Michael Chabon, James Blaylock, Michael Moorcock, and Joe R. Lansdale.
Author Biography
Ann VanderMeer is the publisher of Buzzcity Press and the fiction editor for Weird Tales. Jeff VanderMeer is the founder and editor for Ministry of Whimsy Press. He is the author of City of Saints and Madmen, Secret Life, Shriek, and Veniss Underground. He is the editor of the Leviathan series and The Thackery T. Lambshead Pocket Guide to Eccentric & Discredited Diseases. Coeditors of the Best American Fantasy series, they both live in Tallahassee, Florida.



Table of Contents

Preface by Jeff and Ann VanderMeer

"Introduction: The Nineteenth-Century Roots of Steampunk" by Jess Nevins

"Steampunk in Comics" by Bill Baker
"The Giving Mouth" by Ian R. Macleod
"Lord Kelvin's Machine" by James P. Blaylock
"The God-Clown Is Near" by Jay Lake
"The Steam Man of the Prairie and the Dark Rider Get Down" by Joe R. Lansdale
"A Sun in the Attic" by Mary Gentle
"The Martian Agent, a Planetary Romance" by Michael Chabon
"Benediction: Warlord of the Air" excerpt by Michael Moorcock
"The Selene Gardening Society" by Molly Brown
"Excerpts From the Third and Last Volume of the Tribes of the Pacific Coast" by Neal Stephenson
"Victoria" by Paul Di Filippo
"Reflected Light" by Rachel E. Pollock
"Steampunk in Pop Culture" by Rick Klaw
"Minutes of the Last Meeting" by Stepan Chapman
"Seventy-Two Letters" by Ted Chaing