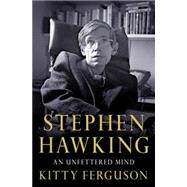 Stephen Hawking : An Unfettered Mind
by
Ferguson
List Price: $27.00
Usually Ships in 7-10 Business Days
Questions About This Book?
What version or edition is this?
This is the edition with a publication date of 1/3/2012.
What is included with this book?
The New copy of this book will include any supplemental materials advertised. Please check the title of the book to determine if it should include any CDs, lab manuals, study guides, etc.
Summary
Stephen Hawking has been an iconic figure in physics for the last half a century, making many groundbreaking discoveries on the nature of the universe. Yet while his mind roams to the farthest corners of reality, his body has become increasingly trapped by the advance of Lou Gehrig's disease, which has bound him to a wheelchair, without speech or movement except for a few facial muscles. Told in his youth that he would not live past his 20s, Hawking will turn 70 in 2012, and today he continues to inspire millions, drawing rock-concert-sized crowds wherever he lectures. Science writer Kitty Ferguson has been working with Stephen Hawking for decades, and produced an internationally bestselling biography of his life in 1992. Now, she brings his life as well as his scientific discoveries up-to-date. This is a remarkable look at how one of the greatest scientific mind alive overcame the odds to become the truly inspirational figure he is today.
Table of Contents
"Ferguson shines at explaining Hawking's theories, the jovially competitive academic world in which they are hammered out and her subject's distinctive and evolving intellectual style…An irresistible story. His puckish humor and exuberance for life and for ideas are infectious even at a remove. And the ideas themselves could not ask for a better elucidator."--Laura Miller, Salon
"Intelligent and readable… Kitty Ferguson is astonishing in her own right…. She is a careful explicator not only of [Hawkings'] ideas but of the context in which they arose."--Sara Lippincott, The Los Angeles Times
"Ferguson provides engaging and helpful explanations of the physics behind [Hawking's] triumphs." --The Washington Post
"Ferguson replaces the iconic but static image of cosmologist Hawking with flesh and blood in this vivid portrait… Through interviews with Hawking and his colleagues, friends, and family, Ferguson builds a complete picture of Hawking's life, from his tireless work to explain our universe to his notorious driving, playful appearances on Star Trek, The Simpsons, and other shows, campaigning to improve the lives of the disabled, and his family life, with special attention to his relationship with his first wife, Jane, whose sacrifices allowed him to focus on his work. In the end, Ferguson captures the very full life and work of one of the most vibrant minds of our time." – Publishers Weekly, starred review
"Ferguson brilliantly updates her 1991 children's biography of Stephen Hawking for an adult audience . . . Her ability to write clearly about scientific issues using metaphor rather than mathematics makes this an excellent introduction to astrophysics for the interested layman. A fascinating portrait of a complex figure who ponders the place of man and God in the universe and who still loves the 'Eureka moment of discovering something that no one knew before.'" --Kirkus Reviews
"Kitty Ferguson gives a thorough account of Hawking the man, as well as of his extraordinary body of work in cosmology. [She has] a flair for the original which makes much of the tome highly readable. There are excellently clear descriptions of the large issues and precious few off-putting mathematics and equations...Ferguson pitches the balance between Hawking's personal life and an explanation of his work about right."--Greg Jamison, Entertainment Focus
"As both a global icon and an innova­tive theoretical physicist, Stephen Hawking is well served by science writer Kitty Ferguson's fascinating biography. Ferguson explains in accessible terms the major themes that Hawking has explored in his career, and creates a portrait of the pri­vate man by drawing on her close personal contact with him and his family. … Ferguson's sympathetic and informed take on an individual who has enriched human knowledge against the odds is an excellent summing-up, as Hawking approaches his 70th birthday, of his unique and creative contribution to both science and humanity." –George Ellis, Nature
"More than a biography … a brave attempt to chart the life of the celebrated physicist in parallel with his astounding and important work…. Ferguson has spent a lot of time with Hawking and as a scientist she attempts to explain in lay terms the fundamental concepts of Hawking's vast and amazing body of work."--Bertrams