Note: Supplemental materials are not guaranteed with Rental or Used book purchases.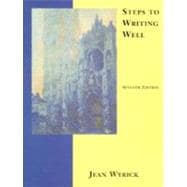 STEPS TO WRITING WELL 7E
ISBN13:
9780155054530
by
Wyrick, Jean
Questions About This Book?
What version or edition is this?
This is the edition with a publication date of 7/23/1998.
What is included with this book?
The New copy of this book will include any supplemental materials advertised. Please check the title of the book to determine if it should include any CDs, lab manuals, study guides, etc.
Summary
Writing well is just a step away! Join the thousands of students who have learned to write well with Jean Wyrick's helpful instruction. STEPS TO WRITING WELL, Tenth Edition, is the ultimate step-by-step guide to writing effective essays. With Wyrick's clear, practical advice and student-friendly tone, you'll find it easy to begin, organize, and revise your writing-from choosing a topic to developing your essay to polishing your prose. Interesting readings in a variety of styles offer useful examples of the types of essays you'll most often be assigned in your composition and other college classes.
Table of Contents
To the Teacher
vii
To the Student
xiii
PART ONE THE BASICS OF THE SHORT ESSAY
1
(190)
3
(30)

| | |
| --- | --- |
| | Getting Started (or Soup-Can Labels Can Be Fascinating) |

3
(1)
4
(2)

| | |
| --- | --- |
| | Finding Your Essay's Purpose and Focus |

6
(1)
7
(12)

| | |
| --- | --- |
| | After You've Found Your Focus |

19
(1)

| | |
| --- | --- |
| | Practicing What You've Learned |

19
(1)

| | |
| --- | --- |
| | Discovering Your Audience |

20
(1)

| | |
| --- | --- |
| | How to Identify Your Readers |

21
(6)

| | |
| --- | --- |
| | Practicing What You've Learned |

25
(2)

| | |
| --- | --- |
| | Keeping a Journal (Talking to Yourself Does Help) |

27
(6)
31
(2)
33
(18)

| | |
| --- | --- |
| | What Is a Thesis? What Does a ``Working Thesis'' Do? |

34
(1)

| | |
| --- | --- |
| | Can a ``Working Thesis'' Change? |

34
(1)

| | |
| --- | --- |
| | Guidelines for Writing a Good Thesis |

35
(5)

| | |
| --- | --- |
| | Avoiding Common Errors in Thesis Statements |

40
(4)

| | |
| --- | --- |
| | Practicing What You've Learned |

42
(2)
44
(1)
44
(7)

| | |
| --- | --- |
| | Practicing What You've Learned |

46
(1)
47
(2)
49
(2)
51
(38)

| | |
| --- | --- |
| | Planning the Body of Your Essay |

51
(3)

| | |
| --- | --- |
| | Composing the Body Paragraphs |

54
(1)
55
(9)

| | |
| --- | --- |
| | Practicing What You've Learned |

61
(3)
64
(1)

| | |
| --- | --- |
| | Applying What You've Learned to Your Writing |

64
(1)
64
(5)
69
(2)

| | |
| --- | --- |
| | Practicing What You've Learned |

70
(1)
71
(1)

| | |
| --- | --- |
| | Applying What You've Learned to Your Writing |

71
(1)
71
(5)

| | |
| --- | --- |
| | Practicing What You've Learned |

74
(2)

| | |
| --- | --- |
| | Applying What You've Learned to Your Writing |

76
(1)
76
(10)

| | |
| --- | --- |
| | Practicing What You've Learned |

82
(4)
86
(1)

| | |
| --- | --- |
| | Transitions between Paragraphs |

86
(3)

| | |
| --- | --- |
| | Applying What You've Learned to Your Writing |

87
(1)
88
(1)
89
(12)

| | |
| --- | --- |
| | How to Write a Good Lead-In |

89
(4)

| | |
| --- | --- |
| | Avoiding Errors in Lead-Ins |

93
(1)

| | |
| --- | --- |
| | Practicing What You've Learned |

94
(1)

| | |
| --- | --- |
| | How to Write a Good Concluding Paragraph |

94
(2)

| | |
| --- | --- |
| | Avoiding Errors in Conclusions |

96
(1)

| | |
| --- | --- |
| | Practicing What You've Learned |

97
(1)

| | |
| --- | --- |
| | How to Write a Good Title |

97
(4)
98
(1)

| | |
| --- | --- |
| | Applying What You've Learned to Your Writing |

98
(1)
99
(2)

| | |
| --- | --- |
| | Drafting and Revising: Creative Thinking, Critical Thinking |

101
(26)
102
(1)

| | |
| --- | --- |
| | When Does Revision Occur? |

102
(1)
102
(2)

| | |
| --- | --- |
| | Can I Learn to Improve My Revision Skills? |

104
(1)

| | |
| --- | --- |
| | Preparing to Draft and Revise |

104
(2)

| | |
| --- | --- |
| | A Revision Process for Your Drafts |

106
(3)

| | |
| --- | --- |
| | What Is Critical Thinking? |

109
(1)

| | |
| --- | --- |
| | Thinking Critically as a Writer |

109
(7)

| | |
| --- | --- |
| | A Final Checklist for Your Essay |

116
(1)

| | |
| --- | --- |
| | Benefiting from Revision Workshops |

117
(6)

| | |
| --- | --- |
| | Practicing What You've Learned |

120
(3)
123
(1)

| | |
| --- | --- |
| | Some Last Advice: How to Play with Your Mental Blocks |

123
(4)
126
(1)
127
(30)
128
(7)

| | |
| --- | --- |
| | Developing a Concise Style |

135
(7)

| | |
| --- | --- |
| | Practicing What You've Learned |

140
(2)
142
(1)

| | |
| --- | --- |
| | Developing a Lively Style |

142
(6)

| | |
| --- | --- |
| | Practicing What You've Learned |

146
(2)
148
(1)

| | |
| --- | --- |
| | Developing an Emphatic Style |

148
(9)

| | |
| --- | --- |
| | Practicing What You've Learned |

152
(2)
154
(1)

| | |
| --- | --- |
| | Applying What You've Learned to Your Writing |

155
(1)
156
(1)
157
(24)

| | |
| --- | --- |
| | Selecting the Correct Words |

158
(8)

| | |
| --- | --- |
| | Practicing What You've Learned |

164
(2)
166
(15)

| | |
| --- | --- |
| | Practicing What You've Learned |

176
(2)
178
(2)

| | |
| --- | --- |
| | Applying What You've Learned to Your Writing |

180
(1)
180
(1)

| | |
| --- | --- |
| | The Reading-Writing Connection |

181
(10)

| | |
| --- | --- |
| | How Can Reading Well Help Me Become a Better Writer? |

181
(1)

| | |
| --- | --- |
| | How Can I Become an Analytical Reader? |

182
(8)
185
(4)

| | |
| --- | --- |
| | Practicing What You've Learned |

189
(1)
189
(1)
189
(1)

| | |
| --- | --- |
| | The Basics of the Short Essay: Part One Summary |

190
(1)
PART TWO PURPOSES, MODES, AND STRATEGIES
191
(172)
193
(90)

| | |
| --- | --- |
| | The Strategies of Exposition |

193
(1)
194
(14)
200
(2)
202
(2)

| | |
| --- | --- |
| | Professional Essay: ``So What's so Bad about Being So-So?'' |

204
(3)

| | |
| --- | --- |
| | The drive for perfection is preventing too many people from enjoying sports and hobbies, says author Lisa Wilson Strick (who proudly plays the piano badly but with great pleasure) |

207
(1)

| | |
| --- | --- |
| | Development by process Analysis |

208
(18)
212
(2)
214
(5)

| | |
| --- | --- |
| | Professional Essay: ``To Bid the World Farewell'' |

219
(6)

| | |
| --- | --- |
| | By describing the embalming process in vivid, step-by-step detail, social critic and author Jessica Mitford questions the value-and necessity-of the entire procedure |

225
(1)

| | |
| --- | --- |
| | Development by Comparison and Contrast |

226
(18)
230
(2)
232
(4)

| | |
| --- | --- |
| | Professional Essays: ``Two Ways of Viewing the River'' |

236
(2)

| | |
| --- | --- |
| | One of the United States' most beloved writers, Samuel Clemens (Mark Twain), contrasts his earlier, romantic view of the Mississippi River to his later, more practical view as an experienced riverboat pilot |

| | |
| --- | --- |
| | ``Grant and Lee: A Study in Contrasts'' |

238
(5)

| | |
| --- | --- |
| | Noted historian Bruce Catton compares and contrasts the two great generals of the Civil War, concluding that their roles at Appomattox made possible ``a peace of reconciliation.'' |

243
(1)

| | |
| --- | --- |
| | Development by Definition |

244
(14)
248
(2)
250
(4)

| | |
| --- | --- |
| | Professional Essay: ``The Munchausen Mystery'' |

254
(3)

| | |
| --- | --- |
| | A Harvard professor of psychiatry explains a perplexing ``medical madness'' in which patients use extreme and sophisticated measures to take illnesses-in some cases, all the way to the operating room |

257
(1)

| | |
| --- | --- |
| | Development by Division and Classification |

258
(12)
261
(2)
263
(3)

| | |
| --- | --- |
| | Professional Essay: ``The Plot Against People'' |

266
(3)

| | |
| --- | --- |
| | According to well-known columnist Russell Baker, all inanimate objects may be classified into three categories: those that don't work, those that get lost, and those that break down |

269
(1)

| | |
| --- | --- |
| | Development by Causal Analysis |

270
(13)
273
(2)
275
(3)

| | |
| --- | --- |
| | Professional Essay: ``Mystery!'' |

278
(3)

| | |
| --- | --- |
| | Nothing that millions of readers love to ``curl up'' with murderers and corpses every night, novelist Nicholas Meyer explains why mysteries appeal to so many people, regardless of their social, educational, or economic background |

281
(2)
283
(32)
284
(10)
294
(21)

| | |
| --- | --- |
| | Practicing What You've Learned |

297
(1)
298
(1)
299
(2)
301
(4)

| | |
| --- | --- |
| | Professional Essays: ``Free Pass Fails Kids'' vs. ``Retaining Kids No Answer'' |

305
(3)

| | |
| --- | --- |
| | Students who fail to demonstrate academic competence should not be passed on to the next grade level, argues the editorial board of USA today. But Monty Neill of the National Center for Fair and Open Testing maintains that retaining students does not improve learning and too often turns teaching into ``test coaching.'' |

| | |
| --- | --- |
| | Pro-and-Con Advertisements: Gun Control |

308
(3)

| | |
| --- | --- |
| | Competing Advertisements: Energy |

311
(1)
311
(4)
315
(18)

| | |
| --- | --- |
| | How to Write Effective Description |

315
(18)
321
(1)
322
(5)

| | |
| --- | --- |
| | Professional Essay: ``The Discuss Thrower'' |

327
(3)

| | |
| --- | --- |
| | Surgeon Richard Selzer describes the last hours of a terminally ill patient-a man who is vigorously following the poet Dylan Thomas's advice: ``Do not go gentle into that good night.'' |

330
(3)
333
(16)

| | |
| --- | --- |
| | Writing the Effective Narrative Essay |

334
(15)
336
(3)
339
(3)

| | |
| --- | --- |
| | Professional Essay: ``Sister Flowers'' |

342
(5)

| | |
| --- | --- |
| | Multi-talented writer and performer Maya Angelou recalls a special time in her life and shows how one person's kindness and respect can dramatically change a child's life for the better |

347
(2)

| | |
| --- | --- |
| | Writing Essays Using Multiple Strategies |

349
(14)
352
(4)

| | |
| --- | --- |
| | Professional Essay: ``Don't Let Stereotypes Warp Your Judgments'' |

356
(4)

| | |
| --- | --- |
| | Are Gloria and Richard better looking than Bertha or Cuthbert? Do you vote for the candidate who looks like a winner? Can you really identify the Italian (or Swede or Mexican or American) in the group picture? In this essay, Professor Robert L. Heilbroner addresses the complex issues of stereotyping, first by citing some fascinating experiments that illustrate the problem. He then analyzes the causes of type-casting, explains the harmful effects, and offers some steps for changing this negative behavior |

360
(3)
PART THREE SPECIAL ASSIGNMENTS
363
(78)

| | |
| --- | --- |
| | Writing a Paper Using Research |

365
(42)
366
(1)

| | |
| --- | --- |
| | Beginning Your Library Research |

366
(4)

| | |
| --- | --- |
| | Preparing a Working Bibliography |

370
(2)

| | |
| --- | --- |
| | Choosing and Evaluating Your Sources |

372
(3)

| | |
| --- | --- |
| | Preparing an Annotated Bibliography |

375
(1)
375
(3)

| | |
| --- | --- |
| | Incorporating Your Source Material |

378
(3)
381
(4)

| | |
| --- | --- |
| | Practicing What You've Learned |

383
(2)
385
(1)

| | |
| --- | --- |
| | Choosing the Documentation Style for Your Essay |

385
(13)

| | |
| --- | --- |
| | Using Supplementary Notes |

398
(9)

| | |
| --- | --- |
| | Sample Student Paper Using MLA Style |

398
(9)
407
(24)

| | |
| --- | --- |
| | Using Literature in the Composition Classroom |

407
(2)

| | |
| --- | --- |
| | Suggestions for Close Reading of Literature |

409
(1)
409
(2)

| | |
| --- | --- |
| | Annotated Story: ``The Story of an Hour'' |

411
(7)
414
(4)
418
(3)

| | |
| --- | --- |
| | Annotated Poem: ``When I Heard the Learn'd Astronomer'' |

421
(5)
422
(4)

| | |
| --- | --- |
| | Some Guidelines for Writing Your Essays |

426
(5)

| | |
| --- | --- |
| | Practicing What You've Learned: ``Richard Cory'' |

428
(3)

| | |
| --- | --- |
| | Writing In-Class Assignments |

431
(10)

| | |
| --- | --- |
| | Steps to Writing Well Under Pressure |

431
(10)

| | |
| --- | --- |
| | Practicing What You've Learned |

438
(1)
438
(1)
439
(2)
PART FOUR A CONCISE HANDBOOK
441
(51)
443
(20)
443
(6)

| | |
| --- | --- |
| | Practicing What You've Learned |

448
(1)
449
(1)
450
(4)

| | |
| --- | --- |
| | Practicing What You've Learned |

453
(1)

| | |
| --- | --- |
| | Errors with Adverbs and Adjectives |

454
(1)

| | |
| --- | --- |
| | Errors in Modifying Phrases |

455
(2)

| | |
| --- | --- |
| | Practicing What You've Learned |

456
(1)
457
(6)

| | |
| --- | --- |
| | Practicing What You've Learned |

458
(1)

| | |
| --- | --- |
| | Practicing What You've Learned |

459
(3)

| | |
| --- | --- |
| | Practicing What You've Learned |

462
(1)

| | |
| --- | --- |
| | A Concise Guide to Punctuation |

463
(22)
464
(1)
464
(1)
464
(1)
465
(6)

| | |
| --- | --- |
| | Practicing What You've Learned |

469
(2)
471
(1)
471
(2)

| | |
| --- | --- |
| | Practicing What You've Learned |

472
(1)
473
(1)
474
(3)

| | |
| --- | --- |
| | Practicing What You've Learned |

476
(1)
477
(1)
478
(1)
479
(1)
480
(1)
481
(1)
482
(3)

| | |
| --- | --- |
| | Practicing What You've Learned |

483
(2)

| | |
| --- | --- |
| | A Concise Guide to Mechanics |

485
(7)
485
(2)
487
(1)
487
(3)

| | |
| --- | --- |
| | Practicing What You've Learned |

488
(2)
490
(2)
Copyright Acknowledgments
492
(1)
Index
493