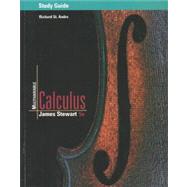 Stewart's Multivariable Calculus
by
STEWART

Includes 2-weeks free access to
step-by-step solutions for this book.
Step-by-Step solutions are actual worked out problems to the questions at the end of each chapter that help you understand your homework and study for your exams. Chegg and eCampus are providing you two weeks absolutely free. 81% of students said using Step-by-Step solutions prepared them for their exams.
Questions About This Book?
What version or edition is this?
This is the 5th edition with a publication date of 5/12/2003.
What is included with this book?
The New copy of this book will include any supplemental materials advertised. Please check the title of the book to determine if it should include any CDs, lab manuals, study guides, etc.
Related Products
Summary
Success in your calculus course starts here! James Stewart's CALCULUS texts are world-wide best-sellers for a reason: they are clear, accurate, and filled with relevant, real-world examples. With CALCULUS, Sixth Edition, Stewart conveys not only the utility of calculus to help you develop technical competence, but also gives you an appreciation for the intrinsic beauty of the subject. His patient examples and built-in learning aids will help you build your mathematical confidence and achieve your goals in the course!
Table of Contents
11 Parametric Equations and Polar Coordinates

| | |
| --- | --- |
| | 11.1 Curves Defined by Parametric Equations |

2
(4)

| | |
| --- | --- |
| | 11.2 Calculus with Parametric Curves |

6
(6)
12
(7)

| | |
| --- | --- |
| | 11.4 Areas and Lengths in Polar Coordinates |

19
(3)
22
(4)

| | |
| --- | --- |
| | 11.6 Conic Sections in Polar Coordinates |

26
(3)
29
(3)
12 Infinite sequences and series
32
(5)
37
(4)

| | |
| --- | --- |
| | 12.3 The Integral Test and Estimates of Sums |

41
(3)

| | |
| --- | --- |
| | 12.4 The Comparison Tests |

44
(3)
47
(3)

| | |
| --- | --- |
| | 12.6 Absolute Convergence and the Ratio and Root Tests |

50
(6)

| | |
| --- | --- |
| | 12.7 Strategy for Testing series |

56
(2)
58
(3)

| | |
| --- | --- |
| | 12.9 Representations of Functions as Power Series |

61
(4)

| | |
| --- | --- |
| | 12.10 Taylor and Maclaurin Series |

65
(7)

| | |
| --- | --- |
| | 12.11 The Binomial Series |

72
(2)

| | |
| --- | --- |
| | 12.12 Applications of Taylor Polynomials |

74
(4)
78
(4)
13 Vectors and the Geometry of Space

| | |
| --- | --- |
| | 13.1 Three-Dimensional Coordinate systems |

82
(4)
86
(6)
92
(4)
96
(4)

| | |
| --- | --- |
| | 13.5 Equations of Lines and Planes |

100
(5)

| | |
| --- | --- |
| | 13.6 Cylinders and Quadric Surfaces |

105
(6)

| | |
| --- | --- |
| | 13.7 Cylindrical and Spherical Coordinates |

111
(3)
114
(4)
14 Vector Functions

| | |
| --- | --- |
| | 14.1 Vector Functions and Space Curves |

118
(3)

| | |
| --- | --- |
| | 14.2 Derivatives and Integrals of Vector Functions |

121
(3)

| | |
| --- | --- |
| | 14.3 Arc Length and Curvature |

124
(5)

| | |
| --- | --- |
| | 14.4 Motion in Space: Velocity and Acceleration |

129
(4)
133
(3)
15 Partial Derivatives

| | |
| --- | --- |
| | 15.1 Functions of Several Variables |

136
(4)

| | |
| --- | --- |
| | 15.2 Limits and Continuity |

140
(3)
143
(3)

| | |
| --- | --- |
| | 15.4 Tangent Planes and Linear Approximations |

146
(3)
149
(2)

| | |
| --- | --- |
| | 15.6 Directional Derivatives and the Gradient Vector |

151
(3)

| | |
| --- | --- |
| | 15.7 Maximum and Minimum Values |

154
(8)

| | |
| --- | --- |
| | 15.8 Lagrange Multipliers 159 |

Technology Plus
162
(4)
16 Multiple Integrals

| | |
| --- | --- |
| | 16.1 Double integrals over Rectangles |

166
(4)
170
(3)

| | |
| --- | --- |
| | 16.3 Double Integrals over General Regions |

173
(5)

| | |
| --- | --- |
| | 16.4 Double Integrals over Polar Coordinates |

178
(3)

| | |
| --- | --- |
| | 16.5 Applications of Double Integrals |

181
(4)
185
(2)
187
(5)

| | |
| --- | --- |
| | 16.8 Triple Integrals in Cylindrical and Spherical Coordinates |

192
(3)

| | |
| --- | --- |
| | 16.9 Change of Variables in Multiple Integrals |

195
(4)
199
(3)
17 Vector Calculus
202
(3)
205
(5)

| | |
| --- | --- |
| | 17.3 The Fundamental Theorem for Line Integrals |

210
(4)
214
(3)
217
(4)

| | |
| --- | --- |
| | 17.6 Parametric Surfaces and Their Areas |

221
(5)
226
(4)
230
(2)

| | |
| --- | --- |
| | 17.9 The Divergence Theorem |

232
(2)
234
(4)
18 Second-Order Differential Equations

| | |
| --- | --- |
| | 18.1 Second Order Linear Equations |

238
(4)

| | |
| --- | --- |
| | 18.2 Nonhomogeneous Linear Equations |

242
(3)

| | |
| --- | --- |
| | 18.3 Applications of Second Order Differential Equations |

245
(2)
247
(3)
250
(1)
On Your Own
251
(7)
258
(12)
270
(7)
277
(4)
281
(8)
289
(9)
298
(9)
307
(4)
Answers to On Your Own
311
046500721X
List of Maps
xi
Preface: Another American Way of War
xiii
PART ONE: COMMERCIAL POWER

| | |
| --- | --- |
| | 1 "To Conquer Upon the Sea": Barbary Wars, 1801-1805, 1815 |

3
(27)

| | |
| --- | --- |
| | 2 "Butcher and Bolt": From the Marquesas, 1813, to China, 1859 |

30
(26)

| | |
| --- | --- |
| | 3 Empire Emerging: From Korea, 1871, to Samoa, 1899 |

56
(13)
PART TWO: GREAT POWER

| | |
| --- | --- |
| | 4 Red Summer: Boxer Uprising, 1900 |

69
(30)

| | |
| --- | --- |
| | 5 "Attraction" and "Chastisement": The Philippine War, 1899-1902 |

99
(30)

| | |
| --- | --- |
| | 6 Caribbean Constabulary: Cuba, Panama, Nicaragua, Mexico, 1898-1914 |

129
(27)

| | |
| --- | --- |
| | 7 Lords of Hispaniola: Haiti, 1915-1934; Dominican Republic, 1916-1924 |

156
(26)

| | |
| --- | --- |
| | 8 The Dusty Trail: The Pancho Villa Punitive Expedition, 1916-1917 |

182
(23)

| | |
| --- | --- |
| | 9 Blood on the Snow: Russia, 1918-1920 |

205
(30)

| | |
| --- | --- |
| | 10 Chasing Sandino: Nicaragua, 1926-1933 |

235
(18)

| | |
| --- | --- |
| | 11 "By Bluff Alone": China, 1901-1941 |

253
(28)
PART THREE: SUPERPOWER 12 Lessons Learned: The Small Wars Manual
281
(72)

| | |
| --- | --- |
| | 13 Lessons Unlearned: Vietnam, 1959-1975 |

286
(32)

| | |
| --- | --- |
| | 14 In the Shadow of Vietnam: The Powell Doctrine and Small Wars in the 1990'S |

318
(18)

| | |
| --- | --- |
| | 15 In Defense of the Pax Americana: Small Wars in the Twenty-First Century |

336
(17)
Notes
353
(34)
Bibliography
387
(22)
Acknowledgments
409
(2)
Index
411