Note: Supplemental materials are not guaranteed with Rental or Used book purchases.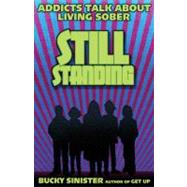 Still Standing : Addicts Talk about Living Sober
ISBN13:
9781573244763
by
Sinister, Bucky
Summary
Stories heal, and Bucky Sinister. sober since February 19th, 2002 and a veteran of the punk rock and spoken word scene, brings the stories from the trenches about how to get sober, stay sober, and live sober. Still Standingis about the stories that heal you and the hard times that don't kill you. Sinister goes beyond the 12-steps with stories from the misfits, freaks, and weirdos that have come to recovery from a variety of backgrounds - tattoo artists, bartenders, musicians to help answer the What Now? question of living sober. Here are stories that offer guidance and hope to a new generation of people looking to help themselves. Bucky Sinister is a stand-up comedian, performance artist and a poet. He lives in San Francisco, California.
Table of Contents
Introduction: From Get Up to Still Standing
p. xv
Getting Sober Versus Living Sober
p. 1
Steps and Anti-Steps
p. 2
What Now?
p. 4
The Fuck-Its
p. 5
Amy Dresner
p. 6
More Habits Than a Convent
p. 11
Ten Things Every Recovering Addict Should Have
p. 13
Dannyboy
p. 22
Act Like Nothing's Wrong
p. 29
Seven Habits of Highly Normal People
p. 31
Prescription Drugs
p. 37
Anger Is Energy
p. 39
Jesse M
p. 42
Relapse Versus Reality
p. 44
Hitting Walls
p. 49
Voltmeter
p. 51
Chasing After Your First Recovery
p. 52
Finding Your Second Pink Cloud
p. 56
Don't Forget to Enjoy Yourself
p. 59
Situational Habits
p. 63
Jeff H
p. 66
Ethel Pancake
p. 68
As Long As You Have It All Figured Out
p. 73
Hold Fast
p. 75
Barnaby
p. 78
The Great NotMe: Atheism, Higher Powers, and Prayer
p. 83
Prayer and Atheists
p. 85
SRB
p. 87
NotMy Business
p. 93
Tips for the Dreaded Job Interview
p. 96
Alex
p. 97
Thirteen Things Every Addict Should Stop Doing
p. 101
Coffee, Cigarettes, Porn, Gambling, and Food
p. 113
The Addiction Scale
p. 114
Bernadette
p. 118
MMORPGs
p. 122
How Addicts Can Be of Service to Normies
p. 129
Time to Give
p. 129
Who Helps The Self-Helper?
p. 135
Glossary
p. 137
Table of Contents provided by Ingram. All Rights Reserved.