Note: Supplemental materials are not guaranteed with Rental or Used book purchases.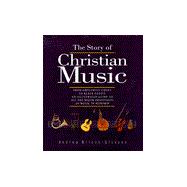 The Story of Christian Music: From Gregorian Chant to Black Gospel : An Authoritative Illustrated Guide to All the Major Traditions of Music for Worship
ISBN13:
9780800629878
by
Wilson-Dickson, Andrew
Summary
Throughout Christian history, some of the most creative musical geniuses have produced works to be performed for the church. From Gregorian chant to black gospel, this is an illustrated guide to all major traditions of music in worship and how music may be applied in worship by future generations.
Table of Contents
Preface
7
(2)
Introduction
9
(6)
Part 1 THE BIRTH OF CHRISTIAN MUSIC
15
(42)

| | |
| --- | --- |
| | 1 Music in the Old Testament |

16
(8)

| | |
| --- | --- |
| | The Psalms in Temple Worship |

20
(2)
22
(2)

| | |
| --- | --- |
| | 2 Music in the Early Church |

24
(5)

| | |
| --- | --- |
| | The Spread of Christianity |

26
(3)

| | |
| --- | --- |
| | 3 The Beginning of the Western Middle Ages |

29
(4)

| | |
| --- | --- |
| | Worship in Fifth-Century Jerusalem |

30
(3)
33
(5)
35
(2)
37
(1)

| | |
| --- | --- |
| | 5 Music of the Spheres: the Medieval World-View |

38
(4)

| | |
| --- | --- |
| | The Eleventh-Century Mass |

41
(1)
42
(3)

| | |
| --- | --- |
| | The Development of Notation |

44
(1)

| | |
| --- | --- |
| | 7 From the Ear to the Page |

45
(4)
46
(4)

| | |
| --- | --- |
| | 8 From Gregorian Chant to Polyphony |

49
(6)

| | |
| --- | --- |
| | 9 Wycliffe's Challenge to the Church |

55
(2)
Part 2 RENAISSANCE AND REFORMATION
57
(26)

| | |
| --- | --- |
| | 10 Luther and the Reformation |

58
(6)
59
(3)
62
(2)

| | |
| --- | --- |
| | 11 The Swiss Reformers-the Calvinist Tradition |

64
(3)
66
(1)

| | |
| --- | --- |
| | 12 The Reformation in England |

67
(5)
68
(4)

| | |
| --- | --- |
| | 13 The Catholic Reformation |

72
(9)
76
(2)

| | |
| --- | --- |
| | The Golden Age of Spanish Music |

78
(3)
81
(2)
Part 3 THE FLOWERING OF CHRISTIAN MUSIC
83
(36)

| | |
| --- | --- |
| | 15 The Development of Oratorio |

84
(3)

| | |
| --- | --- |
| | The Splendours of Monteverdi |

86
(1)

| | |
| --- | --- |
| | 16 The Music of the Lutheran Church |

87
(3)

| | |
| --- | --- |
| | Christmas 1659 in the Nikolaikirche, Berlin |

89
(1)
90
(3)
92
(1)
93
(8)
95
(3)
98
(3)

| | |
| --- | --- |
| | 19 Turmoil in England: Commonwealth and Restoration |

101
(4)

| | |
| --- | --- |
| | 20 The Glory of the Chapel Royal |

105
(5)

| | |
| --- | --- |
| | The Music of the Chapel Royal |

106
(2)
108
(2)

| | |
| --- | --- |
| | 21 English Congregational Music: the Birth of the English Hymn |

110
(9)
114
(4)
118
(1)
Part 4 THE PATH DIVIDES
119
(24)

| | |
| --- | --- |
| | 22 Music in the Courts of Europe |

120
(2)
122
(8)
124
(2)

| | |
| --- | --- |
| | The Corruption and Resurrection of the Chant |

126
(4)

| | |
| --- | --- |
| | 24 The Decline of the Lutheran Hymn |

130
(3)
131
(2)

| | |
| --- | --- |
| | 25 The Church of England and the Tractarians |

133
(5)

| | |
| --- | --- |
| | The Demise of the West Gallery Players |

137
(1)

| | |
| --- | --- |
| | 26 Revival in the Nineteenth Century |

138
(3)
141
(2)
Part 5 EASTERN TRADITIONS
143
(26)
144
(6)

| | |
| --- | --- |
| | Worship in the Orthodox Church |

148
(2)

| | |
| --- | --- |
| | 29 The Greek Orthodox Church |

150
(6)

| | |
| --- | --- |
| | The Divine Liturgy of the Orthodox Church |

153
(1)

| | |
| --- | --- |
| | Notation in the Greek Orthodox Church |

154
(2)

| | |
| --- | --- |
| | 30 The Russian Orthodox Church |

156
(4)

| | |
| --- | --- |
| | 31 The Coptic and Ethiopian Churches |

160
(6)

| | |
| --- | --- |
| | Notation in Ethiopian Music |

165
(1)

| | |
| --- | --- |
| | 32 Christianity, East and West-Worlds Apart? |

166
(3)
Part 6 THE AFRICAN GENIUS
169
(12)

| | |
| --- | --- |
| | 33 Africa and the Influence of Western Music |

170
(7)

| | |
| --- | --- |
| | Cameroun: African Christian Music |

172
(2)

| | |
| --- | --- |
| | A Marriage of African and Western Music |

174
(3)

| | |
| --- | --- |
| | 34 The Independent Churches |

177
(4)

| | |
| --- | --- |
| | The True Christian Music of Africa |

178
(3)
Part 7 MUSIC IN NORTH AMERICA
181
(32)

| | |
| --- | --- |
| | 35 Christianity comes to the New World |

182
(9)
186
(5)
191
(5)
192
(2)
194
(2)
196
(4)
198
(2)

| | |
| --- | --- |
| | 38 Gospel Music: White and Black |

200
(7)
204
(2)
206
(1)

| | |
| --- | --- |
| | 39 The United States and the European Classical Tradition |

207
(5)
210
(2)

| | |
| --- | --- |
| | 40 The Charismatic Movement |

212
(1)
Part 8 MUSIC IN TWENTIETH-CENTURY EUROPE
213
(32)

| | |
| --- | --- |
| | 41 Roman Catholic Music in Europe this Century |

214
(9)

| | |
| --- | --- |
| | 42 The Bible in the Concert Hall |

219
(4)

| | |
| --- | --- |
| | 43 Vatican II and the Liturgy |

223
(5)
224
(3)
227
(1)

| | |
| --- | --- |
| | 44 Lutheran Musical Revival |

228
(6)
230
(2)

| | |
| --- | --- |
| | The Kirchensteuer: Church Tax |

232
(2)
234
(6)

| | |
| --- | --- |
| | The Royal School of Church Music |

236
(2)

| | |
| --- | --- |
| | Leaping into the Dark--Musical Innovation |

238
(2)
240
(3)

| | |
| --- | --- |
| | 47 Good Music--Good Worship? |

243
(2)
244
(1)
Conclusion
245
(2)
Footnotes
247
(4)
Glossary
251
(3)
Index
254