Note: Supplemental materials are not guaranteed with Rental or Used book purchases.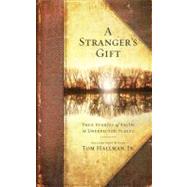 A Stranger's Gift; True Stories of Faith in Unexpected Places
ISBN13:
9781451617504
by
Tom Hallman
Summary
From Pulitzer Prize-winning author Tom Hallman comes thirteen beautifully crafted stories that gently guide readers into the hallways of faithopenly asking questions, exploring scenarios, and finally coming to the beginnings of a breathing faith.Tom Hallman's unexpected journey toward faith began with a routine assignment to write a feature piece for The Oregonian newspaper. He begrudgingly found himself in an African American church on a Sunday morningout of place, uncomfortable, and ready to leave from the moment he got there. But he accidentally found something he wasn't looking for: he saw faith and prayer in action. And that seeing stirred a curious hunger in him that he'd never known before. Compelled by this initial experience, Hallman began to seek out men and women across the country who believed. And these peoplewhom he calls his "faith teachers"became characters in thirteen stories of exploration. In this book, readers will meet Dr. Haglunda man of science and medicine, not faithwho felt an inexplicable pull to pray for healing for a dying ten-year-old patient. You'll meet Tracie and Kevin Van Arnam, devout Christians whose newborn lay dying in a neo-natal unit. With Tom and the Van Arnams, readers will ask: Where is God? As the book and stories progress, two narratives unfold: Hallman's story and exploration of faith, and the stories of the people he met.
Table of Contents
Sunday Shift
p. 1
Tap on My Shoulder
p. 5
Faith's Whisper
p. 11
Only Questions
p. 15
Called to Explore
p. 21
God's Absence
p. 27
Doubting Thomas
p. 37
Faith's Equation
p. 51
Faith's Warrior
p. 65
A Stranger's Gift
p. 83
Morning Prayer
p. 97
Quiet Faith
p. 109
Life in the Trenches
p. 121
Good and Evil
p. 137
Faith's Bookends
p. 155
My Pastor
p. 173
Redemption
p. 193
Faith Counselor
p. 209
Completing the Circle
p. 227
Acknowledgments
p. 229
Table of Contents provided by Ingram. All Rights Reserved.