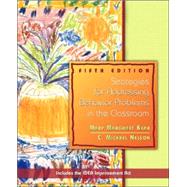 Questions About This Book?
What version or edition is this?
This is the 5th edition with a publication date of 1/1/2006.
What is included with this book?
The Used copy of this book is not guaranteed to include any supplemental materials. Typically, only the book itself is included.
Related Products
Summary
Through research-based content coupled with practical examples, this book prepares teachers to effectively manage the behaviors of students with emotional and behavior disorders. Now in its fifth edition, this book has increased coverage in such topics as Positive Behavior Supports/Interventions and Functional Assessment. Special Educators and General Education Teachers.
Table of Contents
| | |
| --- | --- |
| | PART 1 FOUNDATIONS OF EFFECTIVE BEHAVIOR MANAGEMENT |

1
(190)

| | |
| --- | --- |
| | Identifying and Serving Students With Behavior Problems |

2
(34)
2
(1)
2
(1)
3
(1)

| | |
| --- | --- |
| | Come into My Classroom: A Case Study |

4
(1)
5
(1)

| | |
| --- | --- |
| | Positive Behavior Support |

6
(5)

| | |
| --- | --- |
| | Implementing Positive Behavior Support |

8
(1)

| | |
| --- | --- |
| | Behavior Intervention Planning |

9
(2)

| | |
| --- | --- |
| | Legislation Affecting Student Behavior |

11
(3)

| | |
| --- | --- |
| | IDEA 2004 Disciplinary Regulations |

11
(2)

| | |
| --- | --- |
| | Section 504 and the Americans with Disabilities Act |

13
(1)
13
(1)

| | |
| --- | --- |
| | Behavior Disorders or Problem Behaviors? |

14
(2)

| | |
| --- | --- |
| | Identifying Students with Behavioral Disorders |

16
(12)
17
(1)

| | |
| --- | --- |
| | Assessment for Identification |

18
(1)
19
(8)

| | |
| --- | --- |
| | Behavior Support in General Education Settings |

27
(1)

| | |
| --- | --- |
| | Behavior Problems and Educational Placement |

28
(3)
31
(1)

| | |
| --- | --- |
| | Discussion/Application Ideas |

31
(1)
32
(1)
32
(4)

| | |
| --- | --- |
| | School- and Classroom-Wide Positive Behavior Support |

36
(30)
36
(1)
36
(1)
37
(1)

| | |
| --- | --- |
| | Come into My Classroom: A Case Study |

38
(3)
41
(1)

| | |
| --- | --- |
| | Why Emphasize Prevention? |

41
(3)
42
(1)
42
(1)

| | |
| --- | --- |
| | Prevention and Early Intervention |

43
(1)

| | |
| --- | --- |
| | Implementing School-Wide Positive Behavior Support |

44
(6)

| | |
| --- | --- |
| | Using Behavior Incident Data |

45
(2)

| | |
| --- | --- |
| | Designing School-Wide Systems |

47
(3)

| | |
| --- | --- |
| | Implementing Positive Behavior Support in the Classroom |

50
(11)

| | |
| --- | --- |
| | Extending School-Wide Strategies |

50
(1)

| | |
| --- | --- |
| | Promoting Success in the Classroom |

51
(1)

| | |
| --- | --- |
| | Effective Instruction and Student Behavior |

52
(6)

| | |
| --- | --- |
| | Group Management Systems in the Classroom |

58
(3)
61
(1)

| | |
| --- | --- |
| | Discussion/Application Ideas |

61
(1)
62
(4)

| | |
| --- | --- |
| | Principles of Intervention Planning |

66
(30)
66
(1)
66
(1)
67
(1)

| | |
| --- | --- |
| | Come into My Classroom: A Case Study |

68
(1)
69
(1)

| | |
| --- | --- |
| | Principles of Applied Behavior Analysis |

69
(4)
69
(2)
71
(1)
71
(1)
72
(1)
73
(1)
73
(1)

| | |
| --- | --- |
| | Systematic Procedures for Influencing Behavior |

73
(12)

| | |
| --- | --- |
| | Behavioral Enhancement Procedures |

75
(4)

| | |
| --- | --- |
| | Behavior Reduction Procedures |

79
(6)

| | |
| --- | --- |
| | Legal and Ethical Guidelines |

85
(3)
88
(2)
90
(1)

| | |
| --- | --- |
| | Discussion/Application Ideas |

91
(1)
91
(5)

| | |
| --- | --- |
| | Assessment-Based Intervention Planning |

96
(36)
96
(1)
96
(1)
97
(1)

| | |
| --- | --- |
| | Come into My Classroom: A Case Study |

98
(3)
101
(1)
102
(1)

| | |
| --- | --- |
| | Identifying Problem Behavior |

103
(7)

| | |
| --- | --- |
| | Standards for Social Behavior |

103
(1)

| | |
| --- | --- |
| | Ruling Out Medical Explanations for Problem Behavior |

104
(1)

| | |
| --- | --- |
| | Social Validation of Problem Behaviors |

104
(2)
106
(4)

| | |
| --- | --- |
| | Assessment-Based Intervention Planning |

110
(18)

| | |
| --- | --- |
| | Step 1: Assess the Student's Behavior |

111
(5)

| | |
| --- | --- |
| | Step 2: Propose a Hypothesis |

116
(2)

| | |
| --- | --- |
| | Step 3: Assess the Validity of the Hypothesis |

118
(2)

| | |
| --- | --- |
| | Step 4: Design an Intervention |

120
(4)

| | |
| --- | --- |
| | Step 5: Collect Data on Intervention Effectiveness and Adjust the Plan as Needed |

124
(1)

| | |
| --- | --- |
| | Step 6: Write Long- and Short-Term Intervention Objectives |

125
(3)
128
(1)

| | |
| --- | --- |
| | Discussion/Application Ideas |

128
(1)
128
(1)
129
(3)

| | |
| --- | --- |
| | Monitoring Student Progress |

132
(28)
132
(1)
132
(1)
133
(1)

| | |
| --- | --- |
| | Come into My Classroom: A Case Study |

134
(2)
136
(1)

| | |
| --- | --- |
| | Overview of Classroom Measurement |

137
(5)

| | |
| --- | --- |
| | Teacher Objections to Systematic Measurement of Student Progress |

138
(1)

| | |
| --- | --- |
| | Frequently Asked Questions About Monitoring Student Behavior |

139
(3)

| | |
| --- | --- |
| | Measuring Student Progress |

142
(15)

| | |
| --- | --- |
| | Selecting a Monitoring Format and Procedures |

142
(4)
146
(7)

| | |
| --- | --- |
| | Observing and Recording Multiple Behaviors of Students |

153
(1)
153
(3)

| | |
| --- | --- |
| | Using Technology to Observe and Record Behaviors |

156
(1)

| | |
| --- | --- |
| | Assessing Observer Agreement |

156
(1)
157
(1)

| | |
| --- | --- |
| | Discussion/Application Ideas |

157
(1)
158
(2)

| | |
| --- | --- |
| | Evaluating Intervention Effects |

160
(31)
160
(1)
160
(1)
161
(1)

| | |
| --- | --- |
| | Come into My Classroom: A Case Study |

162
(2)
164
(1)

| | |
| --- | --- |
| | Graphing and Charting Student Performance |

164
(11)
166
(1)
167
(1)

| | |
| --- | --- |
| | Types of Graphs and Charts |

168
(2)

| | |
| --- | --- |
| | Guidelines for Graph or Chart Construction |

170
(2)

| | |
| --- | --- |
| | The Role of Program Monitoring and Evaluation in IEPs |

172
(3)

| | |
| --- | --- |
| | Data-Based Decision Making |

175
(9)
179
(1)
179
(5)

| | |
| --- | --- |
| | Single-Subject Research Designs |

184
(5)

| | |
| --- | --- |
| | Withdrawal and Reversal Designs |

185
(1)

| | |
| --- | --- |
| | Changing Criterion Design |

186
(2)

| | |
| --- | --- |
| | Alternating Treatments Design |

188
(1)
189
(1)

| | |
| --- | --- |
| | Discussion/Application Ideas |

189
(1)
189
(2)

| | |
| --- | --- |
| | PART 2 STRATEGIES FOR SPECIFIC BEHAVIOR PROBLEMS |

191
(124)

| | |
| --- | --- |
| | Addressing Disruptive Behaviors |

192
(28)
192
(1)
192
(1)
193
(1)
194
(1)

| | |
| --- | --- |
| | Come into My Classroom: A Case Study |

194
(1)

| | |
| --- | --- |
| | Environmentally Mediated Interventions |

195
(3)
195
(2)

| | |
| --- | --- |
| | Teacher Movement Patterns |

197
(1)

| | |
| --- | --- |
| | Teacher-Mediated Interventions |

198
(8)

| | |
| --- | --- |
| | Monitoring Teacher Verbal and Nonverbal Behavior |

198
(1)
199
(1)

| | |
| --- | --- |
| | Physical Interactions with Students |

199
(1)

| | |
| --- | --- |
| | High-Probability Request Sequences |

200
(1)

| | |
| --- | --- |
| | The Praise-and-Ignore Approach |

200
(1)

| | |
| --- | --- |
| | Differential Reinforcement of Other Behaviors |

200
(1)

| | |
| --- | --- |
| | Differential Reinforcement of Low Rates of Behavior |

201
(1)
201
(1)
202
(1)
202
(4)

| | |
| --- | --- |
| | Peer-Mediated Interventions |

206
(5)

| | |
| --- | --- |
| | Group Goal Setting and Feedback |

206
(1)
207
(1)
208
(1)
208
(2)
210
(1)

| | |
| --- | --- |
| | Self-Mediated Interventions |

211
(2)
211
(1)
212
(1)
213
(1)
213
(1)
213
(1)

| | |
| --- | --- |
| | Come into My Classroom: A Case Study |

213
(5)

| | |
| --- | --- |
| | Discussion/Application Ideas |

218
(1)
218
(2)

| | |
| --- | --- |
| | Improving School Survival Skills and Social Skills |

220
(38)
220
(1)
220
(1)
221
(1)

| | |
| --- | --- |
| | How This Chapter Is Organized |

222
(1)

| | |
| --- | --- |
| | Improving School Survival Skills |

222
(1)

| | |
| --- | --- |
| | Assessing School Survival Skills |

222
(1)

| | |
| --- | --- |
| | Come into My Classroom: A Case Study |

222
(3)

| | |
| --- | --- |
| | Promoting Self-Determination |

223
(2)

| | |
| --- | --- |
| | Teacher-Mediated Strategies |

225
(7)
225
(2)
227
(1)
227
(1)

| | |
| --- | --- |
| | Instructional Modifications |

228
(1)

| | |
| --- | --- |
| | Direct Teaching of School Survival Skills |

228
(1)

| | |
| --- | --- |
| | Combining Contingency Management with Other Strategies |

228
(4)
232
(2)
232
(1)
233
(1)
234
(1)

| | |
| --- | --- |
| | Strategies to Improve Social Competence |

234
(1)

| | |
| --- | --- |
| | Assessment Considerations |

234
(4)
238
(1)

| | |
| --- | --- |
| | Teacher-Mediated Strategies |

239
(3)

| | |
| --- | --- |
| | Social Skills Instruction |

239
(3)
242
(1)

| | |
| --- | --- |
| | Peers as Instructional Agents |

242
(1)
242
(6)

| | |
| --- | --- |
| | Come into My Classroom: A Case Study |

248
(6)
254
(1)

| | |
| --- | --- |
| | Discussion/Application Ideas |

254
(1)
254
(4)

| | |
| --- | --- |
| | Addressing Aggressive Behaviors |

258
(28)
258
(1)
258
(1)
259
(1)

| | |
| --- | --- |
| | Come into My Classroom: A Case Study |

260
(1)

| | |
| --- | --- |
| | An Introduction to Antisocial Behavior |

260
(1)

| | |
| --- | --- |
| | Documenting and Understanding Aggressive Behavior |

261
(1)

| | |
| --- | --- |
| | Teacher-Mediated Strategies |

262
(10)
263
(1)
263
(3)

| | |
| --- | --- |
| | Anger Management Training |

266
(1)

| | |
| --- | --- |
| | Social Competence Training |

266
(1)

| | |
| --- | --- |
| | Contingency Management Strategies |

266
(3)

| | |
| --- | --- |
| | Token Reinforcement and Response Cost |

269
(1)

| | |
| --- | --- |
| | Time-Out from Reinforcement |

270
(1)
270
(2)
272
(3)
273
(1)

| | |
| --- | --- |
| | Conflict Resolution Strategies |

273
(2)

| | |
| --- | --- |
| | Peers as Teachers of Anger Management |

275
(1)
275
(1)
275
(1)

| | |
| --- | --- |
| | Come into My Classroom: A Case Study |

276
(9)

| | |
| --- | --- |
| | Discussion/Application Ideas |

285
(1)
285
(1)

| | |
| --- | --- |
| | Developing Alternatives to Self-Stimulatory and Self-Injurious Behavior |

286
(29)
286
(1)
286
(1)
287
(1)

| | |
| --- | --- |
| | Come into My Classroom: A Case Study |

288
(1)
289
(3)

| | |
| --- | --- |
| | Self-Stimulatory Behavior |

289
(3)
292
(2)

| | |
| --- | --- |
| | A Note About SIB and SSB Assessment and Interventions |

292
(2)

| | |
| --- | --- |
| | SSB, SIB, and Functional Relations |

294
(1)
295
(1)
296
(1)

| | |
| --- | --- |
| | Intervention Strategies for SSB |

297
(3)

| | |
| --- | --- |
| | Enriching the Environment |

298
(1)

| | |
| --- | --- |
| | Social Reinforcement Approaches |

298
(1)

| | |
| --- | --- |
| | Reinforcing Alternative Behaviors |

298
(1)

| | |
| --- | --- |
| | Noncontingent Reinforcement |

298
(1)
298
(1)
299
(1)
299
(1)

| | |
| --- | --- |
| | Response-Reinforcer Procedure |

299
(1)
299
(1)
299
(1)

| | |
| --- | --- |
| | Sensory Extinction Procedure |

300
(1)

| | |
| --- | --- |
| | Environmental Safety Considerations |

300
(1)
300
(1)

| | |
| --- | --- |
| | Intervention Strategies for SIB |

301
(5)
301
(2)

| | |
| --- | --- |
| | Environmental Safety Considerations |

303
(1)
303
(1)
304
(1)

| | |
| --- | --- |
| | Interruption and Redirection |

304
(1)
304
(1)
305
(1)

| | |
| --- | --- |
| | Movement Suppression Procedure |

305
(1)
306
(1)

| | |
| --- | --- |
| | Come into My Classroom: A Case Study |

306
(5)

| | |
| --- | --- |
| | Discussion/Application Ideas |

311
(1)
311
(1)
312
(3)

| | |
| --- | --- |
| | PART 3 BEYOND THE CLASSROOM |

315
(56)

| | |
| --- | --- |
| | Supporting Students With Psychiatric Problems |

316
(18)
316
(1)
316
(1)
317
(1)
318
(1)

| | |
| --- | --- |
| | Come into My Classroom: A Case Study |

318
(1)

| | |
| --- | --- |
| | Mental Health Prevention Services |

319
(1)

| | |
| --- | --- |
| | Identifying Psychological Problems |

319
(2)
319
(2)
321
(2)
323
(1)
323
(1)
324
(5)

| | |
| --- | --- |
| | Alcohol and Other Depressants |

325
(2)
327
(1)
327
(1)
327
(1)
327
(1)
328
(1)
328
(1)
328
(1)
328
(1)
329
(1)
330
(1)
331
(1)
331
(1)

| | |
| --- | --- |
| | Come into My Classroom: A Case Study |

332
(1)

| | |
| --- | --- |
| | Discussion/Application Ideas |

332
(1)
332
(2)

| | |
| --- | --- |
| | Extending Intervention Effects |

334
(37)
334
(1)
334
(1)
335
(1)

| | |
| --- | --- |
| | Come into My Classroom: A Case Study |

336
(4)
340
(1)

| | |
| --- | --- |
| | Principles of Maintenance and Generalization |

341
(6)

| | |
| --- | --- |
| | Take Advantage of Natural Communities of Reinforcement |

342
(1)
343
(2)

| | |
| --- | --- |
| | Incorporate Functional Mediators |

345
(2)
347
(12)

| | |
| --- | --- |
| | Transitions to Less Restrictive Educational Settings |

348
(5)

| | |
| --- | --- |
| | Transitions to Other Settings |

353
(6)
359
(7)

| | |
| --- | --- |
| | Working with School Personnel |

359
(2)
361
(3)

| | |
| --- | --- |
| | Working with Community Professionals and Agencies |

364
(2)
366
(1)

| | |
| --- | --- |
| | Discussion/Application Ideas |

366
(1)
367
(1)
367
(4)
Epilogue
371
(2)
Index
373