Note: Supplemental materials are not guaranteed with Rental or Used book purchases.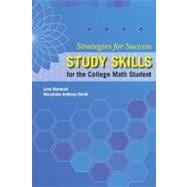 Summary
Strategies for Successprovides a series of study skills activities designed to help you succeed in college mathematics. These proven, class-tested activitieshave been developed over many semesters from the authors' firsthand experience with their own students. This workbook contains 34 activities, in ready-to-use worksheet format. The activities can be used in several ways-individual work, group work, or large group discussion. Some of the topics covered include Notebook Preparation, Reading a Math Textbook, Successful Student Behavior, Time Management, Test Preparation Skills, Study Group Ideas, and much more.
Author Biography
Lynn Marecek and MaryAnne Anthony-Smith are Professors of Mathematics at Santa Ana College in Santa Ana, California. They have worked together on many projects focused on improving student learning in the developmental mathematics courses. Lynn and MaryAnne believe teachers of developmental mathematics should proactively assist their students in improving their study skills. To this end, they created study skills activities,Strategies for Success. The authors actively participate in the AMATYC, CMC³, ICTCM, and NCTM conferences. They have also given workshops on implementing Strategies for Success at many colleges.
Table of Contents
1. Syllabus Search
2. Notebook Preparation
3. Reading the Textbook-Part l
4. Reading the Textbook-Part ll
5. Math Autobiography
6. On Time and Ready To Go!
7. Test Preparation Skills
8. Test Stress Reduction
9. Test Taking Skills
10. Post Test Check up
11. Test Analysis
12. Successful Student Behavior
13. Textbook Tour
14. Time Management
15. Homework Skills
16. Mid-term Check up-Part l
17. Mid-term Check up-Part ll
18. Attendance
19. Study Group
20. Goals
21. Thoughts in Charge!
22. Neutralize Negative Thoughts
23. Intervention Strategies for Negative Thoughts
24. Can You Hear Me Now???
25. A Gift to Yourself
26. Math Plan
27. The End is in Sight!
28. Excuses! Excuses!
29. Support from Family and Friends
30. Stay on Campus - Stay on Task!
31. Final Exam Prep
32. Grade Check up
33. Look Back, Look Forward
34. Reward Yourself!