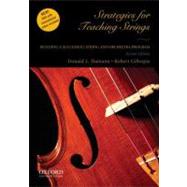 List Price: $72.48
Usually Ships in 2-3 Business Days
Questions About This Book?
What version or edition is this?
This is the 2nd edition with a publication date of 11/12/2008.
What is included with this book?
The Used copy of this book is not guaranteed to inclue any supplemental materials. Typically, only the book itself is included.
Summary
Strategies for Teaching Strings: Building a Successful String and Orchestra Program , Second Edition, is an essential guide for prospective, novice, and experienced string teachers alike. Now featuring an integrated DVD , this comprehensive text provides all the information necessary to develop and manage a successful school-based program. Based on the national standards for teaching strings and orchestra, the text covers performance objectives, strategies for teaching technical and performance skills, and solutions to common playing problems for elementary, middle, and high school skill levels. It also offers rehearsal strategies to develop large-group ensemble techniques, practical approaches to teaching improvisation, and advice on how to increase student recruitment and retention. New to the Second Edition * In-text DVD demonstrating playing techniques, fingering positions, and teaching strategies in action; these are keyed to the text by clip numbers and marginal icons *New and updated lists of resources at chapter ends, including new resources for jazz improvisation in Chapter 8 *Expanded appendices, including the national standards for school orchestra directors, tools for evaluation, correlated string orchestra music and teaching strategies to develop bowing and left-hand playing skills, and additional pedagogical resources *A more extensive history of string instruments in Chapter 1 *Thorough updating of Chapter 10 to include the most recent literature on method books and music for the school orchestra program
Table of Contents
The String Instrument Family
Instruments
Bows
Accessories and Supplies
Selecting String Instruments
Care and Maintenance of String Instruments and Bows
Summary
Resources
The School Orchestra Program
A Brief History of Orchestra Programs
Values of Orchestra Programs in the School Music Curriculum
Strategies for Defending the School Orchestra Program
Developing Community Support for the Orchestra Program
The School Orchestra Curriculum
Enhancing the Orchestra Curriculum
References
Additional Resources
Beginning String Class Instruction
Guiding Principles for Teaching Beginning String Classes
Performance Goals and Objectives of First- and Second-Year String Classes
Rote-to-Note Teaching Sequence
Strategies for Determining Proper Instrument Sizes
Recommended Seating Configuration for Beginning String Classes
Pedagogy for Teaching Instrument Position
Creating Lesson Plans for Beginning String Class Instruction
Additional Instrument Position Teaching Strategies
Left-Hand Shape: General Guidelines
Pedagogy for Teaching the Left-Hand Shape
Pedagogy for Teaching Pizzicato
Pedagogy for Teaching Beginning Finger Placement
Bowing Instruction: General Guidelines
Bow Hand Shape: General Guidelines
Pedagogy for Teaching Bow Hand Shape
Sound Production Principles
Detache Bowing: General Guidelines
Pedagogy for Teaching Detache Bowing
Beginning String Crossings: General Guidelines
Pedagogy for Teaching String Crossings
Staccato and Hooked Bowings: General Guidelines
Pedagogy for Teaching Staccato and Hooked Bowings
Pedagogy for Teaching Slurs
Aural Skill Development in Beginning Classes: General Guidelines
Pedagogy for Teaching Beginning Aural Skills
Strategies for Teaching Instrument Tuning in Beginning String Classes
Problem Solving: Beginning Students' Common Playing Problems and Solutions
References
Additional Resources
Intermediate String Class Instruction
Performance Goals and Objectives of Third- and Fourth-Year String Classes
Pedagogy for Teaching Parallel Bowing
Pedagogy for Teaching Smooth Direction Changes
Pedagogy for Teaching Tone Production at Different Dynamic Levels
Pedagogy for Teaching Moderate-to-Faster Tempo String Crossings
Pedagogy for Teaching Slurring More than Four Notes
Pedagogy for Teaching Martele Bowing
Pedagogy for Teaching Basic Spiccato
Pedagogy for Teaching Consistent Lengthened and Balanced Body Posture
Pedagogy for Refining Instrument Position
Intermediate Left-Hand Skills: General Guidelines
Pedagogy for Refining Left-Hand Shapes
Pedagogy for Teaching Cello Extensions
Shifting: General Principles
Pedagogy for Teaching Shifting
Vibrato: General Principles
Pedagogy for Teaching Vibrato
Double Bass Pivoting: General Guidelines
Pedagogy for Developing Intermediate Aural Skills in the School Orchestra
Intermediate Instrument Tuning
Problem Solving: Intermediate Students' Common Playing Problems and Solutions
Advanced String Class Instruction
Goals and Objectives of Advanced Playing Skills
Pedagogy for Teaching Expressive Detache Bowing
Pedagogy for Teaching Loure (Portato) Bowing
Pedagogy for Tea
Table of Contents provided by Publisher. All Rights Reserved.