Note: Supplemental materials are not guaranteed with Rental or Used book purchases.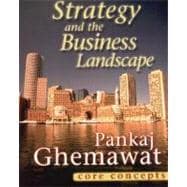 Strategy and the Business Landscape : Core Concepts
ISBN13:
9780130289766
by
Ghemawat, Pankaj E
Related Products
Summary
Audience: &MBA and Executive MBA strategy courses Approach: & Pankaj Ghemawat, in collaboration with Bruno Cassiman, David Collis and Jan Rivkin, has prepared the second edition of an introductory strategy textbook that adopts a value-focused, firm-centered perspective on strategy. The book is meant to be rigorous in its research base, pragmatic in its focus, and concise.& The second edition includes new, full-length chapters on competitive dynamics (with Bruno Cassiman) and on corporate strategy (with Jan Rivkin). Competitors: & de Kluyver (PH)
Author Biography
Pankaj Ghemawat is the Jaime and Josefina Chua Tiampo Professor of Business Administration at Harvard University's Graduate School of Business Administration.
Table of Contents
1
(18)
2
(2)
4
(4)

| | |
| --- | --- |
| | The Rise of Strategy Consultants |

8
(5)

| | |
| --- | --- |
| | BCG and the Experience Curve |

9
(1)

| | |
| --- | --- |
| | From the Experience Curve to Portfolio Analysis |

9
(1)

| | |
| --- | --- |
| | Strategic Business Units and Portfolio Analysis |

10
(3)
13
(6)

| | |
| --- | --- |
| | Mapping the Business Landscape |

19
(30)
21
(3)

| | |
| --- | --- |
| | The ``Five Forces'' Framework |

24
(7)

| | |
| --- | --- |
| | Force 1: The Degree of Rivalry |

25
(3)

| | |
| --- | --- |
| | Force 2: The Threat of Entry |

28
(1)

| | |
| --- | --- |
| | Force 3: The Threat of Substitutes |

29
(1)
30
(1)
31
(1)

| | |
| --- | --- |
| | The Value Net and Other Generalizations |

31
(4)

| | |
| --- | --- |
| | The Process of Mapping Business Landscapes |

35
(14)

| | |
| --- | --- |
| | Step 1: Drawing the Boundaries |

35
(3)

| | |
| --- | --- |
| | Step 2: Mapping Key Relationships |

38
(5)

| | |
| --- | --- |
| | Step 3: Adapting to/Shaping the Business Landscape |

43
(6)

| | |
| --- | --- |
| | Creating Competitive Advantage |

49
(26)

| | |
| --- | --- |
| | The Development of Concepts for Competitive Positioning |

51
(9)
52
(1)
53
(1)

| | |
| --- | --- |
| | Costs Versus Differentiation |

54
(4)
58
(2)
60
(10)

| | |
| --- | --- |
| | Step 1: Using Activities to Analyze Relative Costs |

62
(3)

| | |
| --- | --- |
| | Step 2: Using Activities to Analyze Relative Willingness to Pay |

65
(3)

| | |
| --- | --- |
| | Step 3: Exploring Different Strategic Options and Making Choices |

68
(2)

| | |
| --- | --- |
| | The Whole Versus the Parts |

70
(5)

| | |
| --- | --- |
| | Anticipating Competitive and Cooperative Dynamics |

75
(36)

| | |
| --- | --- |
| | Competition and Cooperation Among the Few |

75
(6)
76
(3)
79
(2)
81
(3)
84
(11)
84
(6)
90
(5)

| | |
| --- | --- |
| | Threats to the Appropriability of Added Value |

95
(16)
95
(6)
101
(10)

| | |
| --- | --- |
| | Building and Sustaining Success |

111
(26)

| | |
| --- | --- |
| | Activities Versus Resources |

112
(7)
113
(3)
116
(3)
119
(8)
121
(3)
124
(3)
127
(8)
135
(2)
Name Index
137
(2)
Company Index
139
(2)
Subject Index
141
Excerpts
Preface This book grew out of my experience, over the last four years, teaching and then running Harvard Business School's required first-year course on Competition and Strategy My colleagues and I were dissatisfied with the strategy textbooks and disinclined to assign a mish-mash of book chapters and articles instead. As a result, I, along with some of them, began to write conceptual notes for our students. These notes, which have since been revised several times, constitute the core of this book. Strategy and the Business Landscapehas several distinguishing features. First and perhaps most obviously, it begins with and maintains a historical perspective on the field of strategy This approach offers several advantages. It avoids imposing an arbitrary definition of strategy on the reader. Tracking changing conceptions of strategy can also help identify patterns in what might otherwise seem to be just the random churn of ideas. Most ambitiously, an understanding of the history of the field may foster an ability to sort through the continual barrage of new ideas--some good and others bad--about strategy. Second, this book tries to be contemporary as well as historically grounded. Thus Chapter 2 begins by reviewing early work on environmental analysis, particularly Michael Porter's influential "five-forces" framework (which is standard practice), but goes on to discuss newer ways of thinking about the business landscape (which is not). Chapter 3 pursues a parallel line of development, starting with the early work on competitive positioning but culminating in the more recent conceptualizations of added value and rugged landscapes. Chapters 4 and 5 deal with dynamic issues--the sustainability of superior performance and the instrumental roles of capabilities and commitments--that most strategists have only begun to address since the mid-1980s. Third, this book uses firm-centered, value-based logic to bridge some of the great debates about strategy. It addresses the debate about internal versus external focus by concentrating on the firm in relation to its environment, aided by the visual imagery of the business landscape. The debate about competition versus cooperation is channeled into the recognition that both kinds of relationships affect a firm's added value as well as its ability to sustain and appropriate some of that value over time. And the debate about the activity-system vs. resource-based views of the firm is dealt with at length in Chapter 5, which emphasizes both the complementarity of these two perspectives on strategy and the way in which they need to be extended. Fourth, this book tries to be practical as well as rigorous. Key concepts are laid out succinctly (but with suggestions for additional reading in the notes). They are illustrated with rich examples, often drawn from consulting work. In addition, the process of actually applying these concepts to real-world situations is discussed in some detail. Finally, this book focuses on business- rather than corporate-level strategy. While strategies at the corporate and business levels intersect to some extent Significant differences are also apparent in many of the management issues raised. In addition, corporate strategy may have less immediate relevance to most of the M.B.A. students taking an introductory course on strategy. Having said that, there are obviously a number of good readings on corporate strategy that can be assigned in conjunction with this book for a course whose scope extends to corporate- as well as business-level issues. It would have been impossible to prepare this book without aid and support from a number of different quarters. My most obvious debt is to my coauthors on the individual chapters in this book, David J. Collis, Gary P Pisano, and Jan W. Rivkin. Each pushed the chapter in which he was involved to a new level. Each also provided copious