Note: Supplemental materials are not guaranteed with Rental or Used book purchases.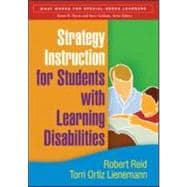 Strategy Instruction for Students with Learning Disabilities, First Edition
ISBN13:
9781593852832
by
Reid, Robert
;
Lienemann, Torri Ortiz
This title is currently not available.
Summary
Practical and accessible, this book provides the first step-by-step guide to cognitive strategy instruction, which has been shown to be one of the most effective instructional techniques for students with learning problems. Presented are proven strategies that students can use to improve their self-regulated learning, study skills, and performance in specific content areas, including written language, reading, and math. Clear directions for teaching the strategies in the elementary or secondary classroom are accompanied by sample lesson plans and many concrete examples. Enhancing the book's hands-on utility are more than 20 reproducible worksheets and forms.
Author Biography
Robert Reid, PhD, is a Professor in the Department of Special Education and Communication Disorders at the University of Nebraska-Lincoln. He received his doctorate in Special Education from the University of Maryland in 1991. Dr. Reid's research focuses on children with attention-deficit/hyperactivity disorder (ADHD) and on strategy instruction. He has published more than 60 articles and book chapters and presented at national and international conferences. Additionally, he codeveloped the ADHD-IV Rating Scale (1998). Dr. Reid received the American Educational Research Association's Special Education Student Research Award in 1992 and the Balilies Child Mental Health Award in 1996. He currently serves on the editorial boards of five journals and actively reviews for several others.

Torri Ortiz Lienemann, MA, is a doctoral candidate at the University of Nebraska-Lincoln. Her work concentrates on strategy instruction and self-regulation, specifically in writing. Currently, Ms. Leinemann is involved in research on strategy instruction for students with ADHD; teaching undergraduate courses; grant writing; and creating new programs to assist students with special needs and their teachers. Ms. Leinemann has been a classroom resource teacher at both the middle and high school levels and served as a remedial teacher at an elementary school.

Table of Contents
| | |
| --- | --- |
| | Why Use Strategy Instruction? |

1
(15)

| | |
| --- | --- |
| | What Is a Learning Disability? |

2
(1)

| | |
| --- | --- |
| | Causes of Learning Disabilities |

3
(3)

| | |
| --- | --- |
| | Characteristics of Students with Learning Disabilities |

6
(4)
10
(2)

| | |
| --- | --- |
| | Putting Strategy Instruction into the Classroom |

12
(1)
13
(3)

| | |
| --- | --- |
| | Building Background Knowledge |

16
(16)

| | |
| --- | --- |
| | Introduction to Strategy Instruction |

17
(2)
19
(3)

| | |
| --- | --- |
| | The Importance of Attributions |

22
(3)
25
(5)
30
(2)

| | |
| --- | --- |
| | The Self-Regulated Strategy Development Model |

32
(17)

| | |
| --- | --- |
| | The Six Stages of the SRSD Model |

33
(9)
42
(3)

| | |
| --- | --- |
| | Practical Considerations and Tips |

45
(2)
47
(2)

| | |
| --- | --- |
| | How to Implement the SRSD Model |

49
(22)

| | |
| --- | --- |
| | Structured Strategy Example |

50
(10)

| | |
| --- | --- |
| | Unstructured Strategy Example |

60
(10)
70
(1)

| | |
| --- | --- |
| | Self-Regulation Strategies |

71
(15)
72
(6)
78
(2)
80
(1)
81
(1)

| | |
| --- | --- |
| | The Case for Self-Regulation |

82
(1)
83
(3)

| | |
| --- | --- |
| | Implementing Self-Regulation Strategies |

86
(24)

| | |
| --- | --- |
| | Implementing Self-Monitoring |

86
(8)

| | |
| --- | --- |
| | Implementing Self-Instruction |

94
(8)

| | |
| --- | --- |
| | Implementing Goal Setting |

102
(2)

| | |
| --- | --- |
| | Implementing Self-Reinforcement |

104
(3)
107
(1)
107
(3)

| | |
| --- | --- |
| | Integrating Strategies and Self-Regulation |

110
(15)

| | |
| --- | --- |
| | Self-Monitoring, Goal Setting, and a Spelling Strategy |

111
(1)

| | |
| --- | --- |
| | Self-Monitoring and a Math Strategy |

112
(2)

| | |
| --- | --- |
| | Self-Instruction and a Writing Strategy |

114
(3)

| | |
| --- | --- |
| | Goal Setting and a Reading Comprehension Strategy |

117
(2)

| | |
| --- | --- |
| | Self-Monitoring and a Main Idea Comprehension Strategy |

119
(2)

| | |
| --- | --- |
| | Integrating Strategies to Solve Math Word Problems |

121
(1)
122
(3)

| | |
| --- | --- |
| | Strategies in Written Language |

125
(22)

| | |
| --- | --- |
| | Problems for Students with Learning Disabilities |

126
(2)
128
(1)

| | |
| --- | --- |
| | Instruction in the Writing Process |

129
(9)
138
(6)
144
(3)

| | |
| --- | --- |
| | Strategies in Reading Comprehension |

147
(21)

| | |
| --- | --- |
| | Problems for Students with Learning Disabilities |

148
(1)
149
(2)
151
(2)

| | |
| --- | --- |
| | During-Reading Strategies |

153
(4)
157
(3)
160
(6)
166
(2)

| | |
| --- | --- |
| | Strategies in Mathematics |

168
(24)

| | |
| --- | --- |
| | Problems for Students with Learning Disabilities |

169
(1)
170
(2)

| | |
| --- | --- |
| | Instruction in Mathematics |

172
(1)

| | |
| --- | --- |
| | Basic Math Facts Strategies |

172
(3)
175
(1)

| | |
| --- | --- |
| | Word-Problem-Solving Strategies |

176
(5)
181
(8)
189
(3)
192
(21)

| | |
| --- | --- |
| | Problems for Students with Learning Disabilities |

193
(2)
195
(1)

| | |
| --- | --- |
| | Instruction in Study Skills |

196
(1)
196
(4)
200
(2)
202
(3)

| | |
| --- | --- |
| | Classroom Survival Strategies |

205
(1)
206
(4)
210
(3)
213
(18)

| | |
| --- | --- |
| | Problems for Students with Learning Disabilities |

214
(1)

| | |
| --- | --- |
| | Acronyms and Acrostics: The ``First Letter'' Strategies |

215
(2)
217
(1)
218
(1)
219
(4)
223
(3)
226
(5)
Index
231