Note: Supplemental materials are not guaranteed with Rental or Used book purchases.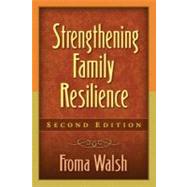 Strengthening Family Resilience, Second Edition
ISBN13:
9781462503315
by
Walsh, Froma
Related Products
Summary
Now in a fully revised, updated, and expanded second edition, this informative clinical resource and text presents Froma Walsh's family resilience framework for intervention and prevention with clients dealing with adversity. Drawing on extensive research and clinical experience, the author describes key processes in resilience for practitioners to target and facilitate. Useful guidelines and case illustrations address a wide range of challenges: sudden crisis, trauma, and loss; disruptive transitions, such as job loss, divorce, and migration; persistent multistress conditions of serious illness or poverty; and barriers to success for at-risk youth. New chapters present resilience-oriented approaches to recovery from major disasters and demonstrate community-based and international programmatic applications.
Author Biography
Froma Walsh, PhD, is the Mose and Sylvia Firestone Professor in the School of Social Service Administration at the University of Chicago. She also has a joint appointment in the Department of Psychiatry, Pritzker School of Medicine, and is Co-Director of the university-affiliated Chicago Center for Family Health. She is a past president of the American Family Therapy Academy (AFTA) and past editor of the Journal of Marital and Family Therapy. Dr. Walsh has received awards for her distinguished contributions and leadership in the field of family therapy from the Division of Family Psychology of the American Psychological Association, the American Association for Marriage and Family Therapy, and AFTA. She speaks and consults internationally on resilience-oriented research, professional training, and practice.
Table of Contents
I. Overview 1. Foundations of a Family Resilience Approach 2. The Growing Diversity and Complexity of Families in a Changing World II. Key Family Processes in Resilience 3. Belief Systems: The Heart and Soul of Resilience 4. Organizational Patterns: Family Shock Absorbers 5. Communication Processes: Facilitating Mutual Support and Problem Solving III. Practice Application 6. Practice Principles and Guidelines to Strengthen Family Resilience 7. A Family Resilience Framework for Community-Based Programs and Services IV. Facilitating Family Resilience through Crisis and Prolonged Challenges 8. Loss, Recovery, and Resilience 9. Chronic Illness and Family Caregiving: Challenges and Gifts 10. Strengthening Resilience in Vulnerable Multistressed Families 11. Recovery from Trauma, Traumatic Loss, and Major Disasters: Strengthening Family and Community Resilience 12. Reconnection and Reconciliation: Bridge over Troubled Waters