Note: Supplemental materials are not guaranteed with Rental or Used book purchases.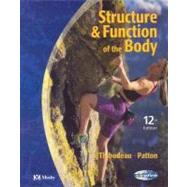 Structure & Function of the Body - Soft Cover Version
ISBN13:
9780323022422
by
Thibodeau & Patton
Questions About This Book?
Why should I rent this book?
Renting is easy, fast, and cheap! Renting from eCampus.com can save you hundreds of dollars compared to the cost of new or used books each semester. At the end of the semester, simply ship the book back to us with a free UPS shipping label! No need to worry about selling it back.
How do rental returns work?
Returning books is as easy as possible. As your rental due date approaches, we will email you several courtesy reminders. When you are ready to return, you can print a free UPS shipping label from our website at any time. Then, just return the book to your UPS driver or any staffed UPS location. You can even use the same box we shipped it in!
What version or edition is this?
This is the 12th edition with a publication date of 10/24/2003.
What is included with this book?
The Used copy of this book is not guaranteed to include any supplemental materials. Typically, only the book itself is included.
The Rental copy of this book is not guaranteed to include any supplemental materials. You may receive a brand new copy, but typically, only the book itself.
Summary
The 12th edition of this popular text continues to build on the solid foundation of previous versions, and its updated full-color illustration program, centralized themes, easy-to-understand language, and solid pedagogical features provide a clear structure for student learning. Elaborate full-color illustrations, centralized themes, simplistic language, and solid learning features encourage reader comprehension of the material. Over 330 illustrations visually clarify difficult concepts. Cadaver photos provide a true visualization of the human body. Vocabulary Terms are provided at the end of each chapter, bolded within the text, and located in the Comprehensive Glossary at the end of the text. Readers can evaluate their own mastery of chapter content by doing the Collaborative Learning Activities and completing the Chapter Test and Review Questions. A Medical Abbreviations, Prefixes, and Suffixes appendix provides quick reference to common terms. Objectives clearly detail what the reader should learn from the chapter. The Outline Summary at the end of each chapter gives the reader a succinct recap of important content. The clear, straightforward writing style makes content easy to read and understand. Health and Well Being, Clinical Application, and Research, Issues, and Trends boxes help readers to apply what they have learned. Study Tips are listed at the end of each chapter, ensuring reading comprehension and review. Chemistry of Life chapter provides a solid introduction to important chemistry information. Quick Check boxes offer students the chance to check their basic reading comprehension at the end of each passage. Science Applications boxes summarize the professions that make use of the concepts in each chapter to improve our quality of life.
Author Biography
Gary A. Thibodeau, PhD: Chancellor Emeritus and Professor Emeritus of Biology, University of Wisconsin-River Falls, River Falls, Wisconsin Kevin T. Patton, PhD: Professor, Department of Life Sciences, Saint Charles Community College, Saint Peters, Missouri; Adjunct Assistant Professor of Physiology, Saint Louis University Medical School, Missouri
Table of Contents
1 AN INTRODUCTION TO THE STRUCTURE AND FUNCTION OF THE BODY,
1
(19)

| | |
| --- | --- |
| | Structural Levels of Organization, |

2
(2)
4
(1)
4
(3)
7
(1)
8
(3)
11
(3)

| | |
| --- | --- |
| | The Balance of Body Functions, |

14
(6)
2 CHEMISTRY OF LIFE,
20
(20)

| | |
| --- | --- |
| | Levels of Chemical Organization, |

21
(2)
22
(1)

| | |
| --- | --- |
| | Elements, Molecules, and Compounds, |

22
(1)
23
(2)
23
(1)
24
(1)
25
(4)
25
(2)
27
(2)
29
(11)
29
(1)
29
(3)
32
(1)
33
(7)
3 CELLS AND TISSUES,
40
(38)
42
(6)
42
(1)
42
(1)
42
(5)

| | |
| --- | --- |
| | Relationship of Cell Structure and Function, |

47
(1)

| | |
| --- | --- |
| | Movement of Substances Through Cell Membranes, |

48
(5)

| | |
| --- | --- |
| | Passive Transport Processes, |

49
(2)

| | |
| --- | --- |
| | Active Transport Processes, |

51
(2)

| | |
| --- | --- |
| | Cell Reproduction and Heredity, |

53
(5)

| | |
| --- | --- |
| | DNA Molecule and Genetic Information, |

53
(2)
55
(3)
58
(20)
58
(4)
62
(3)
65
(3)
68
(10)
4 ORGAN SYSTEMS OF THE BODY,
78
(20)

| | |
| --- | --- |
| | Organ Systems of the Body, |

80
(12)
80
(1)
80
(3)
83
(1)
83
(1)
84
(1)

| | |
| --- | --- |
| | Cardiovascular (Circulatory) System, |

85
(1)
85
(2)
87
(1)
88
(1)
88
(1)
89
(3)
92
(6)
5 THE INTEGUMENTARY SYSTEM AND BODY MEMBRANES,
98
(22)

| | |
| --- | --- |
| | Classification of Body Membranes, |

98
(4)
100
(2)

| | |
| --- | --- |
| | Connective Tissue Membranes, |

102
(1)
102
(18)
102
(4)
106
(4)
110
(1)
111
(9)
6 THE SKELETAL SYSTEM,
120
(36)

| | |
| --- | --- |
| | Functions of the Skeletal System, |

120
(2)
122
(1)
122
(1)
122
(1)
122
(1)
122
(1)
122
(1)
122
(1)

| | |
| --- | --- |
| | Microscopic Structure of Bone and Cartilage, |

123
(2)

| | |
| --- | --- |
| | Bone Formation and Growth, |

125
(2)
127
(15)
130
(5)
135
(7)

| | |
| --- | --- |
| | Differences Between a Man's and a Woman's |

142
(1)
143
(13)
144
(12)
7 THE MUSCULAR SYSTEM,
156
(28)
158
(1)

| | |
| --- | --- |
| | Structure of Skeletal Muscle, |

159
(2)
159
(2)

| | |
| --- | --- |
| | Functions of Skeletal Muscle, |

161
(1)
161
(1)
162
(1)
162
(1)
162
(1)

| | |
| --- | --- |
| | Role of Other Body Systems in Movement, |

162
(1)
163
(1)
163
(1)

| | |
| --- | --- |
| | Types of Skeletal Muscle Contraction, |

164
(1)

| | |
| --- | --- |
| | Twitch and Tetanic Contractions, |

164
(1)
164
(1)
164
(1)

| | |
| --- | --- |
| | Effects of Exercise on Skeletal Muscles, |

164
(2)
166
(7)

| | |
| --- | --- |
| | Muscles of the Head and Neck, |

166
(5)

| | |
| --- | --- |
| | Muscles That Move the Upper Extremities, |

171
(1)
171
(1)

| | |
| --- | --- |
| | Muscles That Move the Lower Extremities, |

172
(1)

| | |
| --- | --- |
| | Movements Produced by Skeletal Muscle Contractions, |

173
(11)
8 THE NERVOUS SYSTEM,
184
(42)

| | |
| --- | --- |
| | Organs and Divisions of the Nervous System, |

186
(1)

| | |
| --- | --- |
| | Cells of the Nervous System, |

187
(2)
187
(1)
187
(2)
189
(1)
190
(3)
193
(1)
193
(3)
196
(12)
196
(6)
202
(3)

| | |
| --- | --- |
| | Coverings and Fluid Spaces of the Brain and Spinal Cord, |

205
(3)

| | |
| --- | --- |
| | Peripheral Nervous System, |

208
(2)
208
(1)
208
(2)

| | |
| --- | --- |
| | Autonomic Nervous System, |

210
(16)
211
(2)

| | |
| --- | --- |
| | Autonomic Conduction Paths, |

213
(1)

| | |
| --- | --- |
| | Sympathetic Nervous System, |

214
(1)

| | |
| --- | --- |
| | Parasympathetic Nervous System, |

214
(1)

| | |
| --- | --- |
| | Autonomic Neurotransmitters, |

215
(1)

| | |
| --- | --- |
| | Autonomic Nervous System as a Whole, |

216
(10)
9 THE SENSES,
226
(24)

| | |
| --- | --- |
| | Classification of Sense Organs, |

228
(1)

| | |
| --- | --- |
| | Converting a Stimulus into a Sensation, |

228
(1)
228
(3)
231
(19)
231
(7)
238
(4)
242
(1)
243
(7)
10 THE ENDOCRINE SYSTEM,
250
(30)

| | |
| --- | --- |
| | Mechanisms of Hormone Action, |

252
(5)
255
(1)
256
(1)

| | |
| --- | --- |
| | Regulation of Hormone Secretion, |

257
(1)
257
(1)
258
(3)

| | |
| --- | --- |
| | Anterior Pituitary Gland Hormones, |

259
(1)

| | |
| --- | --- |
| | Posterior Pituitary Gland Hormones, |

260
(1)
261
(1)
261
(1)
262
(2)
264
(4)
264
(2)
266
(2)
268
(2)
270
(1)
270
(2)
272
(1)
272
(1)
272
(1)

| | |
| --- | --- |
| | Other Endocrine Structures, |

272
(8)
11 BLOOD,
280
(18)
282
(8)
282
(1)
283
(1)
283
(3)
286
(1)

| | |
| --- | --- |
| | Platelets and Blood Clotting, |

287
(3)
290
(8)
290
(1)
291
(7)
12 THE CIRCULATORY SYSTEM,
298
(36)
300
(11)

| | |
| --- | --- |
| | Location, Size, and Position, |

300
(1)
300
(3)
303
(1)

| | |
| --- | --- |
| | Blood Flow Through the Heart, |

303
(2)

| | |
| --- | --- |
| | Blood Supply to the Heart Muscle, |

305
(1)
305
(3)

| | |
| --- | --- |
| | Conduction System of the Heart, |

308
(1)
308
(3)
311
(2)
311
(1)
312
(1)
313
(1)
313
(5)

| | |
| --- | --- |
| | Systemic and Pulmonary Circulation, |

313
(2)

| | |
| --- | --- |
| | Hepatic Portal Circulation, |

315
(3)
318
(1)
318
(6)

| | |
| --- | --- |
| | Understanding Blood Pressure, |

318
(4)

| | |
| --- | --- |
| | Factors That Influence Blood Pressure, |

322
(1)

| | |
| --- | --- |
| | Fluctuations in Blood Pressure, |

323
(1)
324
(10)
13 THE LYMPHATIC SYSTEM AND IMMUNITY,
334
(24)
336
(5)
336
(1)
336
(2)
338
(2)
340
(1)
341
(1)
341
(3)

| | |
| --- | --- |
| | Functions of the Immune System, |

341
(1)
342
(1)
342
(2)
344
(2)
344
(1)
344
(2)
346
(12)
346
(1)
347
(11)
14 THE RESPIRATORY SYSTEM,
358
(30)
360
(3)
363
(1)
363
(1)
364
(1)
364
(3)
367
338
(32)

| | |
| --- | --- |
| | Bronchi, Bronchioles, and Alveoli, |

370
(1)
370
(1)
371
(8)
373
(2)

| | |
| --- | --- |
| | Exchange of Gases in Lungs, |

375
(2)

| | |
| --- | --- |
| | Exchange of Gases in Tissues, |

377
(1)

| | |
| --- | --- |
| | Volumes of Air Exchanged in Pulmonary Ventilation, |

377
(2)

| | |
| --- | --- |
| | Regulation of Respiration, |

379
(2)
380
(1)

| | |
| --- | --- |
| | Receptors Influencing Respiration, |

381
(1)
381
(7)
15 THE DIGESTIVE SYSTEM,
388
(30)

| | |
| --- | --- |
| | Wall of the Digestive Tract, |

390
(2)
392
(2)
394
(2)
394
(2)
396
(1)
397
(1)
397
(1)
397
(3)
400
(2)
402
(2)
404
(1)
404
(3)
407
(1)
407
(1)
407
(1)
408
(3)
409
(1)
409
(1)
410
(1)
411
(7)
16 NUTRITION AND METABOLISM,
418
(16)
420
(1)
420
(4)
420
(3)
423
(1)
423
(1)
424
(1)
424
(4)
428
(6)
17 THE URINARY SYSTEM,
434
(20)
437
(4)
437
(1)
437
(1)
438
(1)
438
(3)
441
(3)
443
(1)
444
(1)
444
(1)
445
(2)
447
(7)
18 FLUID AND ELECTROLYTE BALANCE,
454
(16)
456
(1)
457
(1)

| | |
| --- | --- |
| | Mechanisms That Maintain Fluid Balance, |

458
(6)

| | |
| --- | --- |
| | Regulation of Fluid Intake, |

459
(1)

| | |
| --- | --- |
| | Importance of Electrolytes in Body Fluids, |

460
(2)

| | |
| --- | --- |
| | Capillary Blood Pressure and Blood Proteins, |

462
(2)
464
(6)
19 ACID-BASE BALANCE,
470
(16)
472
(1)

| | |
| --- | --- |
| | Mechanisms That Control pH of Body Fluids, |

472
(7)
473
(2)

| | |
| --- | --- |
| | Respiratory Mechanism of pH Control, |

475
(2)

| | |
| --- | --- |
| | Urinary Mechanism of pH Control, |

477
(2)
479
(7)

| | |
| --- | --- |
| | Metabolic and Respiratory Disturbances, |

479
(1)
480
(6)
20 THE REPRODUCTIVE SYSTEMS,
486
(28)

| | |
| --- | --- |
| | Common Structural and Functional Characteristics Between the Sexes, |

488
(1)

| | |
| --- | --- |
| | Male Reproductive System, |

488
(8)
488
(1)
489
(4)
493
(1)

| | |
| --- | --- |
| | Accessory or Supportive Sex Glands, |

494
(1)
495
(1)

| | |
| --- | --- |
| | Female Reproductive System, |

496
(10)
496
(1)
496
(3)
499
(1)

| | |
| --- | --- |
| | Accessory or Supportive Sex Glands, |

500
(1)
501
(1)
502
(4)

| | |
| --- | --- |
| | Summary of Male and Female Reproductive Systems, |

506
(8)
21 GROWTH AND DEVELOPMENT,
514
(25)
516
(8)

| | |
| --- | --- |
| | Fertilization to Implantation, |

516
(5)
521
(1)

| | |
| --- | --- |
| | Formation of the Primary Germ Layers, |

521
(1)

| | |
| --- | --- |
| | Histogenesis and Organogenesis, |

521
(2)
523
(1)
524
(3)
524
(3)
527
(3)
528
(1)
528
(1)

| | |
| --- | --- |
| | Adolescence and Adulthood, |

529
(1)
530
(1)
530
(9)
530
(2)

| | |
| --- | --- |
| | Integumentary System (Skin), |

532
(1)
532
(1)
532
(1)
532
(1)
533
Appendixes
539
(1)

| | |
| --- | --- |
| | B Common Medical Abbreviations, Prefixes, and Suffixes, |

540
(2)
Chapter Test Answers,
542
Glossary,
G-1
Photo Credits,
C-1