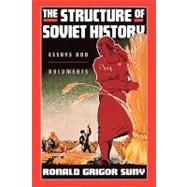 The Structure of Soviet History Essays and Documents
by
Suny, Ronald Grigor
Oxford University Press, USA
List Price: $54.95
Usually Ships in 2-3 Business Days
Questions About This Book?
What version or edition is this?
This is the 1st edition with a publication date of 8/22/2002.
What is included with this book?
The Used copy of this book is not guaranteed to inclue any supplemental materials. Typically, only the book itself is included.
Summary
This unique collection of primary documents and important scholarly articles tells the fascinating and tragic story of Russia's twentieth century. Edited by Ronald Grigor Suny, an eminent historian and political scientist, The Structure of Soviet History illustrates both the revolutionarychanges and the broad continuities in Soviet history. It discusses the history, not only of the Russian people, but of other Soviet peoples as well--the nationalities that made up the tsarist and Soviet empires and formed independent states in the early 1990s. This volume enables students to delvebeyond traditional narratives to look at the building blocks of history--archival documents, memoirs, and interpretive essays by the leading experts in the field. Students will learn about the fall of the tsarist empire, the hopes and aspirations of the revolutionary years, the brutalities of theStalin years, the attempts to reform the country in the last decades of Soviet power, and finally, the collapse of the USSR and the emergence of fifteen fragile republics. Rather than imposing a single view on students, The Structure of Soviet History allows them to come up with their own, freshinterpretations of a controversial and often misunderstood experience. Organized chronologically and covering political, social, and cultural history from a variety of viewpoints, the readings examine all of the major events and principal interpretations of Soviet history. Selections include official pronouncements and dissident manifestos, public speeches andprivate letters, and previously untranslated documents. Suny's introductory essay provides the broad outlines of Soviet history, while the chapter introductions summarize the main features and historical debates of each period. Each document is prefaced by a brief headnote that identifies the authorand places the work in context; explanatory notes are also included to define words and events that may not be familiar to students. A truly unique text, The Structure of Soviet History is ideal for use in undergraduate courses on the history of the Soviet Union as well as introductory courses onSoviet politics.
Table of Contents
Introduction: Back to the Future
xi
Acknowledgments
xviii
Transliteration and Dating
xviii
PART I REVOLUTION AND CIVIL WAR
1
(86)
3
(45)

| | |
| --- | --- |
| | ``Toward a Social History of the October Revolution'' |

6
(16)

| | |
| --- | --- |
| | ``Antibourgeois Propaganda and Anti-`Burzhui' Consciousness in 1917'' |

22
(10)
32
(3)

| | |
| --- | --- |
| | A. F Kerenskii's Statement in the Soviet of Workers Deputies, March 2, 1917 |

35
(1)

| | |
| --- | --- |
| | Iraklii Tsereteli's Speech on Returning from Siberian Exile, March 1917 |

36
(2)

| | |
| --- | --- |
| | ``The Tasks of the Proletariat in the Present Revolution (`April Theses')'' |

38
(3)

| | |
| --- | --- |
| | Tsereteli and Lenin's Exchange of Words During the First All-Russian Congress of Soviets of Workers' and Soldiers' Deputies, June 3-4, 1917 |

41
(2)

| | |
| --- | --- |
| | ``Report of the Commissar of the Novoaleksandrovsk Uezd, Kovno Guberniia'' June 14, 1917 |

43
(2)

| | |
| --- | --- |
| | ``Letter to Central Committee Members,'' October 24, (November 9),1917 |

45
(3)

| | |
| --- | --- |
| | Civil War, Socialism, and Nationalism |

48
(39)

| | |
| --- | --- |
| | ```Information Is the Alpha and Omega of Our Work': Bolshevik Surveillance in its Pan-European Context'' |

50
(12)

| | |
| --- | --- |
| | First Decrees of the New Soviet Government |

62
(5)

| | |
| --- | --- |
| | The Dissolution of the Constituent Assembly |

67
(6)
73
(4)

| | |
| --- | --- |
| | Iulii Martov's Letter to A. N. Stein, June 16, 1918 |

77
(5)

| | |
| --- | --- |
| | Lenin's Letter to V. V. Kuraev, E. B. Bosh, A. E. Minkin, August 11, 1918 |

82
(1)

| | |
| --- | --- |
| | ``Report on the Red Army'' to the First Congress of the Communist International, March 2, 1919 |

83
(4)
PART II RETREAT AND REBUILDING
87
(62)

| | |
| --- | --- |
| | Politics, Society, and Culture in the 1920s |

89
(60)

| | |
| --- | --- |
| | ``An Affirmative-Action Empire: The Emergence of the Soviet Nationalities Policy, 1919-1923'' |

93
(10)

| | |
| --- | --- |
| | The Workers' Opposition, 1921 |

103
(9)

| | |
| --- | --- |
| | Resolutions of the Tenth Congress of the Russian Communist Parry, ``On Parry Unity'' and ``On the Syndicalist and Anarchist Deviation in Our Parry,'' March 1921 |

112
(5)

| | |
| --- | --- |
| | Lenin's Letter to Stalin, July 17, 1922 |

117
(1)

| | |
| --- | --- |
| | ``Letter to the Congress'' (December 23-31, 1922) (Lenin's ``Testament'') |

118
(6)

| | |
| --- | --- |
| | Bukharin and Dzerzhinskii Disagree About the Nature of Revolutionary Government, December 1924 |

124
(2)

| | |
| --- | --- |
| | ``The October Revolution and the Tactics of the Russian Communists,'' December 17, 1924 |

126
(2)

| | |
| --- | --- |
| | ``Speech to the Fourteenth Parry Congress,'' December 1925 |

128
(2)

| | |
| --- | --- |
| | The Code of Laws on Marriage and Divorce, the Family and Guardianship, November 19, 1926 |

130
(7)

| | |
| --- | --- |
| | Kamenev-Bukharin Exchange, July 11, 1928 |

137
(2)

| | |
| --- | --- |
| | Kliment Voroshilov's Letter to ``Sergo'' Orjonikidze, June 8, 1929 |

139
(1)

| | |
| --- | --- |
| | Stalin's Letter to Molotov, Voroshilov, and Orjonikidze, September 30, 1929 |

140
(1)

| | |
| --- | --- |
| | from To Be Preserved Forever |

140
(9)
PART III STALINISM
149
(178)
151
(113)

| | |
| --- | --- |
| | ``The Bolshevik Invention of Class: Marxist Theory and the Making of `Class Consciousness' in Soviet Society'' |

164
(13)

| | |
| --- | --- |
| | ``The Centre and the Periphery: Cultural and Social Geography in the Mass Culture of the 1930s'' |

177
(11)

| | |
| --- | --- |
| | ``World Revolution or Russia,'' from The Great Retreat |

188
(10)
198
(11)

| | |
| --- | --- |
| | ``Dizzy with Success: Concerning Questions of the Collective Farm Movement,'' March 2, 1930 |

209
(3)

| | |
| --- | --- |
| | ``The Last Grain Collections (1933)'' |

212
(10)

| | |
| --- | --- |
| | ``New Conditions-New Tasks in Economic Construction,'' Stalin's Speech to a Conference of Economic Managers, June 23, 1931 |

222
(6)

| | |
| --- | --- |
| | Decree of the Council of People's Commissars of the USSR and of the Central Committee of the All-Union Communist Parry (Bolsheviks), ``On the Teaching of Civic History in the Schools of the USSR,'' May 16, 1934 |

228
(1)

| | |
| --- | --- |
| | ``For the Fatherland!'' Editorial in Pravda, June 9, 1934 |

229
(3)

| | |
| --- | --- |
| | Stalin's Letter to Kosior and Chubar in Kharkov, January 2, 1930 |

232
(1)

| | |
| --- | --- |
| | ``A May Night,'' excerpts from Hope Against Hope: A Memoir |

232
(8)

| | |
| --- | --- |
| | Stalin to All Members of the Central Committee of the All-Russian Communist Parry, March 31, 1937 |

240
(1)

| | |
| --- | --- |
| | Stalin on the Arrests and Executions of Tukhachevskii, Iakir, Uborevich, and Others, June 1l, 1937 |

241
(1)

| | |
| --- | --- |
| | Beria to Stalin on Counter-revolutionary Organization in Ajaria, July 17, 1937 |

241
(2)

| | |
| --- | --- |
| | Stalin to the Secretaries of Obkoms, Kraikoms, and Central Committees of the National Communist Parties, August 3, 1937 |

243
(1)

| | |
| --- | --- |
| | ``Is Pashchitskii Present?'' |

244
(1)

| | |
| --- | --- |
| | Nikolai Bukharin's Letter to Stalin, December 10, 1937 |

245
(5)

| | |
| --- | --- |
| | Mekhlis to Stalin and Ezhov, October 28, 1938 |

250
(1)

| | |
| --- | --- |
| | Conference of Musicians at the Central Committee of the All-Union Communist Party, January 1948 |

251
(9)

| | |
| --- | --- |
| | Report to Stalin on Dissolving Jewish Writers' Associations; and Stalin's Decision (February 8, 1949) |

260
(2)

| | |
| --- | --- |
| | Nikita Khrushchev's Apology to Stalin, March 6, 1951 |

262
(2)

| | |
| --- | --- |
| | Dangers and Opportunities: The Comintern, World War, and Cold War |

264
(63)

| | |
| --- | --- |
| | ``Popular Reactions in Moscow to the German Invasion of June 22, 1941'' |

267
(6)

| | |
| --- | --- |
| | ``The Premises of Policy,'' from Stalin and the Bomb |

273
(12)

| | |
| --- | --- |
| | ``Theses on the National and Colonial Question'' (1920) |

285
(4)

| | |
| --- | --- |
| | ``Theses on the Conditions for Admission'' to the Communist International (1920) |

289
(5)

| | |
| --- | --- |
| | Stalin, ``On the Tasks of Workers in the Economy,'' excerpts from his speech to the First All-Union Conference of Workers of Socialist Industry, February 4, 1931 |

294
(1)

| | |
| --- | --- |
| | Stalin's Interview with Roy Howard of the Scripps-Howard Publications (1936) |

295
(3)

| | |
| --- | --- |
| | The Nazi-Soviet Pact, August 23, 1939 |

298
(5)

| | |
| --- | --- |
| | Memorandum from Lavrenti Beria to Stalin, March 5, 1940 |

303
(3)

| | |
| --- | --- |
| | Letter to Nikita Khrushchev from Aleksandr Shelepin, March 3, 1959; and Draft Resolution to Destroy the Documents Concerning the Katyn Massacre, March 3, 1959 |

306
(1)

| | |
| --- | --- |
| | ``At Naval Headquarters'' |

307
(6)

| | |
| --- | --- |
| | Report from Beria to Stalin, July 4, 1944 |

313
(2)

| | |
| --- | --- |
| | Record of Conversations between Comrade I. V Stalin and Chairman of the Central People's Government of the People's Republic of China, Mao Zedong, December 16, 1949; January 22, 1950 |

315
(12)
PART IV REFORM AND STAGNATION
327
(74)

| | |
| --- | --- |
| | From Autocracy to Oligarchy |

329
(30)

| | |
| --- | --- |
| | ``Irreconcilable Differences: Divorce and Conceptions of Private Life in the Khrushchev Era'' |

330
(8)

| | |
| --- | --- |
| | from A Precocious Autobiography |

338
(2)

| | |
| --- | --- |
| | ``Secret Speech'' to the Twentieth Congress of the Communist Parry of the Soviet Union, February 25, 1956 |

340
(10)
350
(6)

| | |
| --- | --- |
| | Report of Vladimir Semichastnyi, chairman of the KGB, July 25, 1962 |

356
(3)
359
(42)

| | |
| --- | --- |
| | ``The `New Soviet Man' Turns Pessimist'' |

360
(10)

| | |
| --- | --- |
| | ``The Little Deal: Brezhnev's Contribution to Acquisitive Socialism'' |

370
(9)

| | |
| --- | --- |
| | ``Brezhnev and the End of the Thaw: Reflections on the Nature of Political Leadership'' |

379
(6)

| | |
| --- | --- |
| | Report of Vladmir Semichastnyi to the Central Committee on Armenian Nationalists, February 7, 1966 |

385
(3)

| | |
| --- | --- |
| | ``Was the 1968 Prague Invasion Justified?'' |

388
(5)

| | |
| --- | --- |
| | ``The Case of Boris Kochubiyevsky'' |

393
(4)

| | |
| --- | --- |
| | Letter from Vladimir Vysotskii to Petr Dimichev, April 17, 1973 |

397
(4)
PART V REFORM AND REVOLUTION
401
(163)
403
(73)

| | |
| --- | --- |
| | ``Televorot: The Role of Television Coverage in Russia's August 1991 Coup'' |

406
(17)
423
(10)

| | |
| --- | --- |
| | Election of Mikhail Gorbachev as General Secretary of the Communist Party of the Soviet Union |

433
(5)

| | |
| --- | --- |
| | ``I Cannot Give Up My Principles'' |

438
(7)

| | |
| --- | --- |
| | The Rehabilitation of Bukharin |

445
(7)

| | |
| --- | --- |
| | Boris Yeltsin Resigns from the Communist Party at the Twenty-Eighth Congress of the CPSU (July 1990) |

452
(3)

| | |
| --- | --- |
| | Boris Yeltsin Calls for Gorbachev's Resignation (February 1991) |

455
(1)
456
(11)

| | |
| --- | --- |
| | End of the USSR: Formation of the Commonwealth of Independent States |

467
(5)

| | |
| --- | --- |
| | ``Speech of Resignation,'' December 25, 1991 |

472
(4)

| | |
| --- | --- |
| | The Second Russian Republic and the ``Near Abroad'' |

476
(57)

| | |
| --- | --- |
| | ``Russia's Post-Communist Politics: Revolution or Continuity?'' |

478
(14)

| | |
| --- | --- |
| | ``Elite Transformation in Late-Soviet and Post-Soviet Transcaucasia, or What Happens When the Ruling Class Can't Rule?'' |

492
(13)

| | |
| --- | --- |
| | ``After Events, On the Eve of Events,'' January 1992 |

505
(3)
508
(8)

| | |
| --- | --- |
| | Yeltsin Dissolves Parliament, Calls Elections, September 21, 1993; and the Reply by Ruslan Khasbulatov |

516
(5)

| | |
| --- | --- |
| | ``Russia and the Near Abroad'' |

521
(4)

| | |
| --- | --- |
| | ``Appeal to the Citizens of Russia,'' December 11 , 1994 |

525
(1)

| | |
| --- | --- |
| | The Russian State Duma Nullifies the Breakup of the Soviet Union |

526
(3)

| | |
| --- | --- |
| | Principles for Determining the Foundations of Relations between the Russian Federation and the Chechen Republic, August 31, 1996 |

529
(1)

| | |
| --- | --- |
| | ``Address to the Russian People,'' December 31, 1999 |

530
(3)
533
(31)

| | |
| --- | --- |
| | ``Z'' [Martin Malia], ``To the Stalin Mausoleum'' |

533
(16)

| | |
| --- | --- |
| | ``Causes of the Collapse of the USSR'' |

549
(15)

| | |
| --- | --- |
| | ``What Russia Teaches Us Now: How Weak States Threaten Freedom'' |

564