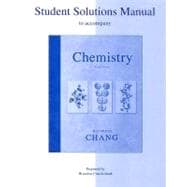 Student Solutions Manual to accompany Chemistry
by
Chang, Raymond
McGraw-Hill Science/Engineering/Math
Questions About This Book?
What version or edition is this?
This is the 9th edition with a publication date of 3/3/2006.
What is included with this book?
The Used copy of this book is not guaranteed to include any supplemental materials. Typically, only the book itself is included.
Summary
By Brandon J. Cruickshank (Northern Arizona University) and Raymond Chang. This supplement contains detailed solutions and explanations for all even-numbered problems in the main text. The manual also includes a detailed discussion of different types of problems and approaches to solving chemical problems and tutorial solutions for many of the end-of-chapter problems in the text, along with strategies for solving them.
Table of Contents
| | |
| --- | --- |
| | Chemistry: The Study of Change |

| | |
| --- | --- |
| | Problem-Solving Strategies |

1
(6)

| | |
| --- | --- |
| | Answers to Practice Exercises |

7
(1)
8
(14)

| | |
| --- | --- |
| | Atoms, Molecules, and Ions |

| | |
| --- | --- |
| | Problem-Solving Strategies |

22
(6)

| | |
| --- | --- |
| | Answers to Practice Exercises |

28
(1)
29
(7)

| | |
| --- | --- |
| | Mass Relationships in Chemical Reactions |

| | |
| --- | --- |
| | Problem-Solving Strategies |

36
(12)

| | |
| --- | --- |
| | Answers to Practice Exercises |

48
(1)
49
(25)

| | |
| --- | --- |
| | Reactions in Aqueous Solutions |

| | |
| --- | --- |
| | Problem-Solving Strategies |

74
(12)

| | |
| --- | --- |
| | Answers to Practice Exercises |

86
(1)
87
(21)

| | |
| --- | --- |
| | Problem-Solving Strategies |

108
(11)

| | |
| --- | --- |
| | Answers to Practice Exercises |

119
(1)
120
(26)

| | |
| --- | --- |
| | Problem-Solving Strategies |

146
(11)

| | |
| --- | --- |
| | Answers to Practice Exercises |

157
(1)
158
(19)

| | |
| --- | --- |
| | Quantum Theory and the Electronic Structure of Atoms |

| | |
| --- | --- |
| | Problem-Solving Strategies |

177
(9)

| | |
| --- | --- |
| | Answers to Practice Exercises |

186
(1)
187
(16)

| | |
| --- | --- |
| | Periodic Relationships Among the Elements |

| | |
| --- | --- |
| | Problem-Solving Strategies |

203
(5)

| | |
| --- | --- |
| | Answers to Practice Exercises |

208
(1)
209
(11)

| | |
| --- | --- |
| | Chemical Bonding I: Basic Concepts |

| | |
| --- | --- |
| | Problem-Solving Strategies |

220
(11)

| | |
| --- | --- |
| | Answers to Practice Exercises |

231
(2)
233
(11)

| | |
| --- | --- |
| | Chemical Bonding II: Molecular Geometry and Hybridization of Atomic Orbitals |

| | |
| --- | --- |
| | Problem-Solving Strategies |

244
(14)

| | |
| --- | --- |
| | Answers to Practice Exercises |

258
(1)
259
(11)

| | |
| --- | --- |
| | Intermolecular Forces and Liquids and Solids |

| | |
| --- | --- |
| | Problem-Solving Strategies |

270
(3)

| | |
| --- | --- |
| | Answers to Practice Exercises |

273
(1)
274
(11)

| | |
| --- | --- |
| | Physical Properties of Solutions |

| | |
| --- | --- |
| | Problem-Solving Strategies |

285
(12)

| | |
| --- | --- |
| | Answers to Practice Exercises |

297
(1)
298
(21)

| | |
| --- | --- |
| | Problem-Solving Strategies |

319
(15)

| | |
| --- | --- |
| | Answers to Practice Exercises |

334
(1)
335
(18)

| | |
| --- | --- |
| | Problem-Solving Strategies |

353
(12)

| | |
| --- | --- |
| | Answers to Practice Exercises |

365
(1)
366
(23)

| | |
| --- | --- |
| | Problem-Solving Strategies |

389
(12)

| | |
| --- | --- |
| | Answers to Practice Exercises |

401
(1)
402
(23)

| | |
| --- | --- |
| | Acid-Base Equilibria and Solubility Equilibria |

| | |
| --- | --- |
| | Problem-Solving Strategies |

425
(20)

| | |
| --- | --- |
| | Answers to Practice Exercises |

445
(1)
446
(33)

| | |
| --- | --- |
| | Chemistry in the Atmosphere |

479
(7)

| | |
| --- | --- |
| | Entropy, Free Energy, and Equilibrium |

| | |
| --- | --- |
| | Problem-Solving Strategies |

486
(8)

| | |
| --- | --- |
| | Answers to Practice Exercises |

494
(1)
495
(15)

| | |
| --- | --- |
| | Problem-Solving Strategies |

510
(13)

| | |
| --- | --- |
| | Answers to Practice Exercises |

523
(1)
524
(29)

| | |
| --- | --- |
| | Metallurgy and the Chemistry of Metals |

553
(6)

| | |
| --- | --- |
| | Nonmetallic Elements and Their Compounds |

559
(8)

| | |
| --- | --- |
| | Transition Metal Chemistry and Coordination Compounds |

| | |
| --- | --- |
| | Problem-Solving Strategies |

567
(3)

| | |
| --- | --- |
| | Answers to Practice Exercises |

570
(1)
571
(7)

| | |
| --- | --- |
| | Problem-Solving Strategies |

578
(6)

| | |
| --- | --- |
| | Answers to Practice Exercises |

584
(2)
586
(13)

| | |
| --- | --- |
| | Problem-Solving Strategies |

599
(11)

| | |
| --- | --- |
| | Answers to Practice Exercises |

610
(2)
612
(9)

| | |
| --- | --- |
| | Synthetic and Natural Organic Polymers |

| | |
| --- | --- |
| | Problem-Solving Strategies |

621
(7)

| | |
| --- | --- |
| | Answers to Practice Exercises |

628
(1)
629