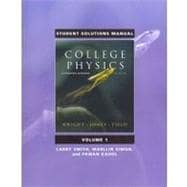 Includes 2-weeks free access to
step-by-step solutions for this book.
Step-by-Step solutions are actual worked out problems to the questions at the end of each chapter that help you understand your homework and study for your exams. Chegg and eCampus are providing you two weeks absolutely free. 81% of students said using Step-by-Step solutions prepared them for their exams.
Summary
These solutions manuals contain detailed solutions to more than half of the odd-numbered end-of-chapter problems from the textbook. Following the problem-solving strategy presented in the text, thorough solutions are provided to carefully illustrate both the qualitative and quantitative steps in the problem-solving process.