Note: Supplemental materials are not guaranteed with Rental or Used book purchases.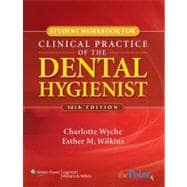 Questions About This Book?
What version or edition is this?
This is the 2nd edition with a publication date of 3/26/2008.
What is included with this book?
The Used copy of this book is not guaranteed to include any supplemental materials. Typically, only the book itself is included.
Summary
This workbook provides a range of exercises to reinforce students' understanding of key concepts and strengthen the foundation they'll need in dental hygiene practice. The progression of exercises encourages students to master fundamental concepts, build competency, and gain the ability to think critically. Some of the exercises will help the student practice making patient care decisions. This edition uses more patient case studies as the basis for exercises, and includes a "Questions Patients Ask" feature with guidelines on how to respond. An evidence-based primer outlines the basics of providing evidence-based dental hygiene care.
Table of Contents
Section I: Orientation to Clinical Dental Hygiene Practice Chapter 1: The Professional Dental Hygienist Section II: Preparation for Dental Hygiene Practice Chapter 2: Infection Control: Transmissible Diseases Chapter 3: Exposure Control: Barriers for Patient and Clinician Chapter 4: Infection Control: Clinical Procedures Chapter 5: Ergonomic Practice Section III: Assessment Chapter 6: Documentation Chapter 7: Personal, Dental, and Medical Histories Chapter 8: Vital Signs Chapter 9: Dental Radiographic Imaging Chapter 10: Extraoral and Intraoral Examination Chapter 11: Study Casts Chapter 12: The Gingiva Chapter 13: Examination Instruments and Procedures Chapter 14: Periodontal Disease Development Chapter 15: The Teeth Chapter 16: The Occlusion Chapter 17: Dental Biofilm and Other Soft Deposits Chapter 18: Calculus Chapter 19: Dental Stains and Discolorations Chapter 20: Indices and Scoring Methods Part IV: Dental Hygiene Diagnosis and Care Planning Chapter 21: Planning for Dental Hygiene Care Chapter 22: The Dental Hygiene Care Plan Part V: Prevention Chapter 23: Health Promotion and Disease Prevention Chapter 24: Protocols for Prevention and Control of Dental Caries Chapter 25: Oral Infection Control: Toothbrushes and Toothbrushing Chapter 26: Interdental Care Chapter 27: Dentrifices, Mouthrinses, and Irrigation Chapter 28: Patient with Orthodontic Appliances Chapter 29: Care of Dental Prostheses Chapter 30: The Patient with Dental Implants Chapter 31: The Patient Who Uses Tobacco Chapter 32: Diet and Dietary Analysis Chapter 33: Fluorides Chapter 34: Sealants Part VI: Treatment Chapter 35: Anxiety and Pain Control Chapter 36: Instruments and Principles for Instrumentation Chapter 37: Nonsurgical Periodontal Instrumentation Chapter 38: Nonsurgical Periodontal Therapy: Supplemental Care Procedures Chapter 39: Acute Periodontal Conditions Chapter 40: Sutures and dressings Chapter 41: Dentin Hypersensitivity Chapter 42: Extrinsic Stain Removal Chapter 43: Tooth Whitening Part VII: Evaluation and Maintenance Chapter 44: Evaluation and Maintenance Part VIII: Patients With Special Needs Chapter 45: The Pregnant Patient Chapter 46: Pediatric Oral Health Care: Infancy Through Age 5 Chapter 47: The Patient with a Cleft Lip and/or Palate Chapter 48: Preadolescent to Postmenopausal Patients Chapter 49: The Elderly Patient Chapter 50: The Edentulous Patient Chapter 51: The Oral and Maxillofacial Surgery Patient Chapter 52: The Patient with Cancer Chapter 53: Care of Patients with Disabilities Chapter 54: The Patient Who is Homebound Chapter 55: The Patient with a Physical Impairment Chapter 56: The Patient with a Sensory Disability Chapter 57: Family Abuse and Neglect Chapter 58: The Patient with a Seizure Disorder Chapter 59: The Patient with Mental Disability Chapter 60: The Patient with a Psychiatric Disorder Chapter 61: The Patient with a Substance-Related Disorder Chapter 62: The Patient with a Respiratory Disease Chapter 63: The Patient with a Cardiovascular Disease Chapter 64: The Patient with a Blood Disorder Chapter 65: The Patient with Diabetes Mellitus Chapter 66: Emergency Care Prefixes, Suffixes, and Combining Forms