Note: Supplemental materials are not guaranteed with Rental or Used book purchases.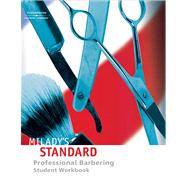 Questions About This Book?
What version or edition is this?
This is the 4th edition with a publication date of 9/20/2005.
What is included with this book?
The New copy of this book will include any supplemental materials advertised. Please check the title of the book to determine if it should include any CDs, lab manuals, study guides, etc.
Summary
This is a valuable student supplement that coordinates chapter-by-chapter with the textbook. Use of the workbook helps to strengthen the student's understanding of barber-styling by reinforcing the material covered in the texbook. The workbook contains short answer, short essay, sentence completion, matching, definition, labeling, and word review activities.
Table of Contents
Preface
How to Use This Workbook
v
1
(1)
1
(1)
1
(1)
1
(1)

| | |
| --- | --- |
| | Topic 4: Developing Effective Study Habits |

2
(1)
3
(1)
3
(1)

| | |
| --- | --- |
| | Topic 2: Origin of the Barber |

3
(1)

| | |
| --- | --- |
| | Topic 3: The Beard and Shaving |

4
(1)

| | |
| --- | --- |
| | Topic 4: The Rise of the Barber-Surgeons |

4
(1)

| | |
| --- | --- |
| | Topic 5: Modern Barbers and Barbering |

5
(1)
6
(1)
6
(1)

| | |
| --- | --- |
| | Topic 2: Professional Image |

6
(1)
7
(1)
7
(1)

| | |
| --- | --- |
| | Topic 5: Personal and Professional Health |

8
(1)
9
(1)

| | |
| --- | --- |
| | Topic 7: Effective Communication Skills |

10
(1)

| | |
| --- | --- |
| | Topic 8: Professional Ethics |

10
(1)

| | |
| --- | --- |
| | Topic 9: The Psychology of Success |

11
(1)
12
(1)
12
(1)
12
(1)

| | |
| --- | --- |
| | Topic 3: Bacterial Infections |

13
(1)
14
(1)
14
(1)

| | |
| --- | --- |
| | Topic 6: Hepatitis and HIV/AIDS |

15
(2)

| | |
| --- | --- |
| | Infection Control and Safe Work Practices |

17
(1)
17
(1)
17
(2)

| | |
| --- | --- |
| | Topic 3: Disinfecting Implements |

19
(1)

| | |
| --- | --- |
| | Topic 4: Universal Precautions |

20
(1)
20
(1)

| | |
| --- | --- |
| | Topic 6: Public Sanitation |

21
(1)

| | |
| --- | --- |
| | Topic 7: Safe Work Practices |

21
(1)

| | |
| --- | --- |
| | Implements, Tools, and Equipment |

22
(1)
22
(1)
22
(1)
23
(1)

| | |
| --- | --- |
| | Topic 4: Clippers & Trimmers |

23
(2)
25
(1)

| | |
| --- | --- |
| | Topic 6: Hones and Strops |

26
(1)

| | |
| --- | --- |
| | Topic 7: Additional Barbering Implements, Tools, and Equipment |

27
(1)
28
(1)
29
(1)
29
(1)
30
(1)
30
(1)
30
(2)
32
(2)
34
(2)

| | |
| --- | --- |
| | Topic 8: Circulatory System |

36
(1)
37
(1)
38
(1)
39
(1)
39
(1)
39
(2)
41
(1)

| | |
| --- | --- |
| | Topic 4: Cosmetic Chemistry |

42
(2)

| | |
| --- | --- |
| | Electricity and Light Therapy |

44
(1)
44
(2)
46
(1)
46
(3)

| | |
| --- | --- |
| | Properties and Disorders of the Skin |

49
(1)
49
(1)

| | |
| --- | --- |
| | Topic 2: Divisions of the Skin |

50
(1)
51
(2)

| | |
| --- | --- |
| | Topic 4: Disorders of the Skin |

53
(3)

| | |
| --- | --- |
| | Topic 5: Skin Inflammations |

56
(1)

| | |
| --- | --- |
| | Topic 6: Disorders of the Sebaceous Glands |

57
(1)

| | |
| --- | --- |
| | Topic 7: Disorders of the Sudoriferous Glands |

57
(1)
58
(1)

| | |
| --- | --- |
| | Properties and Disorders of the Hair and Scalp |

59
(1)
59
(1)
59
(2)
61
(2)
63
(1)
63
(1)
63
(2)
65
(1)
66
(1)
67
(2)
69
(1)

| | |
| --- | --- |
| | Treatment of Hair and Scalp |

70
(1)
70
(1)

| | |
| --- | --- |
| | Topic 2: Shampoos and Conditioners |

70
(1)
71
(1)

| | |
| --- | --- |
| | Topic 4: Types of Shampoos |

72
(1)
72
(1)
73
(1)
74
(1)

| | |
| --- | --- |
| | Topic 8: The Shampoo Service |

75
(1)

| | |
| --- | --- |
| | Topic 9: Product Selection |

76
(1)

| | |
| --- | --- |
| | Topic 10: Scalp Treatments |

77
(5)

| | |
| --- | --- |
| | Men's Facial Massage and Treatments |

82
(1)
82
(1)

| | |
| --- | --- |
| | Topic 2: Sub-Dermal Systems and Facial Massage |

82
(5)

| | |
| --- | --- |
| | Topic 3: Theory of Massage |

87
(2)

| | |
| --- | --- |
| | Topic 4: Equipment for Massage Treatments |

89
(4)

| | |
| --- | --- |
| | Topic 5: Facial Treatments |

93
(3)

| | |
| --- | --- |
| | Topic 6: Facial Procedures |

96
(6)

| | |
| --- | --- |
| | Shaving and Facial Hair Design |

102
(1)
102
(1)

| | |
| --- | --- |
| | Topic 2: Shaving Fundamentals |

102
(1)

| | |
| --- | --- |
| | Topic 3: Standard Shaving Positions and Strokes |

103
(2)

| | |
| --- | --- |
| | Topic 4: The Shave Service |

105
(2)

| | |
| --- | --- |
| | Topic 5: Facial Hair Design |

107
(2)

| | |
| --- | --- |
| | Men's Haircutting and Styling |

109
(1)
109
(1)

| | |
| --- | --- |
| | Topic 2: Basic Principles of Haircutting and Styling |

110
(1)

| | |
| --- | --- |
| | Topic 3: Fundamentals of Haircutting |

110
(3)

| | |
| --- | --- |
| | Topic 4: Haircutting Techniques |

113
(2)

| | |
| --- | --- |
| | Topic 5: Clipper Cut Styles |

115
(1)
115
(1)
115
(1)

| | |
| --- | --- |
| | Topic 8: Haircut Finish Work |

116
(1)

| | |
| --- | --- |
| | Topic 9: Haircutting Procedures |

117
(4)

| | |
| --- | --- |
| | Topic 10: Men's Hairstyling |

121
(4)
125
(1)
125
(1)
125
(7)

| | |
| --- | --- |
| | Women's Haircutting and Styling |

132
(1)
132
(1)
132
(1)

| | |
| --- | --- |
| | Topic 3: Other Techniques |

133
(1)
134
(3)

| | |
| --- | --- |
| | Chemical Texture Services |

137
(1)
137
(1)

| | |
| --- | --- |
| | Topic 2: The Chemistry of Chemical Texture Services |

137
(1)

| | |
| --- | --- |
| | Topic 3: Principal Actions of Chemical Texture Services |

138
(1)

| | |
| --- | --- |
| | Topic 4: The Client Consultation |

138
(2)

| | |
| --- | --- |
| | Topic 5: Permanent Waving |

140
(5)

| | |
| --- | --- |
| | Topic 6: Reformation Curls |

145
(1)

| | |
| --- | --- |
| | Topic 7: Chemical Hair Relaxing |

145
(4)

| | |
| --- | --- |
| | Haircoloring and Lightening |

149
(1)
149
(1)

| | |
| --- | --- |
| | Topic 2: Characteristics and Structure of Hair |

149
(1)
150
(2)

| | |
| --- | --- |
| | Topic 4: Product Terminology |

152
(2)
154
(1)
155
(2)

| | |
| --- | --- |
| | Topic 7: Haircoloring Applications |

157
(4)

| | |
| --- | --- |
| | Topic 8: Haircoloring Safety Precautions |

161
(1)
162
(1)
162
(1)
162
(1)

| | |
| --- | --- |
| | Topic 3: Nail Disorders and Diseases |

163
(1)
164
(4)
168
(1)
168
(1)

| | |
| --- | --- |
| | Topic 2: Barbershop Ownership |

168
(3)

| | |
| --- | --- |
| | Topic 3: Barbershop Ownership Exercise |

171
(2)
173
(2)

| | |
| --- | --- |
| | Topic 5: Business Operation |

175
(4)

| | |
| --- | --- |
| | Topic 6: Selling in the Barbershop/The Psychology of Selling |

179
(2)
181
(1)
181
(1)

| | |
| --- | --- |
| | Topic 2: Preparing for Employment |

181
(4)
185
(2)

| | |
| --- | --- |
| | State Board Preparation and Licensing Laws |

187
(1)
187
(1)

| | |
| --- | --- |
| | Topic 2: Preparing for State Board Exams |

187
(1)

| | |
| --- | --- |
| | Topic 3: Preliminary Planning |

188
(1)

| | |
| --- | --- |
| | Topic 4: State Barber Board Rules and Regulations |

188