Note: Supplemental materials are not guaranteed with Rental or Used book purchases.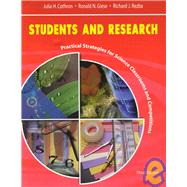 Students and Research : Practical Strategies for Science Classrooms and Competitions
ISBN13:
9780787264772
by
Cothron, Julia H.
Related Products
Summary
Presented in four parts, this book enables you to learn field-tested teaching strategies for developing research skills in students at all grade levels. Techniques are presented for helping students generate ideas, design experiments, construct tables and graphs, and write simple reports. Sold separately or together with the student version: Science Experiments and Projects for Students, below.
Table of Contents
Preface A Rationale for Student Research
v
How to Use This Book
vii
About the Authors
ix
Acknowledgments
xi
PART ONE Basic Principles of Experimental Design and Data Analysis
1
(70)

| | |
| --- | --- |
| | Developing Basic Concepts |

3
(10)
13
(14)

| | |
| --- | --- |
| | Generating Experimental Ideas |

27
(10)

| | |
| --- | --- |
| | Describing Experimental Procedures |

37
(8)

| | |
| --- | --- |
| | Constructing Tables and Graphs |

45
(16)
61
(10)
PART TWO Advanced Principles of Experimental Design and Data Analysis
71
(142)
73
(12)

| | |
| --- | --- |
| | Analyzing Experimental Data |

85
(20)

| | |
| --- | --- |
| | Communicating Descriptive Statistics |

105
(10)

| | |
| --- | --- |
| | Displaying Dispersion/Variation in Data |

115
(24)

| | |
| --- | --- |
| | Determining Statistical Significance |

139
(32)

| | |
| --- | --- |
| | Designing Complex Experiments |

171
(28)
199
(14)
PART THREE Management Strategies for Classroom and Independent Research
213
(52)

| | |
| --- | --- |
| | Encouraging Parental Support |

215
(12)

| | |
| --- | --- |
| | Assessing with Paper-Pencil Tests |

227
(14)

| | |
| --- | --- |
| | Assessing with Rating Sheets |

241
(14)

| | |
| --- | --- |
| | Scheduling Student Research |

255
(10)
PART FOUR Strategies for Successful Science Competitions
265
(24)

| | |
| --- | --- |
| | Presenting Student Research |

267
(8)

| | |
| --- | --- |
| | Preparing to Judge Competitions |

275
(8)

| | |
| --- | --- |
| | Maximizing Student Success |

283
(6)
Appendix A Using Technology
289
(4)
Appendix B Practice Problem Answer Key
293
(28)
Appendix C Experimenting Safely
321
(4)
Glossary
325
(4)
Index
329