Note: Supplemental materials are not guaranteed with Rental or Used book purchases.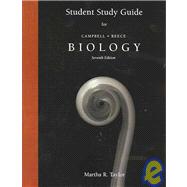 Questions About This Book?
What version or edition is this?
This is the 7th edition with a publication date of 12/22/2004.
What is included with this book?
The Used copy of this book is not guaranteed to include any supplemental materials. Typically, only the book itself is included.
Summary
by Martha R. Taylor. This printed learning aid provides a concept map of each chapter, chapter summaries, word roots, chapter tests, and a variety of interactive questions including multiple-choice, short-answer essay, labeling art, and graph-interpretation questions.
Table of Contents
Preface
v
1
(6)

| | |
| --- | --- |
| | Unit One The Chemistry of Life |

7
(28)

| | |
| --- | --- |
| | The Chemical Context of Life |

7
(8)

| | |
| --- | --- |
| | Water and the Fitness of the Environment |

15
(6)

| | |
| --- | --- |
| | Carbon and the Molecular Diversity of Life |

21
(4)

| | |
| --- | --- |
| | The Structure and Function of Macromolecules |

25
(10)
35
(60)
35
(12)

| | |
| --- | --- |
| | Membrane Structure and Function |

47
(8)

| | |
| --- | --- |
| | An Introduction to Metabolism |

55
(8)

| | |
| --- | --- |
| | Cellular Respiration: Harvesting Chemical Energy |

63
(10)
73
(10)
83
(6)
89
(6)
95
(82)

| | |
| --- | --- |
| | Meiosis and Sexual Life Cycles |

95
(6)
101
(10)

| | |
| --- | --- |
| | The Chromosomal Basis of Inheritance |

111
(8)

| | |
| --- | --- |
| | The Molecular Basis of Inheritance |

119
(8)
127
(10)

| | |
| --- | --- |
| | The Genetics of Viruses and Bacteria |

137
(10)

| | |
| --- | --- |
| | Eukaryotic Genomes: Organization, Regulation, and Evolution |

147
(10)

| | |
| --- | --- |
| | DNA Technology and Genomics |

157
(12)

| | |
| --- | --- |
| | The Genetic Basis of Development |

169
(8)

| | |
| --- | --- |
| | Unit Four Mechanisms of Evolution |

177
(30)

| | |
| --- | --- |
| | Descent with Modification: A Darwinian View of Life |

177
(6)

| | |
| --- | --- |
| | The Evolution of Populations |

183
(8)
191
(8)

| | |
| --- | --- |
| | Phylogeny and Systematics |

199
(8)

| | |
| --- | --- |
| | Unit Five The Evolutionary History of Biological Diversity |

207
(72)

| | |
| --- | --- |
| | The Tree of Life: An Introduction to Biological Diversity |

207
(8)
215
(6)
221
(8)

| | |
| --- | --- |
| | Plant Diversity I: How Plants Colonized Land |

229
(8)

| | |
| --- | --- |
| | Plant Diversity II: The Evolution of Seed Plants |

237
(8)
245
(6)

| | |
| --- | --- |
| | Introduction to Animal Evolution |

251
(6)
257
(10)

| | |
| --- | --- |
| | Vertebrate Evolution and Other Chordates |

267
(12)

| | |
| --- | --- |
| | Unit Six Plant Form and Function |

279
(42)

| | |
| --- | --- |
| | Plant Structure, Growth, and Development |

279
(10)

| | |
| --- | --- |
| | Transport in Vascular Plants |

289
(8)
297
(6)

| | |
| --- | --- |
| | Angiosperm Reproduction and Biotechnology |

303
(8)

| | |
| --- | --- |
| | Plants Responses to Internal and External Signals |

311
(10)

| | |
| --- | --- |
| | Unit Seven Animal Form and Function |

321
(108)

| | |
| --- | --- |
| | Basic Principles of Animal Form and Function |

321
(10)
331
(10)

| | |
| --- | --- |
| | Circulation and Gas Exchange |

341
(12)
353
(12)

| | |
| --- | --- |
| | Osmoregulation and Excretion |

365
(10)

| | |
| --- | --- |
| | Hormones and the Endocrine System |

375
(8)
383
(10)
393
(10)
403
(14)

| | |
| --- | --- |
| | Sensory and Motor Mechanisms |

417
(12)
429
(46)

| | |
| --- | --- |
| | An Introduction to Ecology and the Biosphere |

429
(8)
437
(8)
445
(8)
453
(8)
461
(8)

| | |
| --- | --- |
| | Conservation Biology and Restoration Ecology |

469
(6)
Answer Section
475