Note: Supplemental materials are not guaranteed with Rental or Used book purchases.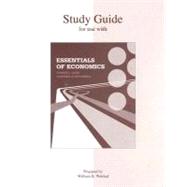 Summary
Written by William Walstad at the University of Nebraska, Lincoln, the Study Guide includes Chapter Summary, Checklist of Objectives, Chapter Outline, Hints and Tips, Important Terms, Self-Test with Fill-in, T/F, Multiple Choice, and Short Answer and Essay Questions for each chapter.
Table of Contents
How to Use the Study Guide to Learn Economics
p. ix
Introduction
Limits, Alternatives, and Choices
p. 1
The Market System and the Circular Flow
p. 11
Price, Quantity, and Efficiency
Demand, Supply, and Market Equilibrium
p. 21
Elasticity of Demand and Supply
p. 33
Market Failure: A Role for Government
p. 45
Product Markets
Businesses and Their Costs
p. 57
Pure Competition
p. 69
Pure Monopoly
p. 81
Monopolistic Competition and Oligopoly
p. 93
Resource Markets
Wage Determination
p. 107
Income Inequality and Poverty
p. 119
Macroeconomic Measurement, Models, and Fiscal Policy
Introduction to GDP, Growth, and Instability
p. 129
Aggregate Demand and Aggregate Supply
p. 141
Fiscal Policy, Deficits, and Debt
p. 153
Money, Banking, and Monetary Policy
Money and Banking
p. 165
Monetary Policy
p. 177
Economic Growth and International Economics
Economic Growth
p. 189
International Trade
p. 199
Appendix
p. 213
Glossary
p. 221
Table of Contents provided by Ingram. All Rights Reserved.