Note: Supplemental materials are not guaranteed with Rental or Used book purchases.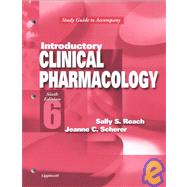 Study Guide to Accompany Introductory Clinical Pharmacology
ISBN13:
9780781717519
by
Roach, Sally S.
Lippincott Williams & Wilkins
Related Products
Summary
Univ. of Texas, Brownsville. Study guide correlates with the textbook chapter by chapter, and includes NCLEX-style questions, crossword puzzles, and other types of study aids. For students. Previous edition: c1996. Parent test was listed in approval week 1999-48. Three-hole punched with perforated pages.
Table of Contents
UNIT I Foundations of clinical pharmacology
1
(23)

| | |
| --- | --- |
| | General principles of pharmacology |

1
(3)

| | |
| --- | --- |
| | The administration of drugs |

4
(3)

| | |
| --- | --- |
| | Review of arithmetic and calculation of drug dosages |

7
(10)
17
(3)

| | |
| --- | --- |
| | Patient and family teaching |

20
(3)
UNIT II Anti-infectives
23
(32)
23
(3)
26
(4)
30
(3)

| | |
| --- | --- |
| | Tetracyclines, macrolides, and lincosamides |

33
(3)

| | |
| --- | --- |
| | Fluoroquinolones and aminoglycosides |

36
(4)

| | |
| --- | --- |
| | Miscellaneous anti-infectives |

40
(4)

| | |
| --- | --- |
| | Antitubercular and leprostatic drugs |

44
(4)

| | |
| --- | --- |
| | Antiviral and antifungal drugs |

48
(4)
52
(3)
UNIT III Drugs used to manage pain
55
(8)
55
(4)

| | |
| --- | --- |
| | Narcotic analgesics and narcotic antagonists |

59
(4)
UNIT IV Drugs that affect the nervous system
63
(40)
63
(3)

| | |
| --- | --- |
| | Adrenergic blocking drugs |

66
(3)
69
(3)

| | |
| --- | --- |
| | Cholinergic blocking drugs |

72
(3)
75
(4)

| | |
| --- | --- |
| | Central nervous system stimulants |

79
(3)
82
(3)
85
(3)
88
(2)
90
(3)
93
(3)

| | |
| --- | --- |
| | Antiemetic and antivertigo drugs |

96
(3)
99
(4)
UNIT V Drugs that affect the respiratory system
103
(1)

| | |
| --- | --- |
| | Antihistamines and decongestants |

103
(3)

| | |
| --- | --- |
| | Bronchodilators and antiasthma drugs |

106
(3)

| | |
| --- | --- |
| | Antitussives, mucolytics, and expectorants |

109
(4)
UNIT VI Drugs that affect the cardiovascular system
103
(32)

| | |
| --- | --- |
| | Cardiotonics and miscellaneous inotropic drugs |

113
(4)
117
(4)

| | |
| --- | --- |
| | Anticoagulant and thrombolytic drugs |

121
(4)

| | |
| --- | --- |
| | Antianginal and peripheral vasodilating drugs |

125
(3)
128
(2)
130
(5)
UNIT VII Drugs that affect the uriary system
135
(8)
135
(5)
140
(3)
UNIT VII Drugs that affect the endocrine system
143
(20)
143
(5)

| | |
| --- | --- |
| | Pituitary and adrenocortical hormones |

148
(5)

| | |
| --- | --- |
| | Thyroid and antithyroid drugs |

153
(3)
156
(4)

| | |
| --- | --- |
| | Drugs acting on the uterus |

160
(3)
UNIT IX Drugs that affect the immune system
163
(8)
163
(3)
166
(5)
UNIT X Drugs that affect other body systems
171
(30)

| | |
| --- | --- |
| | Drugs used in the management of gastrointestinal disorders |

171
(5)

| | |
| --- | --- |
| | Drugs used in the treatment of musculoskeletal disorders |

176
(4)

| | |
| --- | --- |
| | Topical drugs used in the treatment of skin disorders |

180
(2)

| | |
| --- | --- |
| | Otic and opthalmic preparations |

182
(3)
185
(4)

| | |
| --- | --- |
| | Vitamins and agents used in the treatment of anemia |

189
(4)
193
(3)
196
(5)
Answer Key
201