Note: Supplemental materials are not guaranteed with Rental or Used book purchases.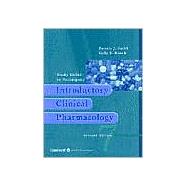 Introductory Clinical Pharmacology
by
Roach, Sally S.
LIPPINCOTT WILLIAMS & WILKINS
Related Products
Summary
This handy study guide presents learning activities and problems that LPN/LVN students can practice on their own or in class. The Study Guide now features interactive activities designed around current drug-related Websites to encourage students to utilize the Internet as a resource.
Table of Contents
UNIT 1 FOUNDATIONS OF CLINICAL PHARMACOLOGY

| | |
| --- | --- |
| | Chapter 1 General Principles of Pharmacology |

1
(4)

| | |
| --- | --- |
| | Chapter 2 The Administration of Drugs |

5
(5)

| | |
| --- | --- |
| | Chapter 3 Review of Arithmetic and Calculation of Drug Dosages |

10
(9)

| | |
| --- | --- |
| | Chapter 4 The Nursing Process |

19
(4)

| | |
| --- | --- |
| | Chapter 5 Patient and Family Teaching |

23
(4)
UNIT 2 ANTI-INFECTIVES
27
(4)
31
(4)
35
(5)

| | |
| --- | --- |
| | Chapter 9 Tetracyclines, Macrolides, and Lincosamides |

40
(5)

| | |
| --- | --- |
| | Chapter 10 Flouroquinolones and Aminoglycosides |

45
(5)

| | |
| --- | --- |
| | Chapter 11 Miscellaneous Anti-infectives |

50
(5)

| | |
| --- | --- |
| | Chapter 12 Antiubercular Drugs |

55
(5)

| | |
| --- | --- |
| | Chapter 13 Leprostatic Drugs |

60
(2)

| | |
| --- | --- |
| | Chapter 14 Antiviral Drugs |

62
(5)

| | |
| --- | --- |
| | Chapter 15 Antifungal Drugs |

67
(5)

| | |
| --- | --- |
| | Chapter 16 Antiparasitic Drugs |

72
(6)
UNIT 3 DRUGS USED TO MANAGE PAIN

| | |
| --- | --- |
| | Chapter 17 Nonnarcotic Analgesics: Salicylates and Nonsalicylates |

78
(5)

| | |
| --- | --- |
| | Chapter 18 Nonnarcotic Analgesics: Nonsteroidal Anti-inflammatory Drugs (NSAIDS) |

83
(5)

| | |
| --- | --- |
| | Chapter 19 Narcotic Analgesics |

88
(3)

| | |
| --- | --- |
| | Chapter 20 Narcotic Antagonists |

91
(3)
UNIT 4 DRUGS THAT AFFECT THE NEUROMUSCULAR SYSTEM

| | |
| --- | --- |
| | Chapter 21 Drugs that Affect the Musculoskeletal System |

94
(6)

| | |
| --- | --- |
| | Chapter 22 Adrenergic Drugs |

100
(5)

| | |
| --- | --- |
| | Chapter 23 Adrenergic Blocking Drugs |

105
(5)

| | |
| --- | --- |
| | Chapter 24 Cholinergic Drugs |

110
(5)

| | |
| --- | --- |
| | Chapter 25 Cholinergic Blocking Drugs |

115
(64)

| | |
| --- | --- |
| | Chapter 26 Sedatives and Hypnotics |

179

| | |
| --- | --- |
| | Chapter 27 Central Nervous System Stimulants |

123
(5)

| | |
| --- | --- |
| | Chapter 28 Anticonvulsants |

128
(3)

| | |
| --- | --- |
| | Chapter 29 Antiparkinsonism Drugs |

131
(4)

| | |
| --- | --- |
| | Chapter 30 Antianxiety Drugs |

135
(4)

| | |
| --- | --- |
| | Chapter 31 Antidepressant Drugs |

139
(5)

| | |
| --- | --- |
| | Chapter 32 Antipsychotic Drugs |

144
(4)

| | |
| --- | --- |
| | Chapter 33 Cholinesterase Inhibitors |

148
(4)

| | |
| --- | --- |
| | Chapter 34 Antiemetic and Antivertigo Drugs |

152
(4)

| | |
| --- | --- |
| | Chapter 35 Anesthetic Drugs |

156
(4)
UNIT 5 DRUGS THAT AFFECT THE RESPIRATORY SYSTEM

| | |
| --- | --- |
| | Chapter 36 Antihistamines and Decongestants |

160
(24)

| | |
| --- | --- |
| | Chapter 37 Bronchodilators and Antiasthma Drugs |

184

| | |
| --- | --- |
| | Chapter 38 Antitussives, Mucolytics, Expectorants |

169
(4)
UNIT 6 DRUGS THAT AFFECT THE CARDIOVASCULAR SYSTEM

| | |
| --- | --- |
| | Chapter 39 Cardiotonics and Miscellaneous Inotropic Drugs |

173
(5)

| | |
| --- | --- |
| | Chapter 40 Antiarrhythmic Drugs |

178
(5)

| | |
| --- | --- |
| | Chapter 41 Antianginal and Peripheral Vasodilating Drugs |

183
(5)

| | |
| --- | --- |
| | Chapter 42 Antihypertensive Drugs |

188
(5)

| | |
| --- | --- |
| | Chapter 43 Antihyperlipidemic Drugs |

193
(4)
UNIT 7 DRUGS THAT AFFECT THE HEMATOLOGICAL SYSTEM

| | |
| --- | --- |
| | Chapter 44 Anticoagulant and Thrombolytic Drugs |

197
(5)

| | |
| --- | --- |
| | Chapter 45 Agents Used in the Treatment of Anemia |

202
(4)
UNIT 8 DRUGS THAT AFFECT THE GASTROINTESTINAL AND URINARY SYSTEMS
206
(5)

| | |
| --- | --- |
| | Chapter 47 Urinary Anti-Infectýves and Miscellaneous Urinary Drugs |

211
(5)

| | |
| --- | --- |
| | Chapter 48 Drugs That Affect the Gastrointestinal System |

216
(5)
UNIT 9 DRUGS THAT AFFECT THE ENDOCRINE SYSTEM

| | |
| --- | --- |
| | Chapter 49 Antidiabetic Drugs |

221
(5)

| | |
| --- | --- |
| | Chapter 50 Pituitary and Adrenocortical Hormones |

226
(6)

| | |
| --- | --- |
| | Chapter 51 Thyroid and Antithyroid Drugs |

232
(4)

| | |
| --- | --- |
| | Chapter 52 Male and Female Hormones |

236
(5)

| | |
| --- | --- |
| | Chapter 53 Drugs Acting on the Uterus |

241
(4)
UNIT 10 DRUGS THAT AFFECT THE IMMUNE SYSTEM

| | |
| --- | --- |
| | Chapter 54 Immunologic Agents |

245
(4)

| | |
| --- | --- |
| | Chapter 55 Antineoplastic Drugs |

249
(4)
UNIT 11 DRUGS THAT AFFECT OTHER BODY SYSTEMS

| | |
| --- | --- |
| | Chapter 56 Topical Drugs Used in the Treatment of Skin Disorders |

253
(4)

| | |
| --- | --- |
| | Chapter 57 Otic and Ophthalmic Preparations |

257
(3)

| | |
| --- | --- |
| | Chapter 58 Fluids and Electrolytes |

260
(5)
Answer Key
265