Note: Supplemental materials are not guaranteed with Rental or Used book purchases.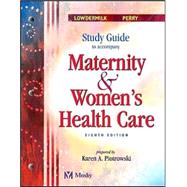 Related Products
Summary
The underlying theme of Maternity & Women's Health Care, 8e is how to take care of a woman of childbearing age in today's society. The book is designed to meet the needs of today's students through a clear, readable writing style and a more focused content presentation. Content carefully integrates the importance of understanding family, culture, and health promotion into the continuum of care. Maternity & Women's Health Care has the most comprehensive coverage of maternal, newborn, and women's health nursing care than any other text on the market.
Table of Contents
Introduction to Maternity and Women's Health Nursing
Contemporary Maternity Nursing and Women's Health Care
p. 1
Community Care: The Family and Culture
p. 16
Genetics
p. 52
Alternative and Complementary Therapies
p. 74
Women's Health
Assessment and Health Promotion
p. 91
Violence Against Women
p. 131
Reproductive System Concerns
p. 155
Sexually Transmitted and Other Infections
p. 185
Contraception and Abortion
p. 220
Infertility
p. 246
Problems of the Breast
p. 267
Structural Disorders and Neoplasms of the Reproductive System
p. 289
Pregnancy
Conception and Fetal Development
p. 327
Anatomy and Physiology of Pregnancy
p. 348
Maternal and Fetal Nutrition
p. 369
Nursing Care During Pregnancy
p. 397
Childbirth and Perinatal Education
p. 448
Childbirth
Labor and Birth Processes
p. 468
Management of Discomfort
p. 488
Fetal Assessment During Labor
p. 518
Nursing Care During Labor
p. 541
Postpartum
Postpartum Physiology
p. 607
Nursing Care of the Postpartum Woman
p. 616
Transition to Parenthood
p. 647
The Newborn
Physiologic and Behavioral Adaptations of the Newborn
p. 682
Nursing Care of the Newborn
p. 708
Newborn Nutrition and Feeding
p. 755
Care of the Newborn at Home
p. 789
Complications of Pregnancy
Assessment for Risk Factors
p. 811
Hypertensive Disorders in Pregnancy
p. 837
Antepartal Hemorrhagic Disorders
p. 860
Endocrine and Metabolic Disorders
p. 881
Medical-Surgical Problems in Pregnancy
p. 905
Obstetric Critical Care
p. 932
Mental Health Disorders and Substance Abuse
p. 960
Labor and Birth Complications
p. 983
Postpartum Complications
p. 1036
Newborn Complications
Acquired Problems of the Newborn
p. 1051
Hemolytic Disorders and Congenital Anomalies
p. 1082
Nursing Care of the High Risk Newborn
p. 1112
Grieving the Loss of a Newborn
p. 1150
Table of Contents provided by Rittenhouse. All Rights Reserved.