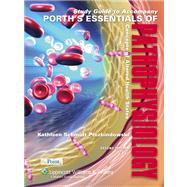 List Price: $30.88
Usually Ships in 2-3 Business Days
Questions About This Book?
What version or edition is this?
This is the 2nd edition with a publication date of 4/13/2006.
What is included with this book?
The Used copy of this book is not guaranteed to inclue any supplemental materials. Typically, only the book itself is included.
Summary
With this outstanding learning tool, you'll review all the key material from Porth's Essentials of Pathophysiology, 2nd Edition-in one concise resource.Turn confusion into clarity- Detailed review questions address pathophysiologic concepts for all body systems.- A range of learning tools tests your knowledge with a variety of question styles.- Questions and exercises keyed to the textbook reinforce your understanding.- Answers with rationales explain the "how and why" behind correct responsesThe expert coverage you'll find in this Study Guide will help you meet the challenges of important exams and clinical practice with confidence.
Table of Contents
| | |
| --- | --- |
| | UNIT I Cell and Tissue Function |

| | |
| --- | --- |
| | Cell Structure and Function |

1
(7)

| | |
| --- | --- |
| | Cellular Responses to Stress, Injury, and Aging |

8
(5)

| | |
| --- | --- |
| | Genetic Control of Cell Function and Inheritance |

13
(4)

| | |
| --- | --- |
| | Genetic and Congenital Disorders |

17
(5)

| | |
| --- | --- |
| | Neoplasia: A Disorder of Cell Proliferation and Differentiation |

22
(6)

| | |
| --- | --- |
| | UNIT II Integrative Body Functions |

| | |
| --- | --- |
| | Disorders of Fluid, Electrolyte, and Acid-Base Balance |

28
(12)
40
(4)

| | |
| --- | --- |
| | Alterations in Body Nutrition |

44
(5)

| | |
| --- | --- |
| | UNIT III Hematopoietic Function |

| | |
| --- | --- |
| | Disorders of White Blood Cells and Lymphoid Tissues |

49
(6)

| | |
| --- | --- |
| | Alterations in Hemostasis |

55
(5)

| | |
| --- | --- |
| | The Red Blood Cell and Alterations in Oxygen Transport |

60
(6)

| | |
| --- | --- |
| | UNIT IV Infection, Inflammation, and Immunity |

| | |
| --- | --- |
| | Mechanisms of Infectious Disease |

66
(5)
71
(6)

| | |
| --- | --- |
| | Inflammation, Tissue Repair, and Fever |

77
(6)

| | |
| --- | --- |
| | Alterations in the Immune Response |

83
(9)

| | |
| --- | --- |
| | UNIT V Circulatory Function |

| | |
| --- | --- |
| | Control of Cardiovascular Function |

92
(7)

| | |
| --- | --- |
| | Disorders of Blood Flow and Blood Pressure |

99
(11)

| | |
| --- | --- |
| | Disorders of Cardiac Function |

110
(8)

| | |
| --- | --- |
| | Heart Failure and Circulatory Shock |

118
(7)

| | |
| --- | --- |
| | UNIT VI Respiratory Function |

| | |
| --- | --- |
| | Control of Respiratory Function |

125
(5)

| | |
| --- | --- |
| | Respiratory Tract Infections, Neoplasia, and Childhood Disorders |

130
(6)

| | |
| --- | --- |
| | Disorders of Ventilation and Gas Exchange |

136
(9)

| | |
| --- | --- |
| | UNIT VII Kidney and Urinary Tract Function |

| | |
| --- | --- |
| | Control of Kidney Function |

145
(5)

| | |
| --- | --- |
| | Disorders of Renal Function |

150
(6)
156
(4)

| | |
| --- | --- |
| | Disorders of Urine Elimination |

160
(4)

| | |
| --- | --- |
| | UNIT VIII Gastrointestinal and Hepatobiliary Function |

| | |
| --- | --- |
| | Structure and Function of the Gastrointestinal System |

164
(5)

| | |
| --- | --- |
| | Disorders of Gastrointestinal Function |

169
(7)

| | |
| --- | --- |
| | Disorders of Hepatobiliary and Exocrine Pancreas Function |

176
(9)

| | |
| --- | --- |
| | Organization and Control of the Endocrine System |

185
(3)

| | |
| --- | --- |
| | Disorders of Endocrine Function |

188
(6)

| | |
| --- | --- |
| | Diabetes Mellitus and the Metabolic Syndrome |

194
(8)

| | |
| --- | --- |
| | Organization and Control of Neural Function |

202
(8)

| | |
| --- | --- |
| | Disorders of Somatosensory Function and Pain |

210
(7)

| | |
| --- | --- |
| | Disorders of Neuromuscular Function |

217
(9)

| | |
| --- | --- |
| | Disorders of Brain Function |

226
(10)

| | |
| --- | --- |
| | Disorders of Special Sensory Function: Vision, Hearing, and Vestibular Function |

236
(11)

| | |
| --- | --- |
| | UNIT XI Genitourinary and Reproductive Function |

| | |
| --- | --- |
| | Disorders of the Male Genitourinary System |

247
(8)

| | |
| --- | --- |
| | Disorders of the Female Genitourinary System |

255
(8)

| | |
| --- | --- |
| | Sexually Transmitted Diseases |

263
(5)

| | |
| --- | --- |
| | UNIT XII Musculoskeletal Function |

| | |
| --- | --- |
| | Structure and Function of the Skeletal System |

268
(4)

| | |
| --- | --- |
| | Disorders of the Skeletal System: Trauma, Infection, and Childhood Disorders |

272
(8)

| | |
| --- | --- |
| | Disorders of the Skeletal System: Metabolic and Rheumatic Disorders |

280
(9)

| | |
| --- | --- |
| | UNIT XIII Integumentary Function |

| | |
| --- | --- |
| | Structure and Function of the Skin |

289
(2)
291
(7)
Answers
298