Note: Supplemental materials are not guaranteed with Rental or Used book purchases.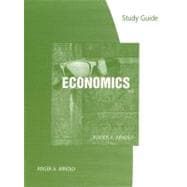 Summary
Written and updated by the author, this Study Guide includes a list of key concepts and terms, review questions and problems, and short-answer exercises asking "what is wrong?" or "what has been overlooked?" Multiple-choice, true/false, and fill-in-the-blank practice questions are also included. The Study Guide has been fully updated to reflect the changes in the core text.
Table of Contents
What Economics Is About
p. 1
Production Possibilities Frontier Framework
p. 11
Supply and Demand: Theory
p. 19
Prices: Free, Controlled, and Relative
p. 30
Supply, Demand and Price: Applications
p. 38
Macroeconomic Measurements, Part I: Prices and Unemployment
p. 47
Macroeconomic Measurements, Part II: GDP and Real GDP
p. 56
Aggregate Demand and Aggregate Supply
p. 67
Classical Macroeconomics and the Self-Regulating Economy
p. 77
Keyriesian Macroeconomics and Economic Instability: A Critique of the Self-Regulating Economy
p. 86
Fiscal Policy and the Federal Budget
p. 96
Money, Banking and the Financial System
p. 106
The Federal Reserve System
p. 115
Money and the Economy
p. 124
Monetary Policy
p. 135
Expectations Theory and the Economy
p. 145
Economic Growth: Resources, Technology, Ideas, and Institutions
p. 156
The Financial Crisis of 2007-2009
p. 63
Debates in Macroeconomics Over the Role and Effects of Government
p. 171
Elasticity
p. 178
Consumer Choice: Maximizing Utility and Behavioral Economics
p. 187
Production and Costs
p. 195
Perfect Competition
p. 208
Monopoly
p. 219
Monopolistic Competition, Oligopoly, and Game Theory
p. 227
Government and Product Markets: Antitrust and Regulation
p. 236
Factor Markets: "With Emphasis on the Labor Market
p. 245
Wages, Unions, and Labor
p. 254
The Distribution of Income and Poverty
p. 262
Interest, Rent, and Profit
p. 270
Market Failure: Externalities, Public Goods, and Asymmetric Information
p. 279
Public Choice and Specia-Interest-Group Politics
p. 288
The Economic Case For and Against Government: Five Topics Considered
p. 295
International Trade
p. 301
International Finance
p. 311
Globalization and International Impacts on the Economy
p. 321
Stocks, Bonds, Futures, and Options
p. 332
Web Chapter Agriculture: Problems, Policies, and Unintended Effects
p. 341
Answer Key
p. 347
Table of Contents provided by Ingram. All Rights Reserved.