Note: Supplemental materials are not guaranteed with Rental or Used book purchases.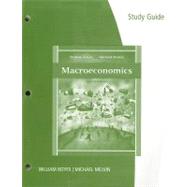 Summary
The Study Guide includes numerous multiple-choice, true/false, and discussion questions to help students self-test their knowledge of each chapter, with answers and short explanations for most questions provided in the back of the Coursebook. Each chapter also contains problem and project exercises designed to improve the student's knowledge of the mechanics.
Table of Contents
Economics: The World Around You
p. 1
Choice, Opportunity Costs, and Specialization
p. 17
Markets, Demand and Supply, and the Price System
p. 31
The Market System and the Private and Public Sectors
p. 69
National Income Accounting
p. 81
An Introduction to the Foreign Exchange Market and the Balance of Payments
p. 97
Unemployment and Inflation
p. 111
Macroeconomic Equilibrium: Aggregate Demand and Supply
p. 127
Aggregate Expenditures
p. 149
Income and Expenditures Equilibrium
p. 173
Fiscal Policy
p. 195
Money and Banking
p. 213
Monetary Policy
p. 229
Macroeconomic Policy: Tradeoffs, Expectations, Credibility, and Sources of Business Cycles
p. 245
Macroeconomic Viewpoints: New Keynesian, Monetarist, and New Classical
p. 257
Economic Growth
p. 269
Development Economics
p. 281
Globalization
p. 293
World Trade Equilibrium
p. 305
International Trade Restrictions
p. 325
Exchange Rates and Financial Links Between Countries
p. 339
Table of Contents provided by Ingram. All Rights Reserved.