Note: Supplemental materials are not guaranteed with Rental or Used book purchases.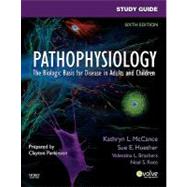 Pathophysiology : The Biological Basis for Disease in Adults and Children
ISBN13:
9780323067508
by
McCance, Kathryn L.
Elsevier Science Health Science div
Summary
The perfect companion to McCance's Pathophysiology, Sixth Edition, this valuable study guide helps you master textbook content. This study guide is full of helpful study tools and in-depth reviews. Learning Objectives keep you focused on the chapter goals and essential information.Memory Check! boxes test your recall of key concepts and prepare you for test success.Concise chapter summaries highlight "must know" information and help you review content quickly.Practice examinations for each chapter - over 1,200 questions total - give you a chance to test your knowledge.Case studies with critical thinking questions allow you to exercise your critical thinking skills and apply what you're learning.
Table of Contents
Introduction to Pathophysiology
Central Concepts Of Pathophysiology: Cells And Tissues
The Cell
Cellular Biology
Altered Cellular and Tissue Biology
The Cellular Environment: Fluids and Electrolytes, Acids and Bases
Genes and Gene-Environment Interaction
Genes and Genetic Diseases
Genes, Environment, Life-style, and Common Diseases
Mechanisms of Self-Defense
Innate Immunity: Inflammation
Adaptive Immunity
Alterations in Immunity and Inflammation
Infection
Stress and Disease
Cellular Proliferation: Cancer
Biology, Clinical Manifestations, and Treatment of Cancer
Cancer Epidemiology
Cancer in Children
Pathophysiologic Alterations: Organs And Systems
The Neurologic System
Structure and Function of the Neurologic System
Pain, Temperature Regulation, Sleep, and Sensory Function
Alterations in Cognitive Systems, Cerebral Hemodynamics and Motor Function
Disorders of the Central and Peripheral Nervous Systems and the Neuromuscular Junction
Neurobiology of Schizophrenia, Mood Disorders, and Anxiety Disorders
Alterations of Neurologic Function in Children
The Endocrine System
Mechanisms of Hormonal Regulation
Alterations of Hormonal Regulation
The Reproductive Systems
Structure and Function of the Reproductive Systems
Alterations of the Reproductive Systems
Sexually Transmitted Infections
The Hematologic System
Structure and Function of the Hematologic System
Alterations of Erythrocyte Function
Alterations of Leukocyte, Lymphoid, and Hemostatic Function
Alterations of Hematologic Function in Children
The Cardiovascular and Lymphatic Systems
Structure and Function of the Cardiovascular and Lymphatic Systems
Alterations of Cardiovascular Function
Alterations of Cardiovascular Function in Children
The Pulmonary System
Structure and Function of the Pulmonary System
Alterations of Pulmonary Function
Alterations of Pulmonary Function in Children
The Renal and Urologic System
Structure and Function of the Renal and Urologic Systems
Alterations of Renal and Urinary Tract Function
Alterations of Renal and Urinary Tract Function in Children
The Digestive System
Structure and Function of the Digestive System
Alterations of Digestive Function
Alterations of Digestive Function in Children
The Musculoskeletal System
Structure and Function of the Musculoskeletal System
Alterations of Musculoskeletal Function
Alterations of Musculoskeletal Function in Children
The Integumentary System
Structure, Function, and Disorders of the Integument
Alterations of the Integument in Children
Multiple Interacting Systems
Shock, Multiple Organ Dysfunction Syndrome, and Burns in Adults
Shock, Multiple Organ Dysfunction Syndrome, and Burns in Children
Answer Key
Table of Contents provided by Publisher. All Rights Reserved.