Note: Supplemental materials are not guaranteed with Rental or Used book purchases.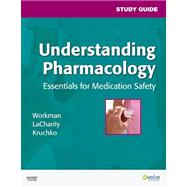 Summary
Reinforce your understanding of drugs and medication safety! Corresponding to the chapters in Understanding Pharmacology: Essentials for Medication Safety, by M. Linda Workman, PhD, RN, FAAN, Linda A. LaCharity, PhD, RN, and Susan L. Kruchko, MS, RN, this study guide offers content review and a wide range of engaging activities to help you master key pharmacology concepts and practice dosage calculation. Learning Activities reinforce important content for each chapter. Medication Safety Practice Questions help you review math skills, practice dosage calculations in realistic clinical scenarios, and reinforce vital medication safety points. A Practice Quiz at the end of each chapter helps you prepare for exams and ensures content mastery. Study Tips for Students Who Speak English as a Second Language provide extra help for anyone struggling with the language.
Table of Contents
Overview of Pharmacology
Drug Actions and Body Responses
Safely Preparing and Giving Drugs
Teaching Patients About Drug Therapy
Mathematics in Pharmacology
Medical Systems of Weights and Measures
Math Review and Introduction to Dosage Calculation
Dosage Calculation of Intravenous Solutions and Drugs
Clinical Categories and Uses of Drugs
Drugs for Pain and Sleep Problems
Anti-inflammatory Drugs
Anti-infective Drugs: Antibacterial Drugs
Anti-infective Drugs: Antiviral Drugs
Anti-infective Drugs: Antitubercular and Antifungal Drugs
Drugs that Affect Urine Output
Drugs for Hypertension
Drugs for Heart Failure
Antidysrhythmic Drugs
Drugs for High Blood Lipids
Drugs that Affect Blood Clotting
Drugs for Asthma and Other Respiratory Problems
Drugs for Nausea, Vomiting, Diarrhea, and Constipation
Drugs for Gastric Ulcers and Reflux
Drugs for Seizures
Drugs for Depression, Anxiety, and Psychosis
Drugs for Parkinson's and Alzheimer's Disease
Drugs for Endocrine Problems
Drugs for Diabetes
Drugs for Glaucoma
Drugs for Cancer Therapy
Table of Contents provided by Publisher. All Rights Reserved.