Note: Supplemental materials are not guaranteed with Rental or Used book purchases.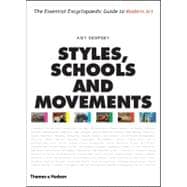 Styles, Schools and Movements : The Essential Encyclopaedic Guide to Modern Art
ISBN13:
9780500283769
by
Dempsey, Amy
Summary
A profusely illustrated, cross-referenced guide to more than a century of stylistic and conceptual revolution in art. The three hundred styles, schools, and movements discussed here provide an introduction and a guide to the major developments in Modern Art.
Table of Contents
Preface
10
(4)

| | |
| --- | --- |
| | 1860-1900 Rise of the Avant-Gardes |

14
(5)
19
(4)
23
(2)
25
(1)
26
(4)
30
(3)
33
(5)
38
(3)
41
(4)
45
(4)
49
(1)
50
(3)
53
(3)
56
(1)
57
(2)
59
(3)
62
(4)

| | |
| --- | --- |
| | 1900-1918 Modernisms for a Modern World |

66
(4)
70
(4)
74
(4)
78
(2)
80
(3)
83
(5)
88
(4)
92
(2)
94
(3)
97
(2)
99
(3)
102
(1)
103
(3)
106
(3)
109
(2)
111
(2)
113
(1)
114
(1)
115
(4)
119
(2)
121
(5)

| | |
| --- | --- |
| | 1918-1945 Search for a New Order |

126
(2)
128
(2)
130
(4)
134
(1)
135
(5)
140
(2)
142
(4)
146
(1)
147
(2)
149
(2)
151
(4)
155
(1)
156
(1)
157
(2)
159
(2)
161
(2)
163
(3)
166
(2)
168
(2)
170
(4)
174
(2)
176
(4)
180
(1)
181
(3)
184
(4)
188
(4)
192
(1)
193
(2)
195
(2)
197
(2)
199
(2)
201
(4)
205
(1)
206
(2)
208
(2)
210
(3)

| | |
| --- | --- |
| | Situationist International |

213
(2)
215
(2)
217
(5)
222
(4)
226
(2)
228
(2)
230
(2)

| | |
| --- | --- |
| | Post-painterly Abstraction |

232
(4)

| | |
| --- | --- |
| | 1965-today Beyond the Avant-Gardes |

236
(4)
240
(4)
244
(3)
247
(4)
251
(3)
254
(2)
256
(1)
257
(3)
260
(3)
263
(3)
266
(3)
269
(5)
274
(2)
276
(5)
281
(1)
282
(2)
284
(2)
286
(3)
200 Key Styles: A Dictionary
289
(7)
List of Illustrations
296
(3)
Index
299