Note: Supplemental materials are not guaranteed with Rental or Used book purchases.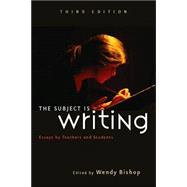 Summary
"I often hear assertions," says Wendy Bishop, "that writing classes have no content, especially when compared to literature classes or other classes in other disciplines where famous texts by famous authors are commonly under discussion." In this unique compilation of essays, Bishop brings together the voices of teachers and students to affirm that the content of writing classrooms is the work that these individuals do together. It is this focus on reading and writing about writing that has made The Subject Is Writingsuch a popular text.Like earlier editions, the third edition serves as both a classroom reader and a rhetoric for first-year college writing. End-of-chapter questions invite students to respond to the essayists with essays of their own. Turning to the appendix of Hint Sheets, teachers and students will find a selection of handouts filled with practical advice that will help them navigate through the daily life of their classrooms.The third edition has been enhanced with three new essays by teachers and the work of four new student authors. They discuss choosing topics, developing voice in writing, and understanding classroom writing assignments; they offer insights into drafting practices and encourage readers to investigate their writing lives in similar ways. The essays in The Subject Is Writingare not esoteric, academic treatises, but relevant and earnest communications that speak to all writers as peers, colleagues, and interested adult makers of meaning.
Author Biography
Kellogg Hunt Professor of English at Florida State University, WENDY BISHOP teaches composition and rhetoric and creative writing. She is the author or editor of a number of books, essays, and articles on composition and creative writing pedagogy and writing research.
Table of Contents
Preface to the Third Edition
ix
Acknowledgments
xiii

| | |
| --- | --- |
| | Part I: Writing to Learn and Imagine |

1
(50)

| | |
| --- | --- |
| | Writing as a Tool for Learning and Discovery |

3
(10)

| | |
| --- | --- |
| | Memories of Wandering Thoughts |

13
(8)
21
(7)
28
(10)

| | |
| --- | --- |
| | Time, Tools, and Talismans |

38
(13)

| | |
| --- | --- |
| | Part II: Invitations to Write |

51
(54)

| | |
| --- | --- |
| | From Oral Narratives to Written Essays |

53
(10)

| | |
| --- | --- |
| | Invention Throughout the Writing Process |

63
(14)

| | |
| --- | --- |
| | How to Get the Writing Done |

77
(7)
84
(16)
100
(5)
105
(34)

| | |
| --- | --- |
| | That Isn't What We Did in High School: Big Changes in the Teaching of Writing |

107
(8)

| | |
| --- | --- |
| | Does Coming to College Mean Becoming Someone New? |

115
(6)

| | |
| --- | --- |
| | Timm's Tips for College Writing Success |

121
(6)

| | |
| --- | --- |
| | Access: Writing in the Midst of Many Cultures |

127
(12)

| | |
| --- | --- |
| | Part IV: Behind the Scenes |

139
(54)

| | |
| --- | --- |
| | The Cupped Hand and the Open Palm |

141
(11)

| | |
| --- | --- |
| | Understanding Writing Assignments: Tips and Techniques |

152
(10)

| | |
| --- | --- |
| | Responding---Really Responding---to Other Students' Writing |

162
(11)
173
(9)

| | |
| --- | --- |
| | Resisting Writing/Resisting Writing Teachers |

182
(11)

| | |
| --- | --- |
| | Part V: Figuring in the World |

193
(48)

| | |
| --- | --- |
| | Style: The Hidden Agenda in Composition Classes or One Reader's Confession |

195
(15)

| | |
| --- | --- |
| | Hearing Voices: Yours, Mine, Others |

210
(10)

| | |
| --- | --- |
| | Mr. Belly Goes to Hollywood |

220
(6)

| | |
| --- | --- |
| | When All Writing Is Creative and Student Writing Is Literature |

226
(11)

| | |
| --- | --- |
| | I Am Not a Writer, I Am a Good Writer |

237
(4)

| | |
| --- | --- |
| | Part VI: Hint Sheets for Students and Teachers |

241
(2)
243
(1)

| | |
| --- | --- |
| | Prompts for Writing About Language Communities |

243
(2)

| | |
| --- | --- |
| | Understanding Writing Assignments by Dan Melzer |

245
(1)

| | |
| --- | --- |
| | Example Assignments for Practice |

245
(4)

| | |
| --- | --- |
| | Getting Your Journal Going |

249
(2)

| | |
| --- | --- |
| | A Sampler of Creative Ways to Respond to a Literary Text |

251
(1)
252
(1)
252
(1)

| | |
| --- | --- |
| | Partner Inventory for Working Together |

253
(1)

| | |
| --- | --- |
| | A Discussion of Drafting Levels |

254
(2)

| | |
| --- | --- |
| | Identifying, Improving, and Developing Voice by Jay Szczepanski |

256
(1)
256
(1)
256
(1)
257
(1)

| | |
| --- | --- |
| | Revising Out---Expanding and Amplifying a Draft (Before Revising In) |

258
(2)
260
(4)

| | |
| --- | --- |
| | Responding to Peer Writing Before a Full-Class Workshop |

264
(2)

| | |
| --- | --- |
| | The Executive Summary for Sorting Out Full-Class Responses |

266
(1)
267
(2)

| | |
| --- | --- |
| | The Processes of Writing Portfolios |

269
(1)

| | |
| --- | --- |
| | Handout for Submitting Writing Portfolios |

269
(2)

| | |
| --- | --- |
| | Handout for a Portfolio Checklist |

271