Note: Supplemental materials are not guaranteed with Rental or Used book purchases.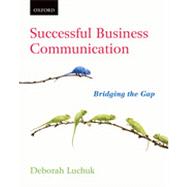 Successful Business Communication: Bridging the Gap
ISBN13:
9780195446555
by
Luchuk, Deborah
Summary
Successful Business Communication: Bridging the Gap offers a classroom-tested educational framework that takes a career-ready approach to business communication. Using a conversational tone that will be appropriate for students of all levels, Luchuk provides step-by-step instruction on the common forms of business communication that students will encounter in the workplace, as well as a practical examination of how these forms are actually used. Luchuk also underscores the importance of adapting to recent trends in business, offering guidance on cross-cultural communication in a global context and instruction on using social media and other digital technologies as tools for business communication. With sample documents from actual business practice, realistic case studies, opportunities to apply concepts, and professional tips distilled from Luchuk's years of industry experience, Successful Business Communication seamlessly 'bridges the gap' between classroom instruction and real-world application. In short, this text equips students with the skills they need to succeed in today's fast-paced work environment.

Author Biography

Deborah Luchuk was formerly an instructor at Sir Sandford Fleming College, where she developed business and communications courses for students studying in a variety of programs. She is the president of Luchuk Communications Inc., a company specializing in business planning, management development consulting, corporate training, and marketing planning. In recent years, she has developed a highly successful training program in youth entrepreneurship that has mentored over 150 businesses.

Table of Contents

Brief Contents
Detailed Contents
Preface and Acknowledgements
From the Publisher
1. : Starting Points for Business Communications
Before You Begin
Your Starting Point
Research
Documentation and Citations
Writing
Document Organization and Presentation
Chapter Summary
Suggestions for Further Reading
2. : Memos, E-mail Messages, and Social Media
Before You Begin
Your Starting Point
Creating the Written Product: How to Do It
Generic Examples of the Written Work
Checking Your Work
Chapter Summary
Suggestions for Further Reading
Debate and Discussion Starters
Practising What You Have Learned
3. : Business Letters
Before You Begin
Your Starting Point
Creating the Written Product: How to Do It
Generic Examples of the Written Work
Checking Your Work
Oral Presentation of the Business Letter
Electronic Submission of Business Letters
Chapter Summary
Suggestions for Further Reading
Practising What You Have Learned
4. : Writing Clearly: Editing for Effective Writing
Before You Begin
Your Starting Point
Editing the Written Product: How to Do It
Generic Examples of the Written Work
Chapter Summary
Suggestions for Further Reading
Debate and Discussion Starters
Practising What You Have Learned
5. : Everyday Oral Communications
Before You Begin
Your Starting Point
Creating the Oral/Written Product: How to Do It
Generic Examples of the Written Work
Checking Your Work
Circulating the Minutes
Oral Presentation of the Minutes
Chapter Summary
Suggestions for Further Reading
Practising What You Have Learned
6. : Communicating in Teams and Small Groups
Before You Begin
Your Starting Point
Getting to Work with Your Team
Wrapping Up Your Team
A Generic Example of the Written Work
Checking Your Work
Chapter Summary
Suggestions for Further Reading
Debate and Discussion Starters
Practising What You Have Learned
7. : Team Communications Projects
Before You Begin
Your Starting Point
Creating the Written Product: How to Do It
Checking Your Work
What Happens to Your Document Next?
Oral Presentation of the Team Project
Chapter Summary
Suggestions for Further Reading
Practising What You Have Learned
8. : Informal Reports
Before You Begin
Your Starting Point
Creating the Written Product: How to Do It
Generic Examples of the Written Work
Checking Your Work
Oral Presentation of the Informal Report
Suggestions for Further Reading
Debate and Discussion Starters
Practising What You Have Learned
9. : Formal Reports
Before You Begin
Your Starting Point
Creating the Written Product: How to Do It
A Generic Example of the Written Work
Checking Your Work
Oral Presentation of the Formal Report
Chapter Summary
Suggestions for Further Reading
Debate and Discussion Starters
Practising What You Have Learned
10. : Informal Proposals
Before You Begin
Your Starting Point
Creating the Written Product: How to Do It
Checking Your Work
Oral Presentation of the Informal Proposal
Chapter Summary
Suggestions for Further Reading
Debate and Discussion Starters
Practising What You Have Learned
11. : Formal Proposals
Before You Begin
Your Starting Point
Creating the Written Product: How to Do It
A Generic Example of the Written Work
Checking Your Work
Oral Presentation of the Formal Proposal
Chapter Summary
Suggestions for Further Reading
Debate and Discussion Starters
Practising What You Have Learned
12. : Oral Presentations
Before You Begin
Your Starting Point
Creating the Oral Presentation: How to Do It
Checking Your Work
Delivering the Presentation
Chapter Summary
Suggestions for Further Reading
Debate and Discussion Starters
Practising What You Have Learned
13. : Communications for Career Development: Resumes and Cover Letters
Before You Begin
Your Starting Point
Creating the Written Product: How to Do It
Generic Examples of the Written Work
Checking Your Work
Sending Your Application Pieces by E-mail, Snail Mail, or Fax
Chapter Summary
Suggestions for Further Reading
Debate and Discussion Starters
Practising What You Have Learned
14. : Job and Informational Interviews
Before You Begin
Your Starting Point
Job and Informational Interviews: How to Do Them
Chapter Summary
Suggestions for Further Reading
Debate and Discussion Starters
Practising What You Have Learned
Appendix A: Grammar Handbook
Appendix B: Documenting Sources
Glossary
References
Index