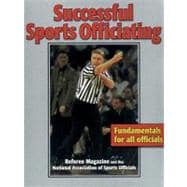 List Price: $25.55

More New and Used
from Private Sellers
Summary
Successful Sports Officiatingis the handbook for officials at all levels and across all sports to learn the basic principles of officiating and how to apply them. Written by a team of experts and practitioners in the art and science of officiating, this book guides you in becoming and succeeding as an official.Endorsed by the National Association of Sports Officials (NASO), Successful Sports Officiatingcovers a broad range of topics, including officiating objectives, conduct, communication skills, decision-making skills, conflict management, fitness and injury prevention, time management, legal rights and responsibilities, business aspects of officiating, and career development. Useful information on officials' organizations and rule book sources is also included to help you build networking relationships and stay up-to-date in your field.This easy-to-use handbook is based on practical experience to teach you what works and what doesn't. Real-life examples are provided in each chapter for you to analyze potential conflicts and practice applying the skills you learn. You will build and polish your officiating skills, enabling you to make those tough calls in tight games with confidence!Successful Sports Officiatingis a text of the American Sport Education Program (ASEP) whose mission is to provide high-quality, comprehensive educational programs and resources for sports officials, coaches, administrators, parents, and athletes for the purpose of improving the sport experience of young people-making it safer, more enjoyable, and more valuable.
Table of Contents
Acknowledgments
p. vi
Foreword
p. vii
Developing an Officiating Philosophy
p. 1
Your Officiating Objectives
p. 3
Your Officiating Style
p. 15
Goal Setting
p. 27
Psychology of Officiating
p. 39
Developing Your Communication Skills
p. 41
Developing Decision-Making Skills
p. 51
Managing Conflict
p. 61
Personal Fitness for Officials
p. 85
Fitness Principles for Officials
p. 87
Your Personal Fitness Plan
p. 97
Managing Professional Responsibilities
p. 115
Understanding Your Legal Responsibilities
p. 117
Knowing Your Legal Rights and Business Responsibilities
p. 125
Time Management
p. 135
The Officiating Profession
p. 143
Working With Associations
p. 145
Officiating: A Lifetime Career
p. 153
Sports Officials' Code of Ethics
p. 163
State High School Associations CIF Sections
p. 165
Other Governing Bodies
p. 169
Index
p. 171
About the Editor
p. 175
Table of Contents provided by Syndetics. All Rights Reserved.