Note: Supplemental materials are not guaranteed with Rental or Used book purchases.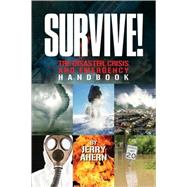 Summary
This title is a practical, step-by-step guide to help protect yourself and your family in times of natural or technological disaster or societal upheaval. This title describes various types of disasters, natural and manmade, that can threaten your family's safety and security. Using straightforward, common-sense language, the author shows you, through vivid text and compelling photos, how to survive the critical 72-hour period immediately following a disruption in social services and the power grid. From major disasters such as hurricanes, earthquakes and terrorist attack to more mundane disruptions such as power outages and ATM failures, learn everything you need to know in order to survive.
Author Biography
Jerry Ahern is a professional writer specializing in firearms-related and sciences fiction literature. His apocalyptic Survivalist series of novels has won fans world-wide. In addition, Ahern is well-known to firearms enthusiasts for his book CCW: Carrying Concealed Weapons and the countless articles he has published in the firearms press.
Table of Contents
Dedication
p. 3
Acknowledgments
p. 6
Introduction
p. 7
Life in the 21st Century: A Catalog of Impending Disasters
p. 8
Levels of Preparedness
p. 37
Individual Survival Preparedness
p. 43
Nuclear Family Preparedness
p. 56
Extended Family Preparedness
p. 65
Community Preparedness
p. 68
Emergency Communications
p. 74
Websites to Monitor
p. 86
Food and Water
p. 93
Food Preparation
p. 105
How Much Should You Put Away?
p. 112
Medical Preparedness
p. 120
Generators and Batteries
p. 126
Survival Weapons
p. 137
Conveyances, Vehicles and Vehicular Survival Kits
p. 152
To Evacuate or Not?
p. 165
Saving Memories
p. 170
Special Situations, Special Needs
p. 175
From Sports to Survival
p. 181
Specific Survival Tips and Tactics
p. 187
Final Thoughts
p. 238
Table of Contents provided by Ingram. All Rights Reserved.