Note: Supplemental materials are not guaranteed with Rental or Used book purchases.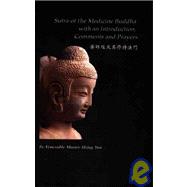 Summary
This book is a comprehensive look at the Sutra of the Medicine Buddha and the practice associated with the Medicine Buddha. The sutra narrates how the Buddha, in response to Manjusri Bodhisattva's request, spoke to highly cultivated monastics, bodhisattvas, kings, and magistrates on the meritorious virtues of the Medicine Buddha's Eastern Pure Land of Crystal Radiance. It also elaborates on the twelve great vows the Medicine Buddha made when he was a bodhisattva. This translation is accompanied by the Chinese version, as well as by the pinyin pronunciation of the Chinese characters. In presenting the Medicine Buddha practice, this book includes an introduction to the Medicine Buddha, the Medicine Buddha Dharma function, and a commentary on the Medicine Buddha's vows. Prayers to the Medicine Buddha are also included. Furthermore, there is a chapter on "Buddhism, Medicine, and Health" that shows how this practice can be used for curing physical and mental diseases that afflict us and cause us great suffering. In the Mahayana tradition of East Asia, the Medicine Buddha, occupied a very special place in the hearts of the devout. In this respect, this book covers a tradition of crucial importance in Buddhism.
Author Biography
Founder of the Fo Guang Shan (Buddha's Light Mountain) Buddhist Order and the Buddha's Light International Association, Venerable Master Hsing Yun has dedicated his life to teaching Humanistic Buddhism, which seeks to realize spiritual cultivation in everyday living.Master Hsing Yun is the 48th Patriarch of the Linji Chan School. Born in Jiangsu Province, China in 1927, he was tonsured under Venerable Master Zhikai at the age of twelve and became a novice monk at Qixia Vinaya College. He was fully ordained in 1941 following years of strict monastic training. When he left Jiaoshan Buddhist College at the age of twenty, he had studied for almost ten years in a monastery.Due to the civil war in China, Master Hsing Yun moved to Taiwan in 1949 where he undertook the revitalization of Chinese Mahayana Buddhism. He began fulfilling his vow to promote the Dharma by starting chanting groups, student and youth groups, and other civic-minded organizations with Leiyin Temple in Ilan as his base. Since the founding of Fo Guang Shan monastery in Kaohsiung in 1967, more than two hundred temples have been established worldwide. Hsi Lai Temple, the symbolic torch of the Dharma spreading to the West, was built in 1988 near Los Angeles.Master Hsing Yun has been guiding Buddhism on a course of modernization by integrating Buddhist values into education, cultural activities, charity, and religious practices. To achieve these ends, he travels all over the world, giving lectures and actively engaging in religious dialogue. The Fo Guang Shan organization also oversees sixteen Buddhist colleges and four universities, one of which is the University of the West in Rosemead, California.Over the past fifty years, Master Hsing Yun has written many books teaching Humanistic Buddhism and defining its practice. Whether providing insight into Buddhist sutras, human nature, or inter-religious exchange, he stresses the need for respect, compassion, and tolerance among all beings in order to alleviate suffering in this world. His works have been translated into English, French, German, Japanese, Korean, Portuguese, Russian, Spanish, Sinhalese, and Thai.